The Unhealthy Reality Of Firehouse Subs' Smokehouse Cheddar And Brisket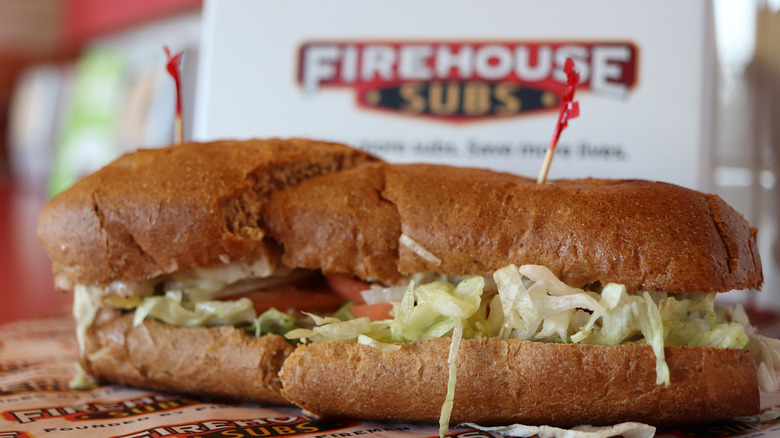 Deutschlandreform/Shutterstock
Firehouse Subs was founded by firefighters and brothers Robin and Chris Sorensen in 1994, according to CNBC. Interestingly, they tried pursuing careers in real estate, music, and Christmas tree farming, but none of those ventures worked out for the brothers (via Firehouse Subs). The brothers founded Firehouse Subs with the goal of having the "best meats, cheese, and toppings," and the company sets itself apart from its competitors by steaming the sandwiches, which enhances the flavor of the sandwich.
There are now at least 1,200 locations, and a few popular Firehouse Subs menu items include the Hook & Ladder, Engineer, turkey bacon ranch, Italian, and the Firehouse meatball, per Firehouse Subs. The Sorensen brothers' goal of opening Firehouse Subs was to provide their customers with the best service and make sure that even the hungriest customer is well fed (via their website), which is a great goal for any restaurant to have. However, there is an unhealthy truth behind the chain's Smokehouse Beef and Cheddar Brisket sandwich that everyone should know.
The sandwich is extremely high in sodium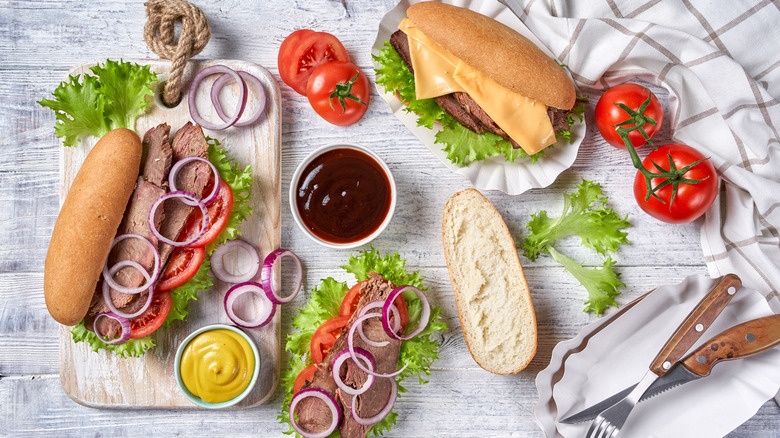 Food Via Lenses/Shutterstock
A large Smokehouse Beef and Cheddar Brisket sandwich on a white sub roll from Firehouse Subs has 1,500 calories, 102 grams of fat, 195 milligrams of cholesterol, 3,020 milligrams of sodium, 97 grams of carbohydrates, and 55 grams of protein. The sandwich is made with USDA Choice beef brisket, melted cheddar, Sweet Baby Ray's barbecue sauce, and mayonnaise, as well as other optional toppings that the customer can decide on. The biggest problem with this particular sandwich is its sodium level (per Eat This, Not That!).
The most sodium any individual should consume in a day is about 2,300 milligrams, according to the United States Food & Drug Administration (FDA). A basic guide to knowing if certain foods are low or high in sodium is by looking at the daily value (DV) percentage. If a food label shows a sodium level of 5% DV or less then it's considered a low-sodium food. A food product that has a sodium level of 20% DV or more is a high-sodium food. Looking back at the nutrition label for the Smokehouse Beef and Cheddar Brisket sandwich, the sodium content is 131% of the recommended daily value — yikes! Here are some more things you didn't know about Firehouse Subs.