The Myth About In-N-Out's 'Monkey-Style' Burger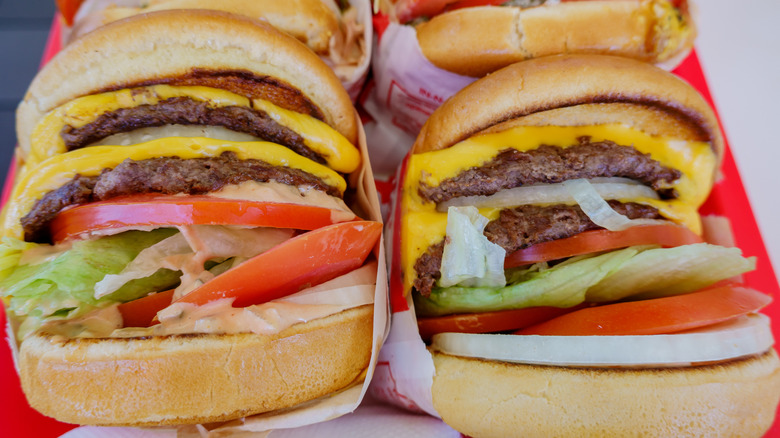 Kit Leong/Shutterstock
In-N-Out currently has six items on its "Not So Secret" menu, per the burger chain's website. In addition to the regular menu, customers can order a burger with double meat, a 3x3 that has three patties and three slices of cheese, a 4x4 that has four patties and four slices of cheese, or a grilled cheese that has all the burger toppings minus the patty itself. Customers can also order any burger "protein style," which is where the burger is wrapped in lettuce instead of between two buns.
Perhaps the most popular not-so-secret menu offering is a burger "animal style," which has patties that are spread with mustard before being grilled, extra secret spread, pickles, and grilled onions. It's not clear what's animal-like about the non-meat ingredients, such as mustard and onions. So maybe it wouldn't sound too strange to name a burger style after an animal that seems to have little or nothing to do with what's in the sandwich. According to Fox5 San Diego, rumors about a different In-N-Out secret menu item began circulating the internet around 2013 when a food blogger shared a video of themselves eating a burger "monkey style." The catch is that this secret menu item doesn't exist at all, at least not in a way that you can order it directly from the menu.
Ordering a monkey-style burger takes a little DIY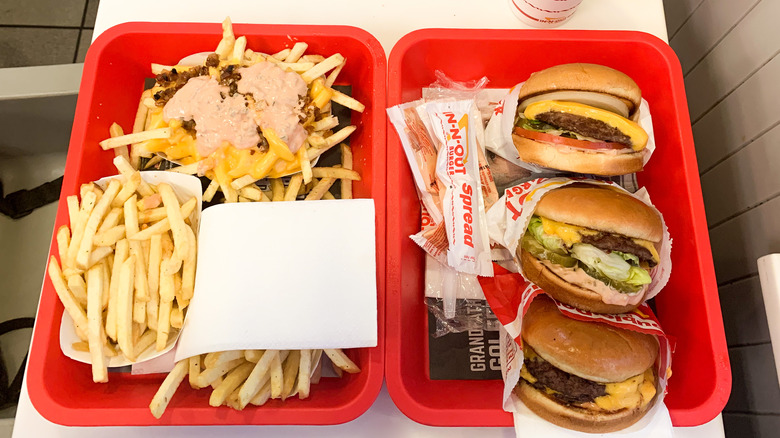 samroundy/Shutterstock
In addition to the normal In-N-Out burger toppings, a monkey-style burger is one that's also supposedly filled with animal-style fries, which come with cheese, grilled onions, and In-N-Out's secret spread, per Fox5 San Diego. However, In-N-Out employees want to make it clear that they can't make a monkey-style burger because it's simply not on the menu. In-N-Out's vice president Carl Van Fleet said, "There is no such thing. It seems to be a story that originated somewhere in cyberspace. For a variety of reasons, we're unable to prepare burgers in the manner that a few websites have described as 'monkey style.'"
One former In-N-Out employee made a post on r/IamA and prompted people to ask them anything about the popular fast food restaurant. In some of their replies, the original poster addressed the "monkey-style" story, writing, "[In-N-Out] tries to stay as true to the original menu as possible. So if you want to create a monkey [style] fry on your own we'll give you the supplies but won't do it." Consider this myth busted, and if you do want a monkey-style burger, you'll just have to order the menu items individually and put it together on your own.