Costco Shoppers Find Its Drunken Noodles 'Bland'
If you're a regular at your local Thai food restaurant — or enjoy takeout on the odd Friday night — you've likely seen drunken noodles on the menu at some point. But as Gimme Some Oven points out, there's nothing "drunken" about them in terms of alcohol content. Impact Magazine writes that according to one theory, the spice level was considered high enough to make a person feel "dizzy" or "drunk." Also known as pad kee mao, it involves rice noodles tossed with vegetables and the protein of your choosing (like chicken or beef). The secret to the "drunken" sauce is Thai holy basil, which adds both heat and anise flavor to the noodles, the blogger at Tastes Better From Scratch explains.
While you can take the time to whip up a drunken noodle recipe at home or order some from a restaurant, Costco now has a third option for enjoying the Asian dish. Instagram fan account @costcobuys recently shared a photo of a new Costco find: Fortune Drunken Noodles with Chicken Stir Fry. In theory, it should be full of heat and flavor, but according to many shoppers, the pre-packaged meal misses the mark. Here's why.
They aren't getting good reviews from shoppers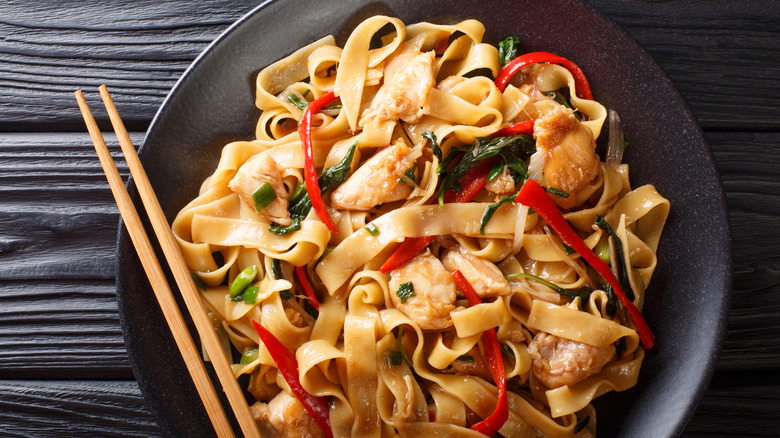 Sergii Koval/Shutterstock
The original poster on Instagram, @costcobuys, was very excited to announce that they had found the Fortune Drunken Noodles in the refrigerated section of their local section. Unfortunately, however, many commenters who have already bought and tried the product, aren't giving it the best reviews, especially in the flavor department. "Just bought them and they are quite bland unfortunately," one person wrote, while another simply said, "These are disgusting." While most people who have tried them said they aren't worth buying, a shopper said they're "not horrible" and suggested adding teriyaki sauce to the dish to make it more flavorful.
YouTuber The Tiny Reviewer posted a video review of the new noodles and agrees with most Instagram reviewers. "It's not bad," she says. But she goes on to add, "It has no spice. Zero spice. It's really, really sweet. Not a lot of salty flavor, either." She explains it's nothing like what drunken noodles, or even pad Thai, should taste like, but rather "it's just a sweet noodle with chicken."