The Reason You Should Brown Butter When Baking Cookies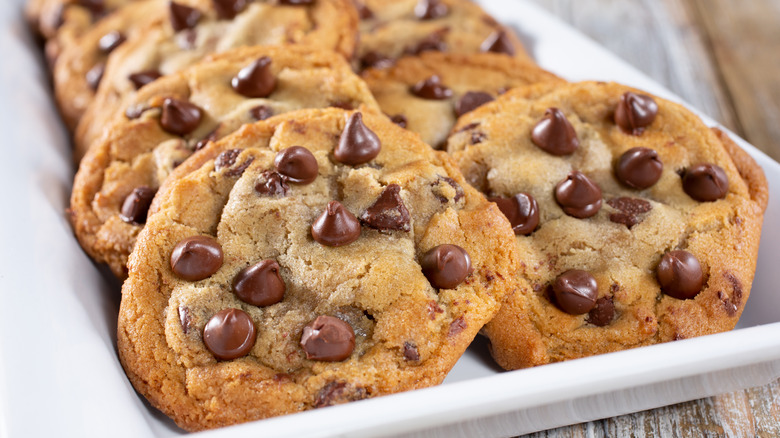 The Image Party/Shutterstock
'Tis the season to start making a list and checking it twice — to get a head start on the holiday baking season, of course. Soon, the kids will have holiday parties at school while you're subjected to the office Christmas party, both of which may require a thoughtful contribution of homemade baked goods. And don't forget about leaving some cookies and milk for Santa on Christmas Eve! One look at the calendar, and it feels like you've got plenty of time for all this baking...until you suddenly don't.
According to Business Insider, you can save time and money on your holiday baking by doubling recipe quantities. If you double a sugar cookie dough recipe, for example, you'll have one batch to cut and decorate and another to turn into an entirely new cookie variety with some added flavoring. Doubling a vanilla cake recipe, meanwhile, will give you enough to frost and serve traditionally, plus another half for cake pops. 
Making a second batch of desserts also gives you the freedom to tweak your tried-and-true recipes. You could use your test batch of gingerbread men to try freshly grated or crystallized ginger in the dough, or a second plate of brownies to enhance the chocolate flavor with a teaspoon of espresso powder. But to really kick your holiday cookies up a notch? Use brown butter instead of regular butter. Sure, the name probably gives off an "I'm too complicated to make" vibe, but the technique is quick, simple, and oh-so worth it.
How to make brown butter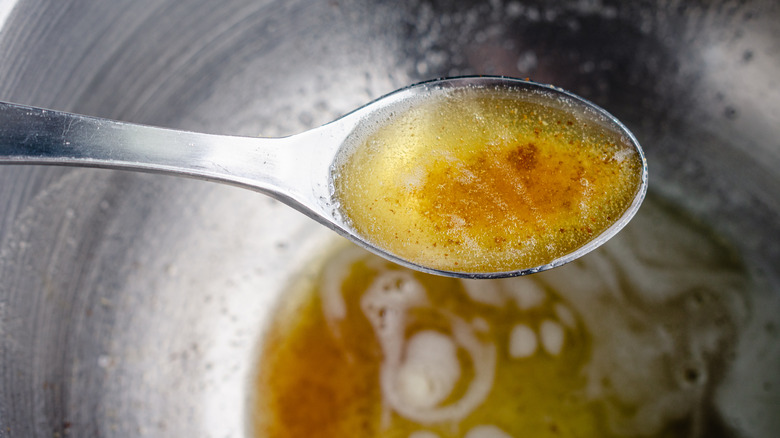 Candice Bell/Shutterstock
Pastry chef Fadi Odeh from Dallas, Texas, competed in Season 1 of Food Network Canada's "Great Chocolate Showdown," so he knows his desserts. Odeh believes that browning butter is the key to deliciousness in a variety of recipes, as it can "create more depth and dimension in your savory and sweet foods," he explained on News 12.
Before you head to the kitchen, know that Odeh's trick is not as simple as tossing some brown butter into your cookie recipe. According to The Kitchn, butter loses water when browned, which can lead to dry baked goods if not enough moisture is replaced. For gooey brown butter cookies, then, add 1 tablespoon of water for each stick of butter used. 
Brown butter can be substituted for butter in any recipe, including ours for the best chocolate chip cookie. The toffee notes of the brown butter pair perfectly with the molasses in the brown sugar, giving the cookie a deep, nutty caramel flavor that's only enhanced by the rich chocolate chips.
To make brown butter, place one stick of butter into a saucepan and cook on medium-low heat for five to eight minutes until it begins to separate. The butter will foam up, then subside. You'll know your brown butter is done when the sizzling sounds settle and the milk solids at the bottom of the pan are a toasty brown. Once the pan has cooled, Food Above Gold recommends storing the jarred butter in the refrigerator for up to one month.