Black Panther Fruit Roll-Ups Will Feature Special Wakanda Tongue Tattoos
We may receive a commission on purchases made from links.
When's the last time you had a Fruit Roll-Up? This flat, pectin-based snack made quite the splash in the 1990s, according to General Mills, but kids (and adults) today are still enjoying them. The delicious taste and the no-mess factor are great but Fruit Roll-Ups are just fun to eat.
With the November 11 release of the latest Marvel Studios film, you can now enjoy a version of the treat dedicated to a beloved Marvel character: the Black Panther (via Disney Plus Informer). As with the tease and release of every new Marvel movie, you'll find various food-related products featuring elements or characters from the flick, including the Black Panther cookbook that was published in April 2022. This fall, "Black Panther: Wakanda Forever" is once again getting all the attention.
General Mills has partnered with Marvel to offer Fruit Roll-Ups with Tongue Tattoos inspired by the film. If you're not familiar with the tongue tattoo concept, don't worry; it's completely painless and involves a simple "peel, press, reveal" process, as the 2004 Fruit Roll-Ups Tongue Tattoos commercial shows.
The Fruit Roll-Ups are available in two flavors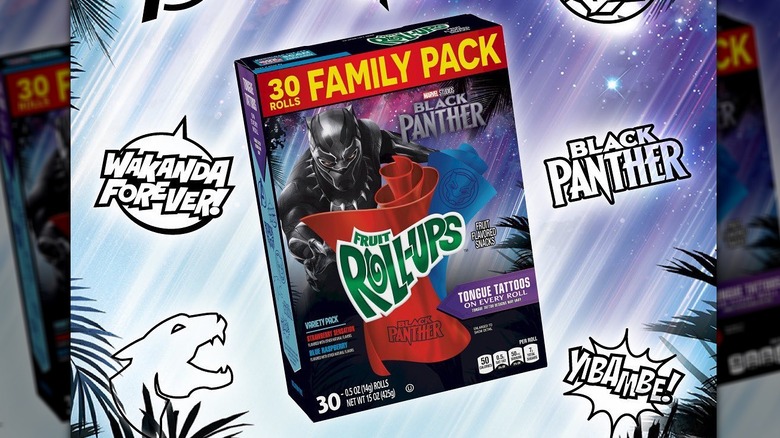 General Mills
Labeled as a variety pack, each box contains both strawberry sensation and blue raspberry roll-ups, but according to a Walmart customer review, some boxes may contain more of one flavor than the other. In addition to the iconic Black Panther helmet logo, you'll find The Avengers logo, the words "Black Panther," and other tattoo designs inspired by the movie "Black Panther: Wakanda Forever."
Along with the Marvel-themed Fruit Roll-Ups, General Mills introduced Marvel Avengers Fruit Flavored Snacks featuring Black Panther as the dominant Avenger on the box. The other shapes include Iron Man, The Hulk, Black Widow, Thor, and Captain America.
The Fruit Roll-Ups can be purchased at select Walmart stores for about $7.50 for a Family Pack box of 30 rolls, but prices may vary by location. If you want to buy the items in bulk, Amazon offers a six-pack that will give you a total of 180 rolls for about $43, which equates to about $7.10 per box. The fruit snacks are also available at Walmart and Amazon.