Michael Symon Just Teased He May Guest Judge On Bobby's Triple Threat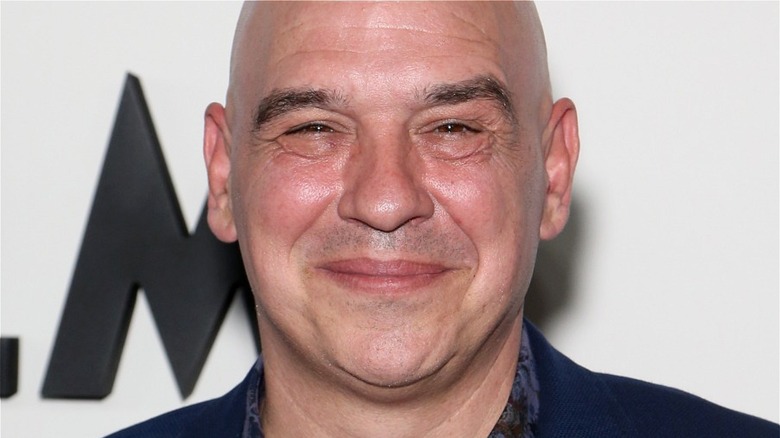 Gabe Ginsberg/Getty
The food world was left shocked last year as rumors swirled that Bobby Flay and the Food Network might be parting ways after nearly 30 years together. However, just as soon as foodies began coping with the idea that they may never see Flay on the television channel again, the respective parties announced that they had been able to work things out and renewed their partnership for three more years. "Stay tuned for some incredibly exciting new shows as I promise to take food and cooking to places we've never imagined before," Flay said in a statement last November (via People).
It's safe to say Flay has followed through with his promise. The restaurateur has debuted two new shows in 2022, including "Bobby's Triple Threat," a series that sees a competitor take on Flay's hand-picked trio of "chef-titans" in three rounds of cooking (via Food Network). Victory is awarded to the side that collectively has the highest score – though, considering who's been filling the judge's seat, that's hardly an easy feat for any of the parties involved.
Throughout Season 1, viewers saw several familiar faces serve as judges on "Bobby's Triple Threat" like Nancy Silverton and Iron Chef Marc Fargione. However, there's one notable Food Network star that has yet to set foot in Flay's secret kitchen: his longtime pal Michael Symon. What gives?
It all comes down to scheduling, according to Symon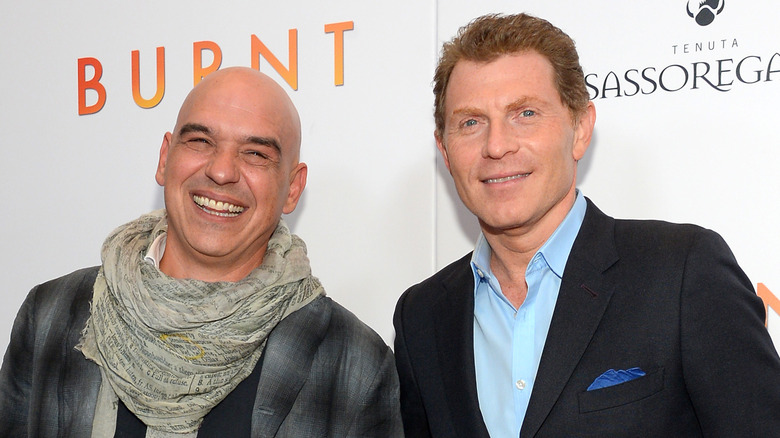 Andrew Toth/Getty Images
Michael Symon and Bobby Flay have been pals since 1998, per Food Network. Like any good set of bros, they have been extremely supportive of each other. Last year, Flay took to Instagram to proudly announce that his buddy would be taking over as the host of "Throwdown," while Symon recently tweeted about his love for Flay's new show: "For me @bflay Triple Threat is the next level of iron chef [...] really love watching these young guns compete [...] they are so talented." Considering Symon's affinity for Flay's latest project, and the fact that he is a familiar face on "Beat Bobby Flay," you may be curious about whether he'll be a "Triple Threat" judge anytime soon. Twitter user @Astavrinos was as well and asked Symon if a "BTT" appearance is in the cards. "Soon I'm sure [...] scheduling is always the biggest factor," the cookbook author tweeted in response.
According to Variety, "Bobby's Triple Threat" was picked up for a second season back in October, and will premiere sometime next year. As of this writing, however, it is unclear if filming is underway, completed, or has yet to begin. Therefore, if Symon is able to fit it into his schedule, we don't know whether he'd appear in Season 2. We can only hope it's sooner rather than later or never.