Bushwacker Alcoholic Milkshake Recipe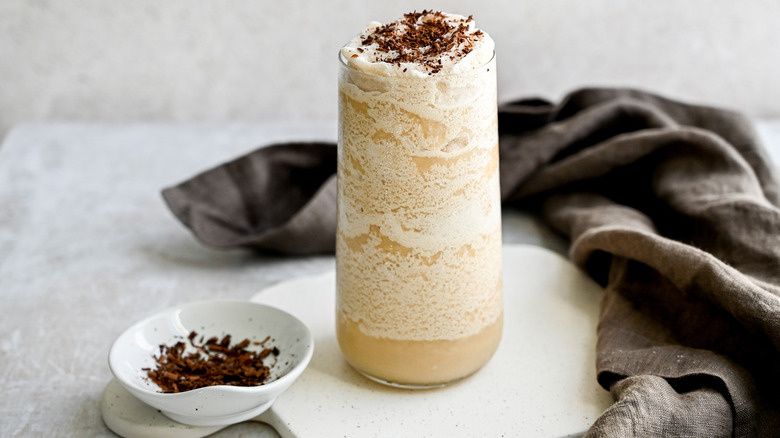 Christina Musgrave/Mashed
The Bushwacker, which could be described as a mashup between a white Russian and a piña colada, is a drink that dates back to the disco decade. It was created in 1975 at a bar in the Virgin Islands, and was named after the dog that accompanied the bar's patrons. Even though we describe the Bushwacker as an alcoholic milkshake, that does not mean that it is made with ice cream. Instead, as recipe developer Christina Musgrave explains, "It's typically made with just milk instead of ice cream," and is then thickened up with ice to give it a texture similar to a Frappuccino.
"The Bushwacker cocktail," says Musgrave, "is an alcoholic frozen drink that will cool you down on the warmest of days," although you can certainly drink it in the winter months, as well. One thing you need to be aware of is that this recipe contains 6 ounces of alcohol. You can certainly try to drink this by yourself, or you can always find a drinking buddy to share it with.
Assemble the ingredients for the Bushwacker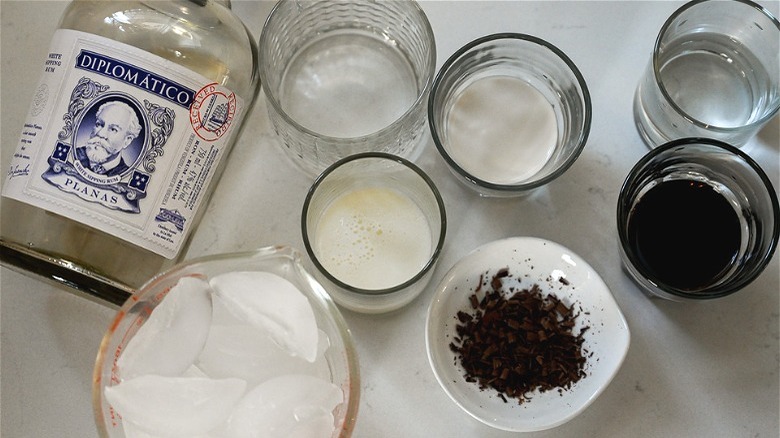 Christina Musgrave/Mashed
This drink is made with silver rum, as well as coffee liqueur, crème de cacao, milk, cream of coconut, and ice for blending. You can also optionally garnish the drink with chocolate shavings. While Musgrave uses white crème de cacao, she says there's no reason why you can't use the brown version, telling us that "You can use whichever one you have on hand, or is easier to find." She also says that you can use 2% milk instead of whole milk. You will, however, need to use sweetened cream of coconut rather than unsweetened coconut cream.
Blend the drink with ice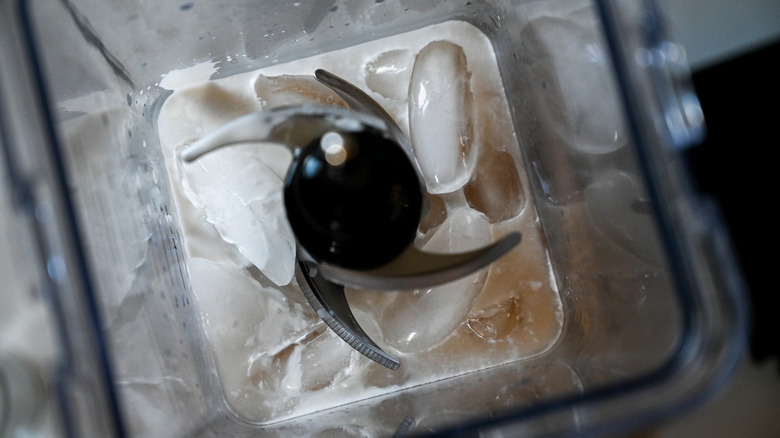 Christina Musgrave/Mashed
Add the silver rum, coffee liqueur, crème de cacao, milk, cream of coconut, and ice to the blender. If your ice is large or your blender does not have a powerful motor, you may first need to break the cubes up by putting them in plastic bag, and hitting them with a hammer or rolling pin. Blend the ingredients until your drink is relatively smooth, and there are no more ice chunks.
Garnish the drink if desired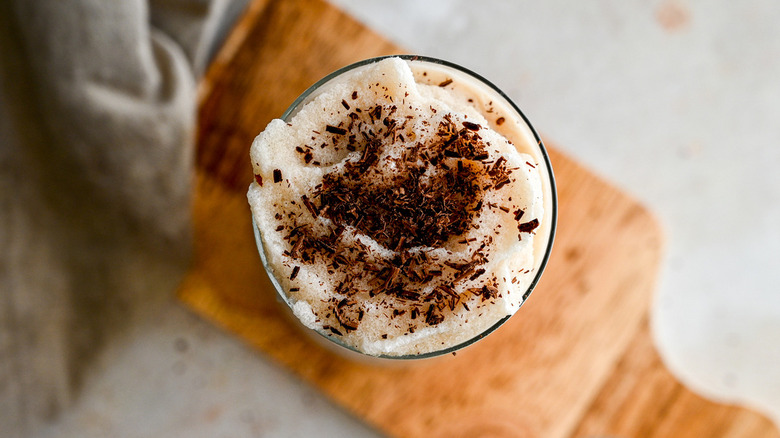 Christina Musgrave/Mashed
Pour the Bushwacker into a tall glass, or 2 short ones, and drink it before it melts. If you want to dress it up a bit, you can garnish it with some shaved chocolate. As Musgrave explains: "I just gently peeled a chocolate bar to create shavings on the top of the drink." Instead, you could garnish with coconut flakes, whipped cream, a whole mini chocolate bar, or even a paper umbrella. 
Bushwacker Alcoholic Milkshake Recipe
This Bushwacker recipe is like an alcoholic milkshake with delicious flavors such as coconut and chocolate.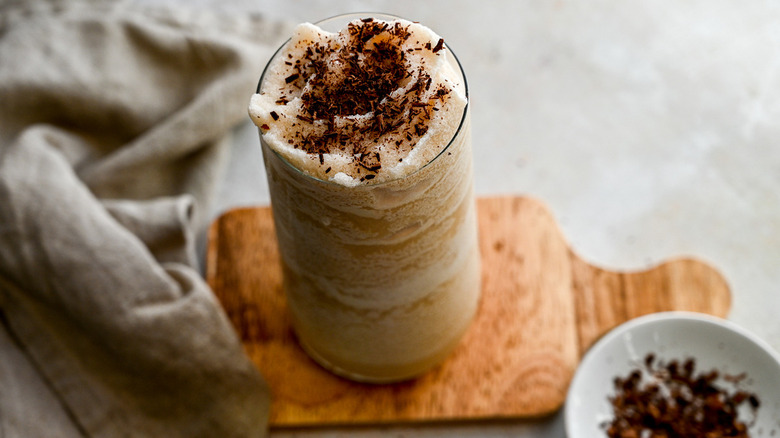 Ingredients
2 ounces white rum
2 ounces white crème de cacao
2 ounces coffee liqueur
2 ounces whole milk
1 ounce cream of coconut
2 cups ice
Optional Ingredients
1 teaspoon shaved chocolate
Directions
Blend all ingredients until smooth.
Pour into glasses, and garnish with shaved chocolate, if desired.