Halo Top's Limited Edition Gingerbread House Flavor Is Back On Shelves
Hold on to your sleighs; Another brand has released a Christmas-inspired product to ramp you up for the holidays. In 2017, Halo Top was named a top invention of the year by Time Magazine and became the best-selling ice cream brand in America, according to the company's website. As a low-calorie product, it was a remarkable moment when COO Doug Bouton learned of the news. "I would say [passing other major ice cream brands was] probably the single most memorable moment we've had in the company's history," Bouton told CNBC. Afterwards, he called Halo Top's public relations manager Margie Brevidoro, saying, "You won't believe this. We actually are the No. 1 pint in the United States."
The same year that it passed its competition, the company released its Gingerbread House flavor for the first time (per Deli Market News). Founder Justin Woolverton found it a "really fun flavor to make" and "delicious," and fans are in for a treat this year.
Halo Top's gingerbread flavor is a fan favorite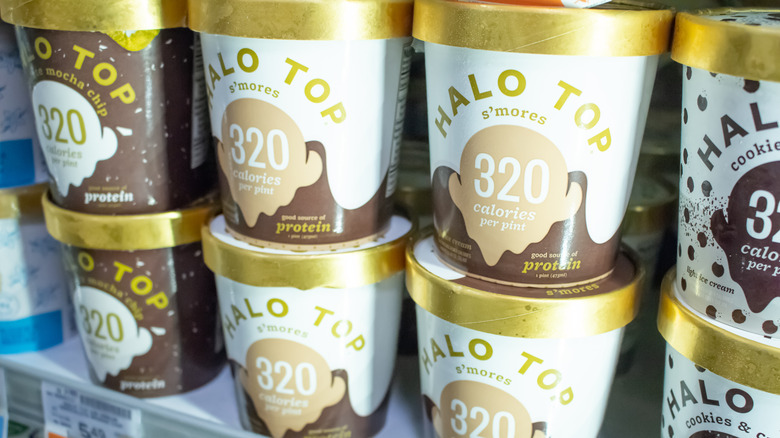 The Image Party/Shutterstock
Halo Top's famed Gingerbread House flavor is making a limited-edition return this year to the delight of fans. According to a press release sent to Mashed, the pint is made up of gingerbread ice cream with cookie pieces and icing, and it's expected to sell for $4.99 a pint. Although the ice cream is a sweet treat, it's made with only 360 calories — suitable for eating the entire pint in one sitting. The new flavor will be available anywhere Halo Top ice cream is sold.
Two years ago, an eager Reddit user asked Halo Top fans their opinions on the flavor. "It's my all-time favorite omg ... I buy like five every time I see It lol," said one Reddit user. Another commenter wrote, "It is very, very good and definitely worth tracking down and stocking up!" On the other end, one user said the flavor was, "not [their] thing." But hey, at least it doesn't involve actually making gingerbread.
If you want to try Halo Top's seasonal Gingerbread House flavor for yourself, check out the brand's website to locate a place to purchase your own pint near you.