Panera Is Testing Out New Bakery Shakes For 2023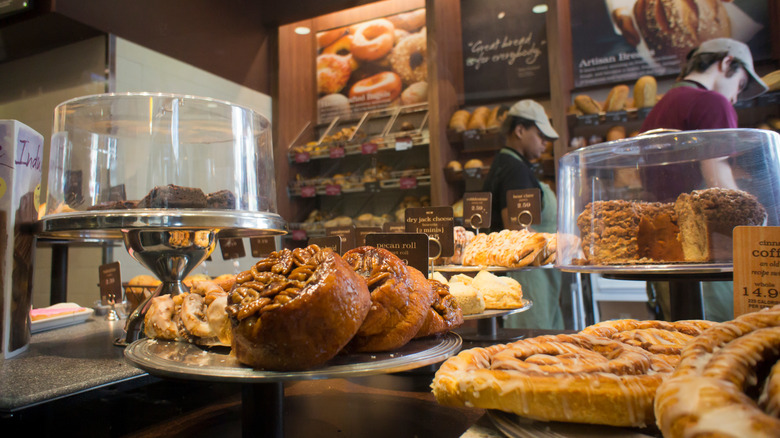 rblfmr/Shutterstock
If you're craving soup and a sandwich in the suburbs, you're more than a little likely to go to Panera Bread. Considering the chain has locations in almost every state (sorry, Alaskans and Hawaiians), you know you are never too far away from one of these fast casual joints. With menu options such as mac and cheese, chicken sandwiches, and flatbreads, the St. Louis-based chain has meals for all ages. Some of its products even have award-winning registered dietitian Julie Upton's seal of approval. Per Eat This, Not That, Upton recommends Panera's deli turkey sandwich, Mediterranean bowl with chicken, and autumn squash soup, among other products, for a balanced meal out. 
While Panera has always been known for its bread products (did you know Panera means bread basket in Spanish?) and has a broad menu that seems to expand every year, one product category has been absent at the chain since the very beginning: milkshakes. That's changing this week, as the Midwestern chain is gearing up to debut a trio of Bakery Shakes, reports Nation's Restaurant News.
Panera Bread's Bakery Shakes contain familiar flavors
If you're in the mood for milkshakes year-round, this may be the announcement you've been waiting for all fall: Panera Bread is now testing three new milkshakes in select locations, and they incorporate baked goods you may have already tried at the chain.
According to Chew Boom, the three Bakery Shakes include the kitchen sink shake, fudge brownie swirl shake, and strawberry cheesecake swirl shake. The first shake has the same ingredients you'd find in Panera's sweet and salty kitchen sink cookie — two types of chocolate, caramel bits, and pretzels — plus vanilla-flavored cream, caramel, and whipped cream. The brownie shake is blended with Panera brownies and has a chocolate and whipped cream topping. If you don't remember cheesecake being on the Panera menu, you'd be onto something: The strawberry cheesecake swirl shake is Panera's first menu item containing cheesecake flavors and has cream cheese and fresh strawberries.
Panera will be testing these shakes for $5.79 in various cities around Texas, including Waxahachie, Waco, Killeen, Cedar Hill, Temple, Mansfield, and Grand Prairie (via Nation's Restaurant News). If the shakes are deemed successful, these icy treats may get a second round of testing on a national level next year — representing the first time Panera customers will be able to order a milkshake that's not just on the secret menu.