We Tried Blue Apron's New Holiday Roast Box. The Word Feast Is Accurate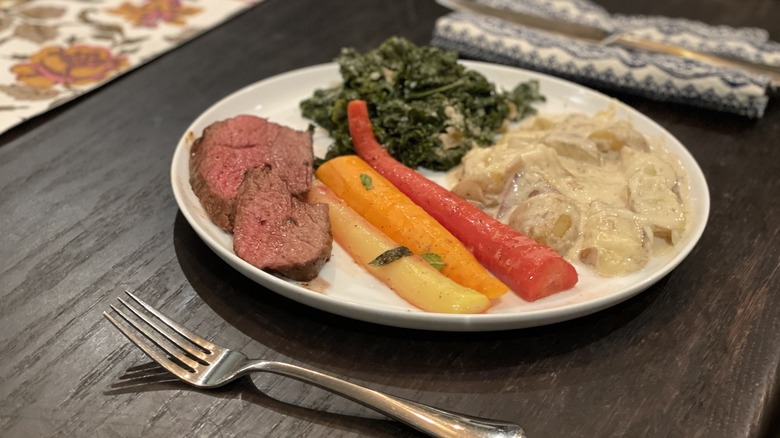 Steven John/Mashed
It's all too easy to throw words around recklessly in food writing; terms like "spicy" or "sweet" or "buttery" or "bitter" can mean such different things to different palates that, without such words being carefully qualified, the terminology can be anything from devoid of meaning to surprisingly inaccurate. Your definition of spicy food might be someone else's definition of scorching tongue misery, for example. One person may use a macaron as their standard for a sweet food though another may call a piece of brioche bread a sugary treat. But in the case of the new Holiday Roast Box from Blue Apron, the word "rich" is one we're going to use time and time again because it's just a perfectly accurate term for a feast replete with 48-ounce beef tenderloin, three delectable sides, and a dessert fancy enough to write home about on its own.
Other terms we can use here? Well, hands-on, for one, because indeed a Blue Apron Holiday Roast Box calls for a lot of active cooking — when they recommend you prep the Cheesy Potato Bake and the Creamy Spinach and Kale ahead of time (even the day before), you heed that advice! But also accurate are words like satisfying, complex, varied, and seasonally appropriate. This carefully curated selection of foods really does constitute a perfect winter holiday meal that will thrill friends and family who come to your table. And if they know how much hands-on work you did in the kitchen beforehand, there will be some gratitude as well.
What's in Blue Apron's Holiday Roast Box?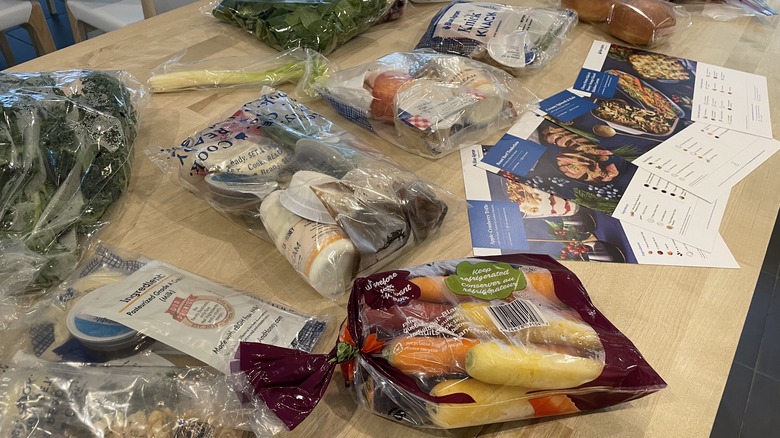 Steven John/Mashed
There's a lot to unpack here. Literally. Aside from water, salt and pepper, and oil, this box comes with everything you need to prepare a roast beef tenderloin with sherry-Dijon pan sauce, a cheesy potato bake with crème fraîche and caramelized onions, honey-orange glazed rainbow carrots with pistachios and mint, creamy spinach and kale with thyme and crispy onions, and an apple-cranberry trifle with coconut custard and candied pistachios. Just listing out all of the dishes takes a long time, so as for sharing all of the ingredients? Well, let's see if we can even fit them here.
Respectively, starting with the roast (and remember that Blue Apron conveniently separates the ingredients needed for each dish), you'll receive a huge piece of beef, chives, crème fraîche, butter, Dijon mustard, Worcestershire sauce, bone broth, sherry vinegar, demi-glace, and a spice blend. For the cheesy potatoes, you'll get potatoes, caramelized onions, garlic, parsley, Fontina cheese, Parmesan, more crème fraîche, cream, and more demi-glace. The carrots call for, well, carrots, an orange, mint, honey, apple cider vinegar, chili paste (you can leave that out), and roasted pistachios. The spinach and kale dish features said veggies, garlic, Parmesan, butter, flour, spices, cream, crispy onions, thyme, red pepper (again, you can skip the spice), lemon purée, and even more demi-glace. And finally, for the trifle, you'll get an egg, Challah buns, an apple, cranberries, cream, coconut milk, cornstarch, honey, maple syrup, pistachios, two kinds of sugar, vanilla powder, and spices. Whew.
How much does Blue Apron's Holiday Roast box cost?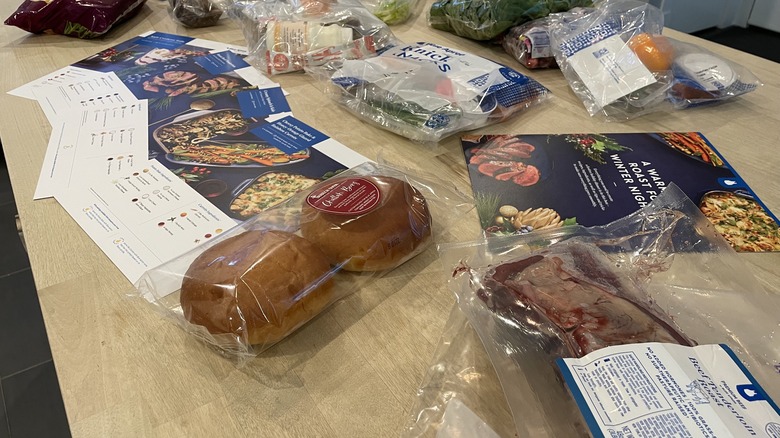 Steven John/Mashed
For some perspective that's actually kind of amazing, note that, per TIME, the average Thanksgiving Day meal in 2022 will cost $64.05 for a 10-person party. That makes it just about $6.40 per person to enjoy that holiday meal. This Holiday Roast Box is not intended as a Thanksgiving meal, of course (in fact, as you'll see, you could not even have gotten one for that holiday if you'd wanted), but we're using that $64.05 total/$6.40 per person figure for context. The Blue Apron Holiday Roast Box costs $189.99 and is intended for six to eight diners. In our experience (and factoring in that one of our "food testers" was a four-year-old who didn't really eat her share), the portions included are perfect for seven diners with average appetites, so let's call this a seven-person situation. Do the math of $189.99 divided by seven, and you'll see that's $27.14 per person. 
And if we do a bit more math, namely $27.14 divided by $6.40 ($6.40 that again is the average cost per diner at a home-cooked American Thanksgiving) and we get 4.24. So yes, that means this meal is, per person, well over four times the price of a standard holiday-level dinner, and it does not even account for 10 diners at that. It's a sumptuous affair and we dare say it's worth the cost, but just know that what you're saving yourself here is the strain of planning a menu and the bother of going to the grocery store — you're doing the opposite of saving money.
How long are Blue Apron's Holiday Roast boxes available?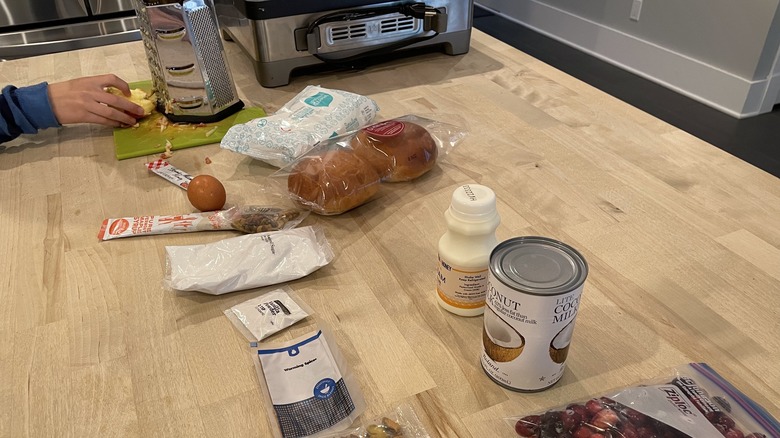 Steven John/Mashed
The Blue Apron Holiday Roast Boxes are, conveniently, available all throughout the winter holidays, and this being the year 2022 in question, to be clear. (We know things have gotten a but hard to keep track of in the pandemic and semi-post-pandemic haze, so just keeping things sorted for ya.) Deliveries will begin the week following Thanksgiving (see? It's really not a Thanksgiving box at all) and continue clear through the end of 2022. You can order a box and have it ship on the weeks starting 11/28, 12/5, 12/12, 12/19, and 12/26 – which happens to be the week that rings out this year and will bring in a joyful (ideally) 2023.
Just note that you need to give Blue Apron at least a three-day heads-up if you want the boxes to ship during a certain week. So for delivery during the week of 11/28, for example, you need to place that order by Friday, 11/25, by noon eastern, to be precise. As for the exact date during the week when your Holiday Roast Box will be delivered, you can't really control that, but everything will keep OK in the fridge (and the freezer for the meat — just budget a night for it to thaw in the fridge and check on it often) so no worries if the box arrives, say, Wednesday but the feast is on Saturday. Also, note that you can't cancel or alter your order once it's placed!
How do the Holiday Roast boxes compare to Blue Apron's other offerings?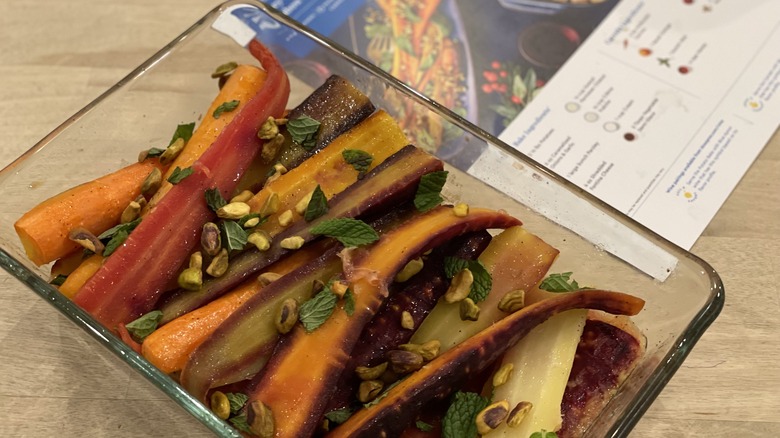 Steven John/Mashed
Blue Apron sends you every ingredient you need for every dish save the very basics like, as we noted, cooking oil, salt, pepper, and water. Where the company can, it has things portioned out and prepped, but there is still a fair amount of work, like peeling and chopping and dicing and mixing and layering and simmering and baking and OK, you get the picture! Where this Holiday Roast Box differs from the standard Blue Apron experience is in sheer scale.
Look, we're pretty experienced cooks in our house. Chefs? Maybe not, but we cook dinner at home six nights a week and often seven, we have multiple original from-scratch dishes, and we're pretty handy with the classics. And we've tackled meal kits from Purple Carrot, Hello Fresh, and of course from Blue Apron, and done so handily, thank you very much. This one? The Holiday Roast Box? It was an epic cooking experience, and one that required even handy home chefs — er, cooks — like us to do our very best kitchen work, from planning well ahead to hitting it hard on the mise en place to recruiting some help for a few dishes. Long story short, this meal would be a lot for an amateur cook to handle. If you are indeed a less experienced hand in the kitchen, go for it – but by all means, prep the sides and dessert ahead of time, and get some help the day of!
What's the nutrition info for Blue Apron's Holiday Roast box?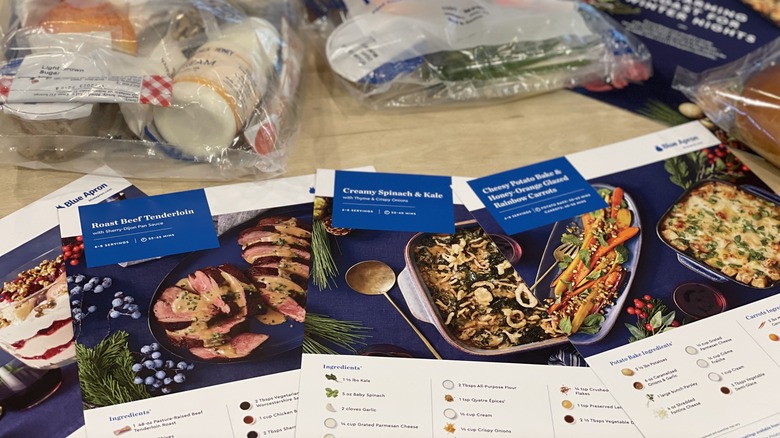 Steven John/Mashed
Here is where the word "rich" really comes into play. Did you happen to see how many times we listed crème fraîche and cream in the ingredient list? Let's take a look step-by-step here, and just remember: It's a holiday meal, it's OK to indulge now and then! The roast beef tenderloin, served with the sauce you'll create and with this data referring to one portion of six servings, will deliver 470 calories, 29 grams of fat, 14 grams of saturated fat, 1,090 milligrams of sodium, and 49 grams of protein. Again broken into six portions, a serving of the cheesy potatoes means each diner gets 430 calories, 26 grams of fat, 14 grams of saturated fat, 690 milligrams of sodium, and 11 grams of protein.
For honey and orange glazed carrots, that's 110 calories per person, 3 grams of fat (and 0 grams of saturated fat), 280 milligrams of sodium, and 2 grams of protein. The creamy spinach and kale nets each of six eaters 210 calories, 16 grams of fat, 8 grams of saturated fat, 640 milligrams of sodium, and 6 grams of protein. And finally, that apple-cranberry trifle means 460 calories per person, 23 grams of fat, 12 grams of saturated fat, 420 milligrams of sodium, and 5 grams of protein. If you want to do the math and add all that up to see what you'd consume when having a serving of each foodstuff, go for it — having actually done so, we didn't want to know.
Did we enjoy Blue Apron's Holiday Roast box?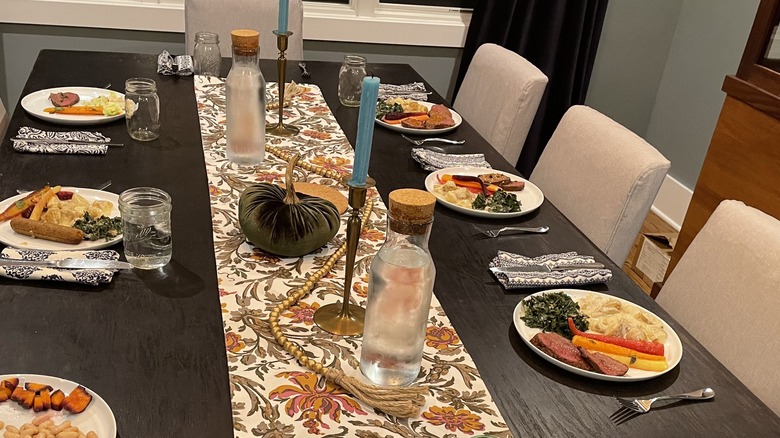 Steven John/Mashed
We absolutely loved the meal we prepared using the foods and recipes in the Blue Apron Holiday Roast Box, and so did everyone in our family as well as our guests. The cut of meat was superlative — it drew comments from all diners and was still being discussed several days after the fact. And it really wasn't hard to prep or cook that mighty roast beef slab, either. The trifle (which you can and should make a full day in advance) looked as good as it tasted and was also remarked upon by all. Everyone had seconds of trifle, too. As for the sides, a couple of folks found the creamy greens a bit too, well, creamy, but others gladly ate larger portions to compensate. The potatoes, despite tasting like something that makes your arteries angry at you, were just amazing — there was never a chance of leftovers there. As for the carrots, they were probably the least interesting part of the meal, but they were still quite good and easy to prep and cook.
As we've likely made overly clear, this meal was a lot of work. If we were to make it again, we would have prepped the trifle a full day beforehand, made the potatoes the evening ahead, and prepped the spinach and kale with hours to spare. Still, even preparing and cooking everything on the same day we served it, we got it all done and right on time, but it was hands-on for a lot of time that day.