Southern Tea Cakes Recipe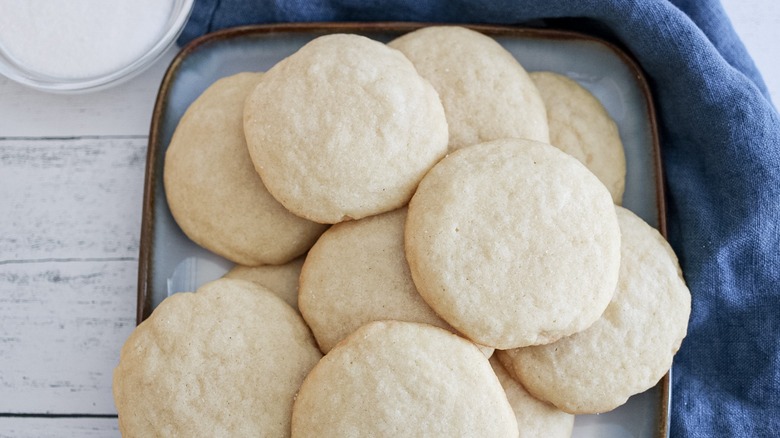 Jessica Morone/Mashed
A tea cake is a Southern baked good similar to a cookie. But if you ask some people, that's a simplistic way of explaining this treat. As Etha Robinson, a former teacher and tea cake advocate, said in an interview with NPR: "it's more than a cookie ... it's an experience." The sweet creation has been a part of Juneteenth celebrations for years, as have red-hued foods, but it's also a common recipe with simple, versatile roots.
Curious about making some tea cakes of your own? Look no further than this easy tea cake recipe from recipe developer Jessica Morone. "The special ingredient in this recipe is mayonnaise, which adds moisture to the tea cakes, and helps to make them thick and puffy," Morone reveals. "The extra oil in the mayo also helps keep the cake bottoms from burning on the cookie sheet."
Morone sums this Southern treat up well: "These are like thicker sugar cookies, so you can serve them for any occasion. They are pretty delicious." Here's how to whip them up at home.
Gather your tea cake ingredients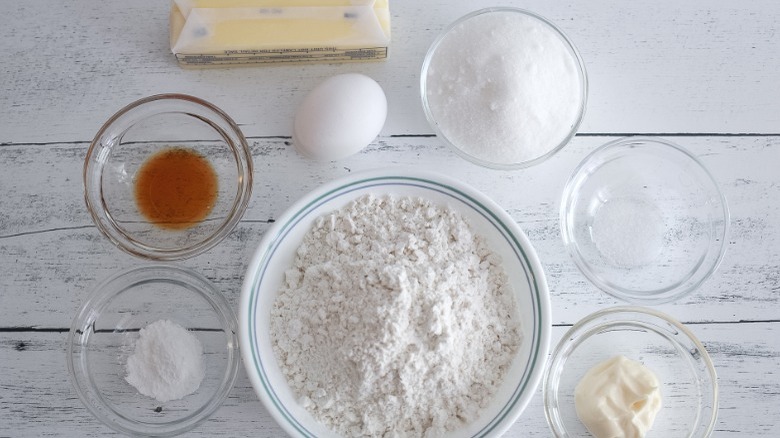 Jessica Morone/Mashed
This recipe for tea cakes requires mostly pantry staples: all-purpose flour, sugar, baking powder, unsalted butter, vanilla extract, salt, mayonnaise, and 1 egg brought to room temperature. You'll also need a pan lined with parchment paper, and something to scoop balls of dough with.
Make the tea cake dough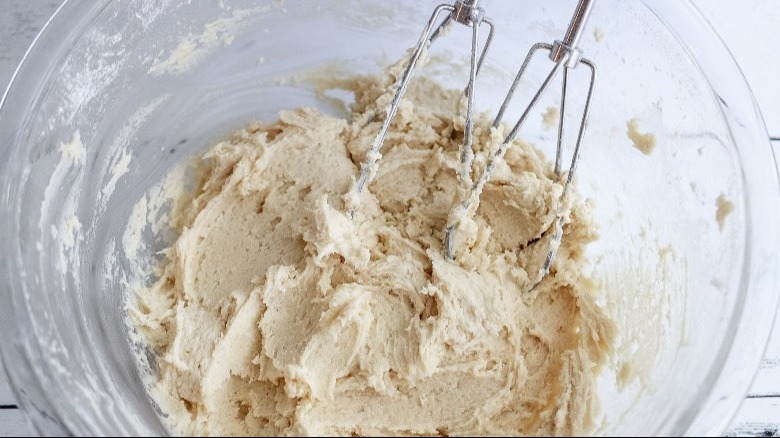 Jessica Morone/Mashed
First, whisk together the flour, baking powder, and salt in a bowl. Next, cream the butter and sugar with an electric mixer until soft and uniform, about 3 to 4 minutes. "If you don't have an electric mixer, you can mix these up by hand — just make sure the butter is soft enough when you combine it with the sugar, or it will be harder to mix up," Morone suggests. "If the butter is too cold, you can put it in the microwave for about 10 seconds to soften it up." Mix the mayo, vanilla, and egg in with the creamed butter. Then, slowly add the flour mixture in with the wet ingredients until a dough forms.
Chill the tea cake dough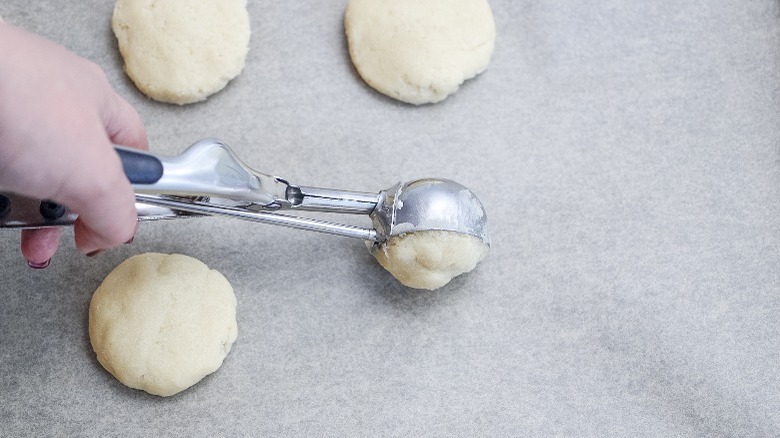 Jessica Morone/Mashed
Cover the dough with plastic wrap, and put it in the fridge for at least 30 minutes. While the dough chills, preheat the oven to 350 F. "Chilling the dough before baking will keep the tea cakes from spreading too quickly when you bake them. The dough is also pretty sticky right after you make it, so chilling it makes it easier to work with," Morone explains. "You don't need to bake the dough the same day, you can keep the dough in the fridge without baking it for up to 3 days, or you can freeze it for up to 4 months."
When ready to bake, scoop evenly-spaced balls of dough onto a parchment-lined baking sheet. Lightly press the top of the balls so they flatten out slightly, and add a sprinkle of sugar if you'd like a little extra sweetness.
Bake and serve your homemade tea cakes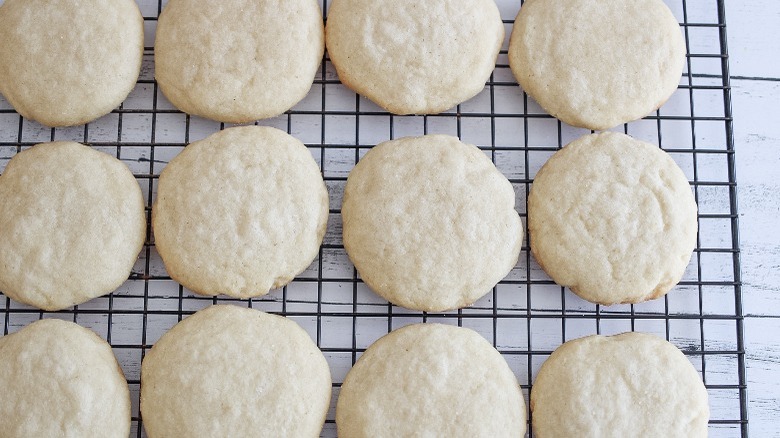 Jessica Morone/Mashed
Bake the tea cakes for 10 to 12 minutes, or until golden on the edges. Then, transfer them to a cooling rack for 10 minutes, and serve. "These are called tea cakes because they go so well with tea, so serving them with hot tea or cold sweet tea is always a good idea," notes Morone.
This recipe make about 12 tea cakes, but if you end up with leftovers, that's no problem. "You should store these in an airtight container, and they should last for up to 5 days," Morone says.
Southern Tea Cakes Recipe
This Southern tea cakes recipe is a great mashup between a cookie and cake, with a secret, savory ingredient that will surprise you.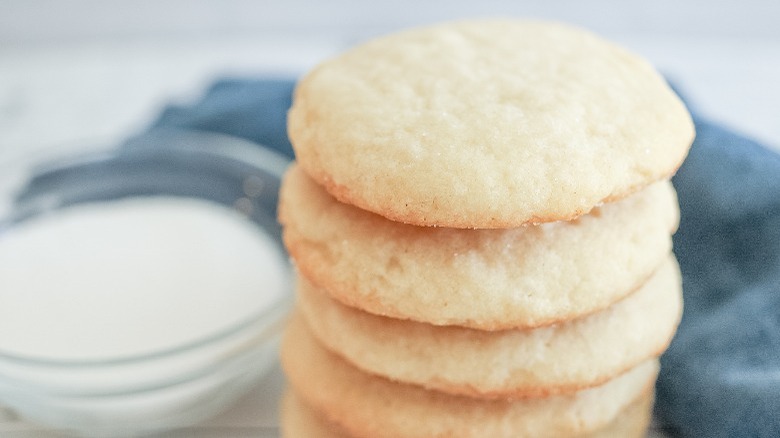 Ingredients
1½ cups all-purpose flour
¼ teaspoon salt
1 teaspoon baking powder
½ cup unsalted butter, room temperature
¾ cup granulated sugar, plus more for sprinkling
1 large egg, room temperature
1½ teaspoons pure vanilla extract
1 tablespoon mayonnaise
Directions
In a medium sized bowl, whisk together the flour, salt, and baking powder.
In a large bowl, using an electric mixer, cream the butter and sugar until fluffy, about 3 to 4 minutes. Add the egg, vanilla extract, and mayonnaise to the bowl, and beat until well incorporated.
Slowly add in the flour mixture in 2 to 3 intervals, beating between each interval, until the flour is completely incorporated.
Cover the dough with plastic wrap, and refrigerate for at least 30 minutes, until the dough is firm.
While the dough is chilling, preheat your oven to 350 F. Line a baking sheet with parchment paper. Scoop the dough into balls the size of 1 tablespoon, and place them on the prepared baking sheet, leaving at least 2 inches between each dough ball. Gently flatten the top of the balls, and sprinkle the tops with extra granulated sugar if desired.
Bake in the preheated oven for 10 to 12 minutes, until the tea cakes are golden brown on the edges. Cool for at least 10 minutes on a cooling rack, then serve.
Nutrition
| | |
| --- | --- |
| Calories per Serving | 189 |
| Total Fat | 9.1 g |
| Saturated Fat | 5.2 g |
| Trans Fat | 0.3 g |
| Cholesterol | 36.3 mg |
| | |
| --- | --- |
| Total Carbohydrates | 24.6 g |
| Dietary Fiber | 0.4 g |
| Total Sugars | 12.6 g |
| Sodium | 93.1 mg |
| Protein | 2.2 g |