The Tragic 2020 Death Of Beloved Food Network Star Floyd Cardoz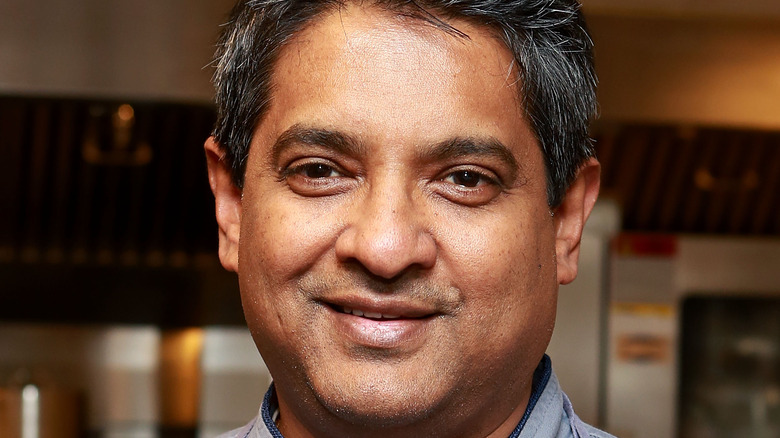 Robin Marchant/Getty Images
Born in India in 1960, Chef Floyd Cardoz had a fulfilling 30-year career. Per his website, he appeared on, and won, a season of "Top Chef" and wrote two cookbooks. He was also the owner of seven restaurants — Bombay Canteen, O Pedro, Bombay Sweet Shop, Bombay Bread Bar, Paowalla, North End Grill, and Tabla. In his early days, he never planned to enter the culinary world. Instead, he was aiming for a job in the medical field after getting his bachelor's degree in biochemistry. Although he was reluctant, he eventually switched paths and became one of the greats in the restaurant business.
According to Forbes India, Cardoz moved to America from India to gain more recognition as a chef. As he gained his footing, he started opening restaurants in both countries. "Over the years, people had asked me to do something in India, but I hadn't found someone I could trust, who understood what I wanted in my life, at my restaurants, how I wanted people to be treated," he told Forbes India about entrusting his business partners, Sameer and Yash. Numerous conversations among the three led to the birth of The Bombay Canteen. When he passed in 2020, Cardoz was hard at work on his latest concept, Bombay Sweet Shop.
He died of COVID-19 complications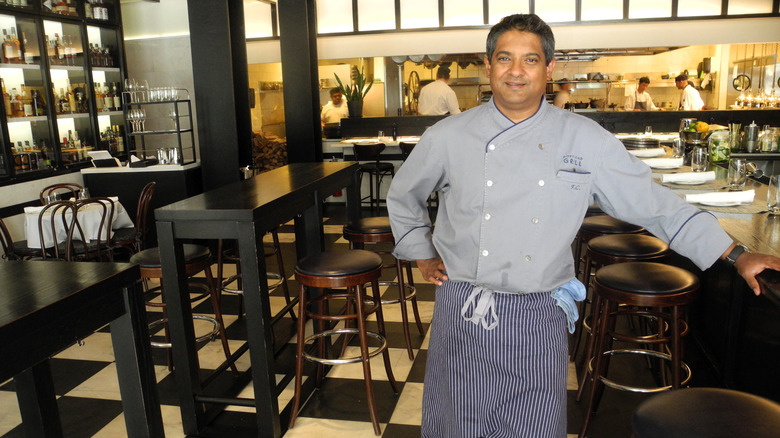 Bloomberg/Getty Images
In 2020, Floyd Cardoz died unexpectedly from COVID-19 complications (via CNN). He first tested positive on March 18, and he passed just days later on March 25. In a statement from Hunger Inc. Hospitality, it was revealed that Cardoz had been treated at Mountainside Medical Center in New Jersey. The chef was 59 at the time of death.
Many of those who knew him made statements following his death, several of which are on his website. "He proved to be insightful, motivating, and above all empathetic," former Tabla Chef Mark Barrett said. "I like to think that I model my behavior in a kitchen after Floyd." North End Grill Chef Quincy Gardner said, "While working with Floyd I saw how fulfilled he was making Indian food. It inspired me to explore my own roots as an African American ... Floyd was solid and inspired all of his employees." You can view more of these tributes online.