The Internet Is Absolutely Roasting Taco Bell's Disappointing Enchirito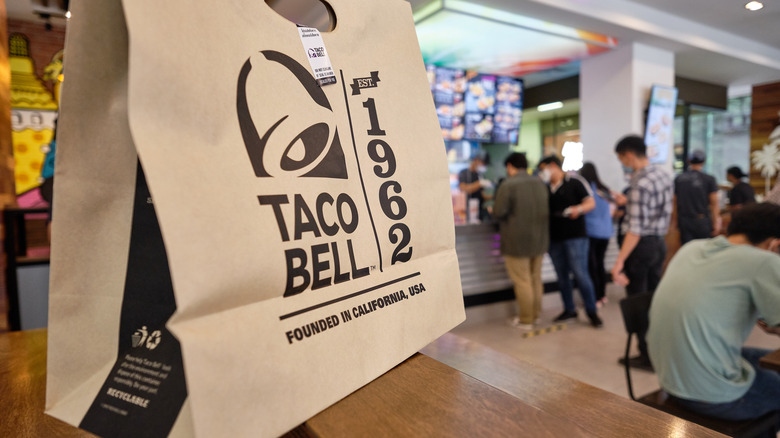 KULLAPONG PARCHERAT/Shutterstock
Ah, Taco Bell, home of the heavenly Mexican Pizza, the elusive Nacho Fries, the OG crunchy taco. There's simply no denying that Taco Bell has a lot of great options on its menu. However, as is the case with all fast food restaurants, for each great menu item, there's a not-so-great menu item. Yeah, we're talking about the enchirito.
In most cases, the third time's the charm, but in the case of Taco Bell's enchirito, this couldn't be further from the truth. Taco Bell recently brought the enchirito back after it was voted as a fan-favorite, but something must have gotten lost in translation because this menu item is nothing like how we remember it.
According to HITC, the enchirito is the love child of an enchilada and a burrito — onions, beef, and beans stuffed into a flour tortilla, smothered with sauce and melted cheese. Iconic. But as countless Redditors have been pointing out, the new "enchirito" is a major disappointment in several key ways.
What's up with Taco Bell's enchirito?
If it wasn't already clear, people are not loving Taco Bell's latest enchirito resurgence. Redditors are particularly upset, with many sharing photos of their sad enchirito orders. Knowing how we felt about the new Mexican Pizza's brief appearance earlier this year, we feel for the enchirito lovers.
Several people immediately noted a difference in the enchirito's size, with one Reddit user commenting that they "swear these used to be way bigger." Another Reddit user complained, "They look so much bigger in everyone else's photos," while yet another Reddit user posted, "Mine had nacho cheese inside, super tiny and rolled like a burrito when it's not supposed to be."
The enchirito being rolled seemed to be the biggest complaint after its smaller size, with many people (so many) commenting that the enchirito is supposed to be flipped like an enchilada, not rolled like a burrito. However, even the enchiritos that were flipped properly still had their own problems. According to one Reddit user's post, their enchirito didn't even have any sauce or cheese on it. Needless to say, Taco Bell could probably benefit from workshopping the enchirito a little bit more.