The Tragic 2014 Death Of Masterchef's Ross Burden
Chef Ross Burden ran through accomplishments like an Olympic athlete, and there's hardly a doubt he wouldn't have slowed down if it weren't for unfortunate events in his mid-40s. In 1993, New Zealand Chef Ross Burden made a name for himself after reaching the "MasterChef" finals (via The Guardian). With his newfound fame, he became a mainstay on BBC's "Ready Steady Cook" with Ainsley Harriott at his side. 
According to Daily Record, his love for "MasterChef" pulled him back when he became a judge on his home country's first rendition of the show. And through it all, he found time to write six cookbooks: "At Home with Ross Burden," "Food for All Seasons," "Three Chefs in the Cape," and three different "Ready Steady Cook" cookbooks.
Throughout Burden's lifetime, he cooked for Princess Anne and Joan Collins, according to the NZ Herald. Furthermore, his sister, Kirsten Hughes, revealed he was nowhere near finished tacking on accomplishments. In fact, he was studying at Auckland University at the time, with just one more assignment to complete before earning his Master's degree. Sadly, Burden's life and career were cut short. 
Ross Burden left behind a culinary legacy.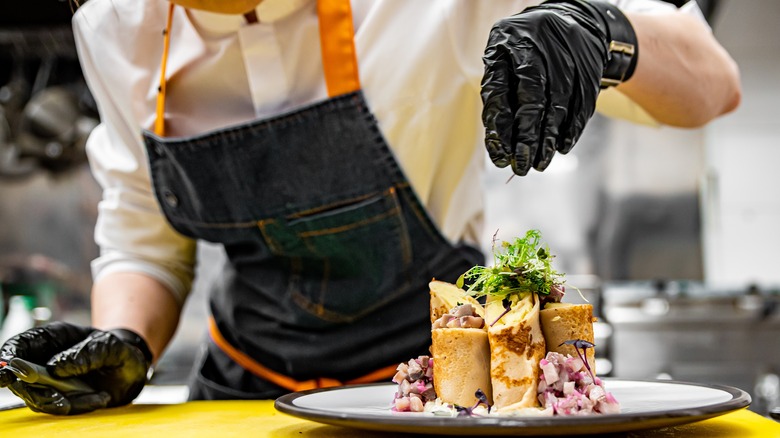 siamionau pavel/Shutterstock
At only 45 years old, promising Chef Ross Burden passed away unexpectedly at Auckland City Hospital in July of 2014 (per NZ Herald). Although Burden had been diagnosed with leukemia a year earlier, the cancer itself wasn't the cause of his death, according to his sister Kirsten Hughes. While receiving a bone marrow transplant as part of his cancer treatment, he contracted an infection that became fatal. "Right up until probably a week-and-a-half ago, he was making his next lot of plans. He had the world map out," Hughes said.
Numerous chefs mourned Burden on social media platforms. "Just heard the sad news my old Ready, Steady, Cook colleague Ross Burden has passed away," James Martin tweeted. "My thoughts go out to friends and family. RIP Ross." Additionally, "MasterChef" judge Simon Gault told NZ Herald, "He was great to work with. He was never a minute without a laugh or a joke – great sense of humor."
Burden's legacy and memory continue to this day with his impact both on "MasterChef" and the culinary world.