Here's What Happened To O'Dang Hummus After Shark Tank
O'Dang Hummus was created by Jesse Wolfe when he got his wisdom teeth taken out and got tired of only being able to drink milkshakes while his mouth healed, according to Shark Tank Blog. He tried hummus and found that a lot of the brands that were in grocery stores at the time were bland and boring, so he decided to make his own flavors such as buffalo, dill pickle, and sweet and spicy. During that time, Wolfe was a student at the University of Central Florida (UCF) with a major in entrepreneurship and business management. One of his professors suggested that he enter The Joust, which is UCF's entrepreneur competition, and Wolfe ended up placing third.
With his success in his university's competition, Wolfe wanted to expand his business by selling his hummus at a local farmer's market in Orlando; however, the waitlist for a booth was around two years. Wolfe took initiative and brought samples of his O'Dang Hummus straight to the person in charge of the farmer's market, who ended up loving the product so much that they allowed Wolfe to jump the line and open his own stall. Aiming to further grow his hummus business, he made an appearance on the show "Shark Tank," where American entrepreneurs pitch their products to billionaires in hopes of them investing, per ABC.
O'Dang Hummus made a deal with two investors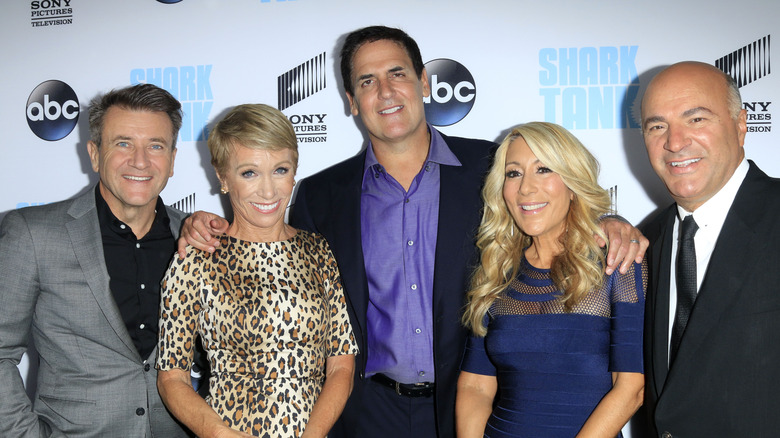 Kathy Hutchins/Shutterstock
Jesse Wolfe pitched his hummus business to Sharks Mark Cuban, Kevin O'Leary, Lori Greiner, Robert Herjavec, and Barbara Corcoran, according to Shark Tank Blog. Cuban is a billionaire and owner of AXS TV and the Dallas Mavericks, O'Leary is a "venture capitalist," Greiner is the self-proclaimed "Queen of QVC," Herjavec is a "technology innovator," and Corcoran is a professional real estate agent, per ABC. Wolfe asked the investors for a $50,000 investment in exchange for 10% equity in O'Dang Hummus and shared samples of his hummus and chickpea dressings, which the "Sharks" enjoyed.
Corcoran thought that Wolfe underestimated the market too much and didn't feel comfortable making an offer. However, Herjavec wanted to add a food product to his portfolio and offered Wolfe a $50,000 investment for 15% equity. O'Leary countered with 20% equity, to which Wolfe asks Greiner if she would join Herjavec's offer. Greiner proposes 25% equity, and Wolfe counters with 20% equity, to which all three parties agree. Cuban loved Wolfe's hummus business but couldn't get an offer on the table before Herjavec and Greiner.
O'Dang Hummus only sells hummus dressings and mayo now
Since Jesse Wolfe's appearance on "Shark Tank," O'Dang Hummus has changed gears to only focus on salad dressings because the company found it difficult to have a presence on hummus shelves, per Entrepreneur. Furthermore, when speaking to various retailers, Wolfe found that a majority of the companies were more interested in his salad dressings than his hummus because plant-based salad dressings were virtually non-existent at that time.
Today, Wolfe's chickpea dressings can be found in various retailers such as Publix, The Fresh Market, Safeway, Giant Eagle, Food Lion, and more, per O'Dang Foods. Wolfe even added some vegan mayos to his salad dressing lineup, and current products include Garden Herb Ranch dressing, Lemon Caesar dressing, Classic Mediterranean dressing, Balsamic Feta dressing, Honey Mustard dressing, Roasted Red Pepper dressing, Greek Tzatziki dressing, Cucumber Dill mayo, Lemon Garlic mayo, Roasted Red Pepper mayo, and Original mayo, according to O'Dang Foods. All of the O'Dang Foods products are made without egg, gluten, and GMOs and are vegan. O'Dang Hummus' overall sales total up to around $3.9 million as of June 2022 (via Shark Tank Blog).