Lemon Hummus Recipe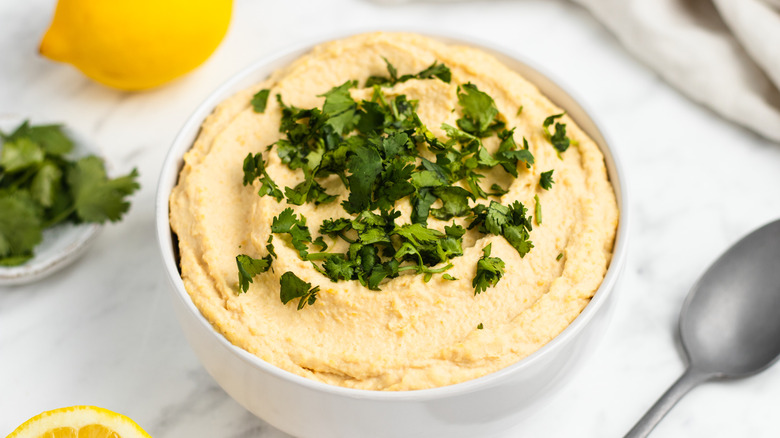 Catherine Brookes/Mashed
What is tangy, soft, and perfect for diving into with pita chips? Ask Catherine Brookes, a talented food photographer and recipe creator from Blue Sky Eating. Her answer might surprise you: lemon hummus! Of course, chickpeas and tahini are two staples in hummus, but have you ever thought to add lemon? Brookes aspired to blend an original recipe with a spritz of creativity, and the results definitely paid off. "The sharp zesty flavour of lemon pairs perfectly with rich, creamy hummus," she says. "I've often added a squeeze of lemon to homemade hummus but wanted to make the citrus taste really stand out in this recipe." Just in time for Spring, this lemon hummus will bring some much-needed freshness to your snack routine.
From Jerusalem to Athens, many spots on the map laid claim to be the home of hummus. However, Food Republic echoes the fact that hummus is a dietary nomad, with many origins but no true home. Nowadays, hummus is a popular dip and spread across the globe, though we still typically associate it with Mediterranean cuisine. This spread can be enjoyed with fresh veggies, smeared onto a sandwich, or even added as a creamy element in soups. It tastes good, is good for you — what's not to love? The tangy combos found in this dish will surely please both your stomach and your taste buds!
Gather the ingredients for lemon hummus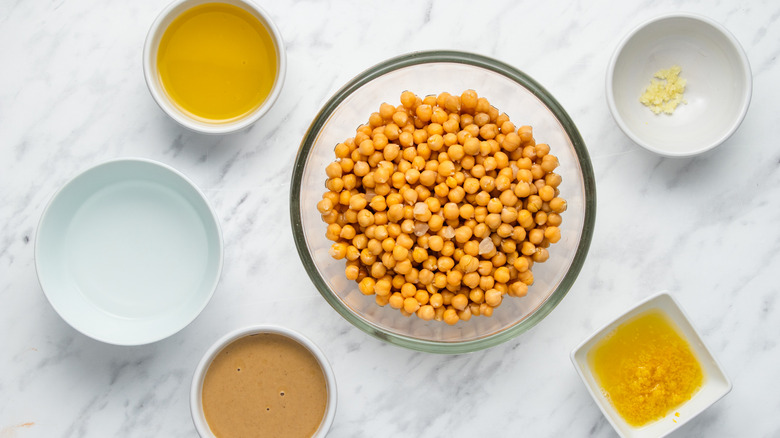 Catherine Brookes/Mashed
For this recipe, you'll need two cans of chickpeas, some tahini, olive oil, zest and juice from a lemon, a garlic clove, water, and maybe a little salt and pepper to taste. That's really all you need! Optionally, you can also garnish the hummus with fresh, chopped cilantro.
Blend the hummus ingredients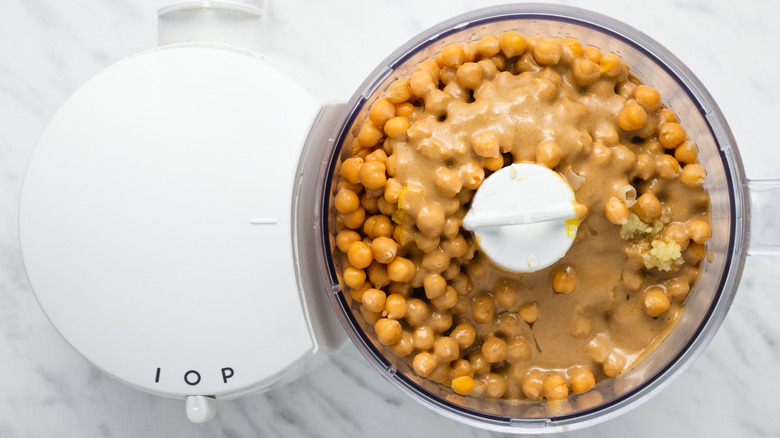 Catherine Brookes/Mashed
In a food processor, add the chickpeas, tahini, olive oil, lemon zest and juice. Drop in your crushed garlic with some seasoning (salt and pepper) to taste. On medium speed, blitz your chickpeas until the mixture comes out smooth.
Splash in a little water to soften the texture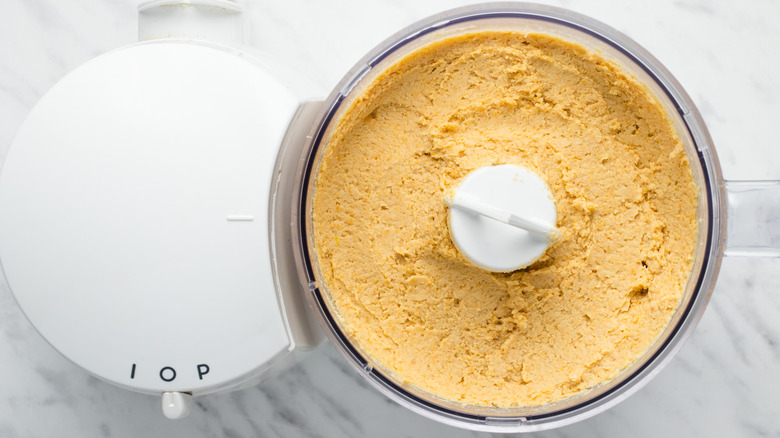 Catherine Brookes/Mashed
Your mixture may come to a chickpea paste at this point. Our developer recommends pouring in the water little by little, with the processor running. Do this until your water is gone and the hummus has reached your preferred consistency. More water will make a creamier hummus whilst using less will give a thicker consistency.
Dollop as you wish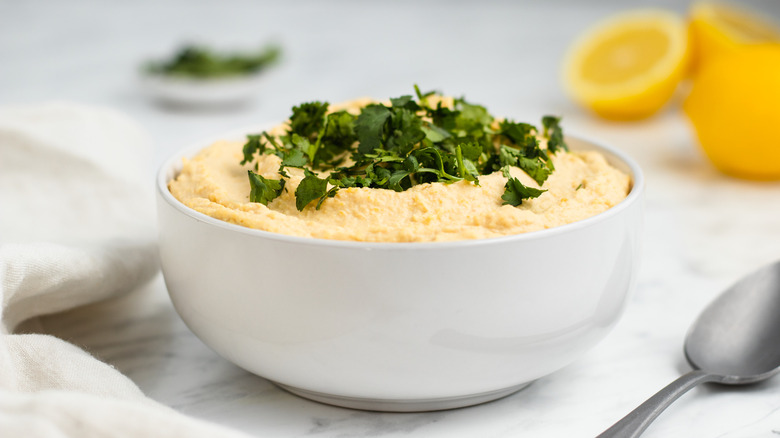 Catherine Brookes/Mashed
Blend for another minute or so just to ensure everything is well-combined. Once everything is smooth, serve this with your favorite garnish — in this case, Brookes opted for cilantro. "I enjoy making this because it so quick and easy yet full of delicious flavour, and super nutritious too," Brookes raves.
Lemon hummus partners pretty well with almost anything. "It's great as a snack with some chopped veggies or pitta bread dipped in. Or you can add a spoonful to salads or spread on toast," Brookes suggests. Once you've had enough, this can be kept airtight in the fridge for up to two days. Take advantage of this fresh dish this Spring, and until next time, enjoy!
Lemon Hummus Recipe
This lemon hummus has the perfect pop of freshness, just in time for Spring.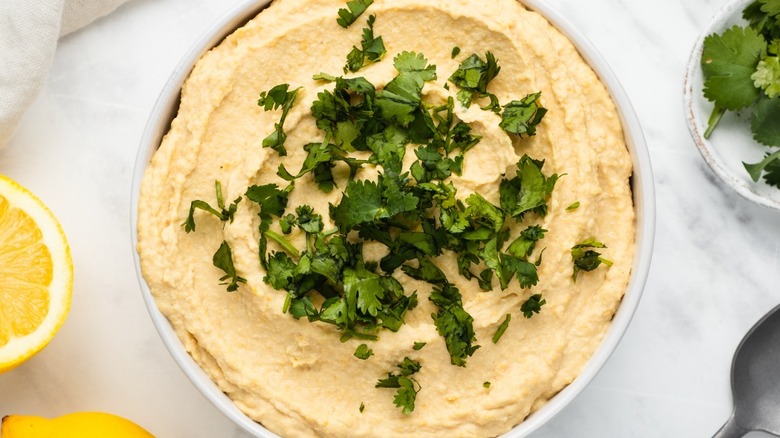 Ingredients
2 (14 ounces) cans chickpeas, drained
⅓ cup tahini
⅓ cup olive oil
zest and juice of 1 large lemon
1 clove garlic, crushed
salt, to taste
pepper, to taste
4 to 6 tablespoons cold water
Optional Ingredients
fresh chopped cilantro for topping
Directions
Add the chickpeas, tahini, olive oil, lemon zest and juice, crushed garlic, and some salt and pepper to taste in the bowl of a food processor. Blitz until smooth.
With the food processor running, slowly pour in the water a little at a time, until your desired consistency is reached. More water will make a creamier hummus whilst less will give a thicker consistency.
Blend for another minute or so to get everything really smooth and well combined.
Serve the lemon hummus, optionally garnished with fresh chopped cilantro.
Nutrition
| | |
| --- | --- |
| Calories per Serving | 281 |
| Total Fat | 17.2 g |
| Saturated Fat | 2.2 g |
| Trans Fat | 0.0 g |
| Cholesterol | 0.0 mg |
| | |
| --- | --- |
| Total Carbohydrates | 25.7 g |
| Dietary Fiber | 7.6 g |
| Total Sugars | 4.3 g |
| Sodium | 319.3 mg |
| Protein | 8.9 g |