Whole Foods Will Stop Selling Maine Lobster Due To Sustainability Demotion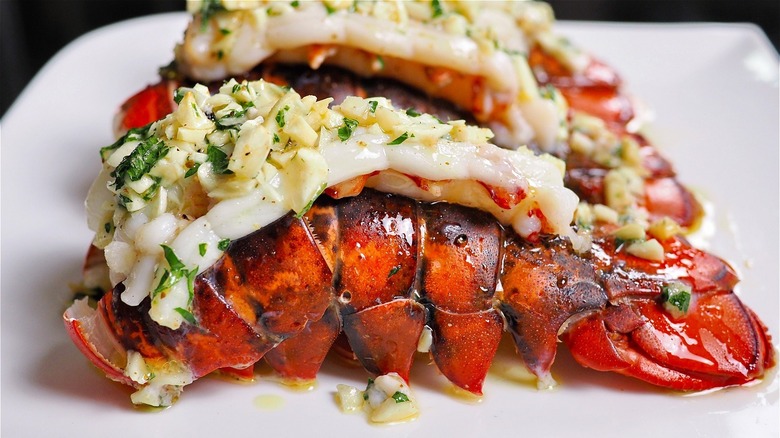 CTHB/Shutterstock
Since late last year, an ongoing war between lobster fishermen and conversation programs has caused food industry giants to shy away from lobster from Maine (per The Guardian). International ocean conservation group Oceana claimed that fishing in a specific section off the coast of Maine was posing a significant threat to North Atlantic right whales. According to campaign manager Gib Brogan, fishing in the area causes whales to become entangled and eventually die due to hard-to-see ropes. Proof of whales in this location wasn't sufficient, leading to District Judge Lance Walker to rule in favor of the $1.4 billion Maine lobster fishing industry.
In September of this year, Governor Janet Mills issued a statement after activist group Seafood Watch told patrons to boycott lobster from Maine. "No right whale death has been attributed to Maine gear, and there has not been a right whale entanglement attributed to Maine lobster gear in eighteen years," Mills said. Mills stated that lobstermen have played a part themselves in the sustainability of whales. Regardless, it's quite easy to see which side is winning the battle, as grocery store giant Whole Foods has now pulled Maine lobster from its shelves (per The Hill).
Maine's governor speaks out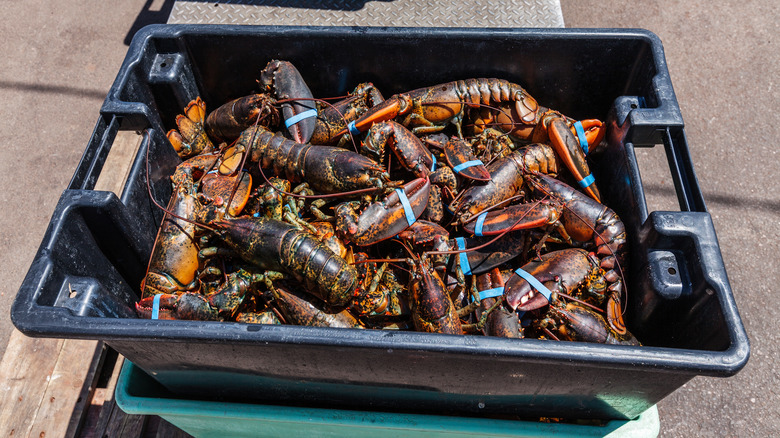 Onepony/Getty Images
Things have gotten even worse for Maine lobstermen. According to Nextstar, Whole Foods has been the latest grocery store to cease the sale of Maine lobster following a new development in the fishing v sustainability battle. This comes after the environmental group, Seafood Watch, decreased American lobster's status to red. The Marine Stewardship Council revoked the Gulf of Maine's sustainability certificate following a September audit which proved the possibility of whale entanglement. A Whole Foods spokesperson stated that the only seafood the store accepts is wild-caught seafood with a green or yellow status. Maine lobster will be officially suspended from stores beginning on December 15.
Following the announcement, Maine's Governor Janet Mills, along with other state representatives, expressed their thoughts in a press release: "We are disappointed by Whole Foods' decision and deeply frustrated that the Marine Stewardship Council's suspension of the lobster industry's certificate of sustainability continues to harm the livelihoods of hardworking men and women up and down Maine's coast." The statement urges the organization to reevaluate its decision due to a set of alleged facts, stating, "There has never been a right whale death attributed to Maine lobster gear; Maine lobstermen have a 150-year history of sustainability; and Maine's lobstering community has consistently demonstrated their commitment to protecting right whales." For now, Maine lobster will be absent on Whole Foods' shelves.