The Starbucks Employee Sign That Has Reddit In Total Shock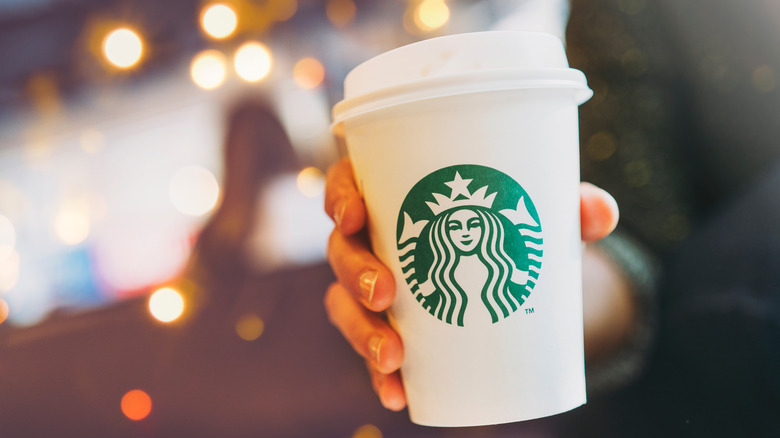 Manu Padilla/Shutterstock
In summer of 2021, Starbucks, like many in the food industry, suffered from supply chain shortages. Per Business Insider, a memo from Starbucks revealed that at least 25 items were temporarily removed from the menu. Store employees at the time confirmed that shortages included hazelnut syrup, green iced tea, caramel drizzle, and many more items. Several days later, the brand apologized for an oat milk shortage, urging customers to check the app for product availability (via Yahoo! Finance).
Frequent Starbucks consumers were devastated, posting on Twitter to share their thoughts. "We're living through The Great Starbucks Shortage of 2021. Heartbreaking," one post read. Another user noticed supply issues well into the end of the year. "I haven't known happiness since the great Starbucks toffee nut shortage of 2021," they tweeted in December. Unfortunately, consumers are about to face more disappointment, as an employee shared their store's lack of product on Reddit.
The store is out of many items
A presumed Starbucks employee shared a note they hung in the store's drive-thru on Reddit. "I got so tired of repeating myself I put these signs up in our drive thru. $10 says they're ignored anyways," they wrote. The sign listed the various items Starbucks was currently out of, including Frappuccino roast, matcha, peach, dark caramel, chocolate malt, caramel ribbon crunch, matcha lattes and Frappuccinos, peach green tea, coffee Frappuccinos, chocolate cream cold brew, and chocolate almond milk espresso. The original poster's caption was so relatable that employees also expressed their frustrations. "At my former store, customers would try to order all of that," one comment read. Another user wrote, "I bet they've tried asking since you made this post."
For the coffee house's employees, dealing with these shortages make it harder to keep customers happy. In another Reddit thread, an employee asked, "What shortages did y'all have today?" Their list included brown sugar syrup, cinnamon dolce, honey blend, and several more. Every employee that commented reported a shortage of some sort, most of the time of a multitude of items. One month from Christmas with holiday cups in full swing, it's likely Starbucks stores will face some troubles if they don't receive product soon.