The Traditional Italian Sausage That's Eaten On New Year's Eve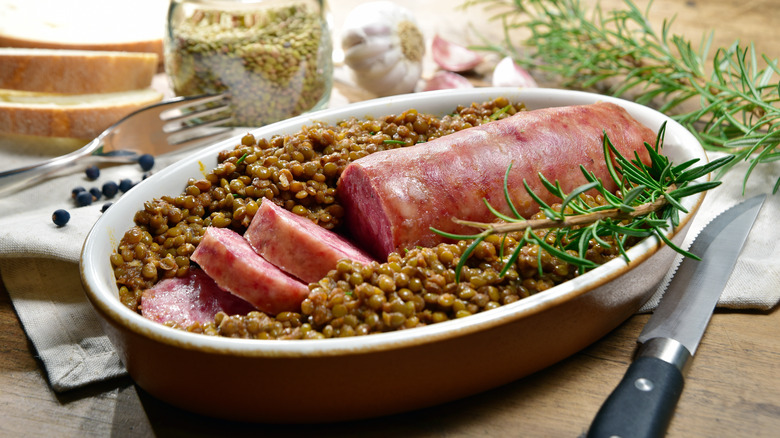 barbajones/Shutterstock
New Year's Eve is once again slowly creeping around the corner, and love it or hate it, billions of people will join the festivities at the stroke of midnight all over the world. If you're like us, you probably already stocked up your pantry with many bottles of bubbly champagne or similar sparkling wines such as the Spanish Cava or Italian prosecco (via Today). But another way of celebrating New Year's is by eating lots of tasty food. 
In Spain, 12 grapes are traditionally eaten at the stroke of midnight, representing good luck in each month of the following year. In Japan, soba noodles are eaten for longevity and prosperity, and in Armenia, people bake fresh homemade bread with a coin or a walnut hidden inside. Whoever finds the trinket will supposedly be lucky in the next year. And in the Southern U.S., a dish of black-eyed peas, rice, and ham hock, called Hoppin' John, is a classic New Year's staple (per Food 52). 
However, in Italy, the country with one of the best cuisines in the world, people opt for a traditional dish called cotechino e lenticchie.
Pork sausage cotechino and lentils are eaten for good luck in Italy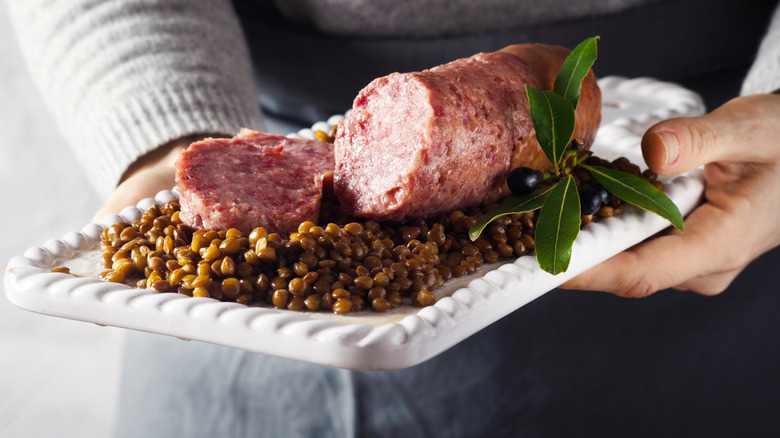 Olga Larionova/Shutterstock
If you find yourself in Italy on New Year's Eve, don't be surprised when a plate of sliced sausage and lentils arrives at your table. This traditional Italian pairing consists of a pork sausage called cotechino and green lentils, said to be good luck on New Year's because of their round shape that is reminiscent of Roman coins. Since coins symbolize prosperity and wealth, lentils are thought to bring you the same things. Pork is also considered a symbol of good luck because pigs move forward and not backward, such as lobster, which should be avoided on New Year's Eve (via Reader's Digest). 
Cotechino is an Italian sausage originating from Modena, and it's made from pork, lard, rind, and various spices. In fact, the word cotica means pork rind, because that was the primary sausage filling in the past (via La Cucina Italiana). The mixture is stuffed in natural pork casings, and the sausage is then cooked, sliced, and served over lentils (per Giallo Zafferano). Although the dish is often served with crusty bread for mopping up the sauce, cotechino can also be served with soups, crumbled over fried polenta, or used as a ragout with risottos or pasta dishes. If you want to respect tradition, enjoy it with lentils and raise a glass of bubbly to usher in the New Year and the good luck that comes with it (via Italy Bite).