The California Festival Tamale Lovers Should Know About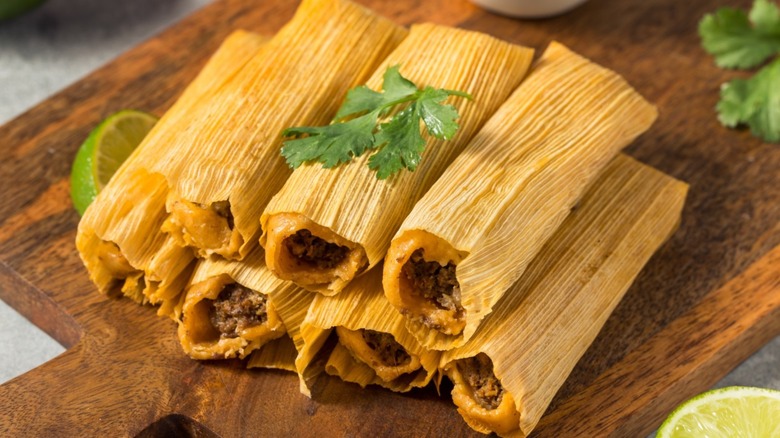 Brent Hofacker/Shutterstock
For tamale lovers living near Indio, California, this weekend is sure to be one for the (cook) books. From December 1 to December 4, people from near and far will gather to celebrate tamales — a Mexican food made with cornmeal dough and stuffed full of various ingredients and spices (per Mex Max). Tamales have a history dating 10,000 years back, and they were said to be used by Aztecs, Mayans, and similar tribes as an offering to the Gods. These portable products are traditionally loaded with vegetables, beef, beans, chicken, pork, or a combination of these fillings.
According to PR Newswire and a study by Technavio, the packaged tamale market is expected to grow $159.9 million by 2025, with 63% of the growth attributed to North America alone. Just last year, the sale of goods increased by 4.72%. When you take these numbers into consideration, it's easy to understand why an entire festival centered around this cuisine would be of interest. However, tamales are just one of the aspects that make the Indio International Tamale Festival special.
The festival also includes live music and carnival rides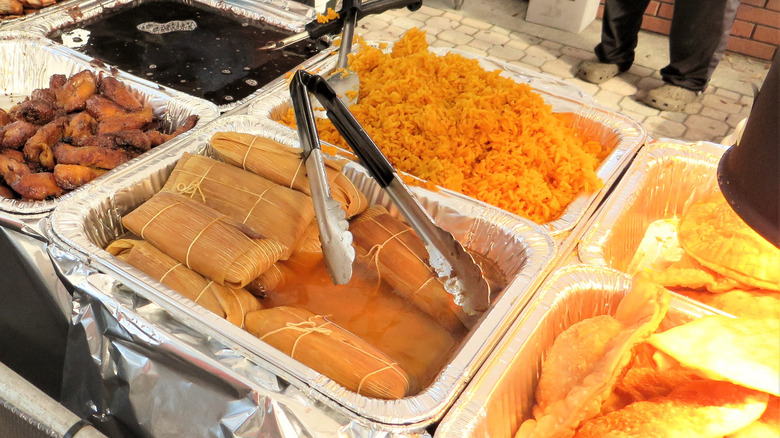 Ray Zacek/Shutterstock
This weekend, the Indio International Tamale Festival will be hosting its 30th year in Miles Avenue Park, Indio, California from December 1 to 4. Per Desert Sun, the festival's tamales are produced by hundreds of vendors with lines backing up for 45 minutes at times. Though tamales are obviously the main focus, several other cuisines are sold during the weekend, such as tacos, churros, and non-Mexican food items as well. Along with tamales, the festival will include markets, carnival rides, a car show, and the world's largest bounce house (per Indio International Tamale Festival). Additionally, there will be live performances throughout the weekend from Banda Machos, La Santa Cecilia, Nortec: Bostich & Fussible, and many more.
Entry to the festival is free, but carnival rides and VIP experiences must be purchased separately. If you're interested in winning a VIP pass, Do San Diego and Indio Tamale Fest are holding a giveaway on Instagram that includes "expedited entry, VIP areas, free tamales, drinks, and more on [them]." To enter, you must follow both pages, visit the link in one of their bios, and tag the buddy you would bring with you.
The festival will take place from 5 p.m. to 10 p.m. on Thursday and Friday, 10 a.m. to 10 p.m. on Saturday, and 12 p.m. to 8 p.m. on Sunday.