Heinz's Baked Bean Pizza Returns To The UK After 20 Years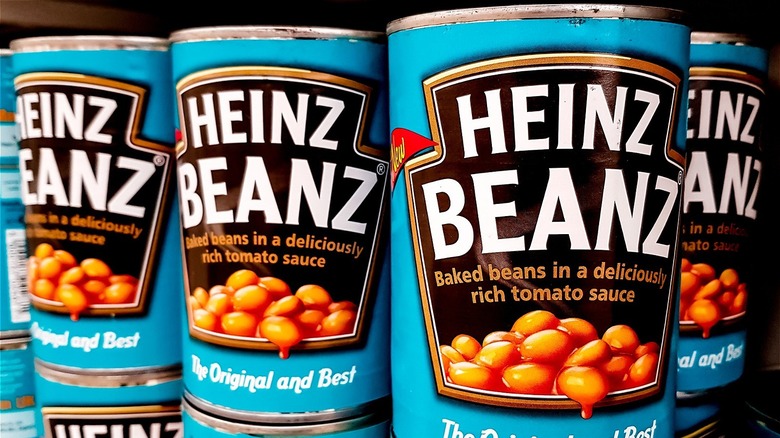 While baked beans are available in America, they aren't nearly the phenomenon in the U.S. that they are across the pond, where you'll find baked beans served up as part of a full English breakfast, or simply a full English or fry-up, along with bacon, eggs, fried tomatoes, fried mushrooms, black pudding, bubble and squeak, and fried and toasted bread, per the English Breakfast Society. (Bubble and squeak, by the way, is a dish made of mashed potatoes and cabbage, according to British Food: A History). You can also find baked beans commonly served as part of a classic simple tea which is just what it sounds like (via The British Shoppe). So it might seem obvious to put them on a pizza.
For people more accustomed to Heinz ketchup and beanless pizzas, putting the brand's baked beans with pizza might sound counterintuitive. For folks in the U.K., this cheesy and sweet combo is making a celebrated return. Oh, did we mention it has cheddar cheese on it as well (per Gloucestershire Live)? That is in addition to the mozzarella you might expect to find on a pizza. Presumably, it adds the kind of British-style flavor that people have been craving but may not have tasted for about two decades.
Baked bean pizza makes its triumphant return
The Heinz Beanz Pizza delighted food fans in the 1990s until it was discontinued in 2003 (via Gloucestershire Live). The famous pizza made a cameo appearance in 2019 to celebrate Heinz's 150th birthday but quickly disappeared from shelves once more. But this time, it appears the nostalgic blend of cheddar, mozzarella, and baked beans spread over tomato sauce is here to stay. The company posted on Facebook, "You asked, and we have delivered[.] The Classic '90s BEANZ PIZZA IS BACK." The return was welcomed with open arms by a number of Redditors. For instance, user Savage-Scotsman declared, "Omg they're back. They are amazing." And aaaaaaaa1273 called it "the best frozen pizza."
Alas, the product is not currently available anywhere in the U.S., so those who wish to try the flavor on the American side of the pond would simply have to do what some devoted fans tried in the item's years of absence: "dum[p] a tin of beans on a cheese pizza. A reporter for Devon Live found it was a more economical approach to the same result. She recommended using a frozen cheese pizza and about a ⅙ of a can of baked beans. (She reporter estimated that a Heinz-made pizza had about 54 beans.) But it doesn't stop with pizza for Heinz. The nostalgic treat is being used to bolster interest in the rest of Heinz's frozen line, which includes Heinz Beanz Burgers, Heinz Beanz Filled Hash Browns, and Heinz Beanz Bowls.