What Exactly Is A Costco Cash Card?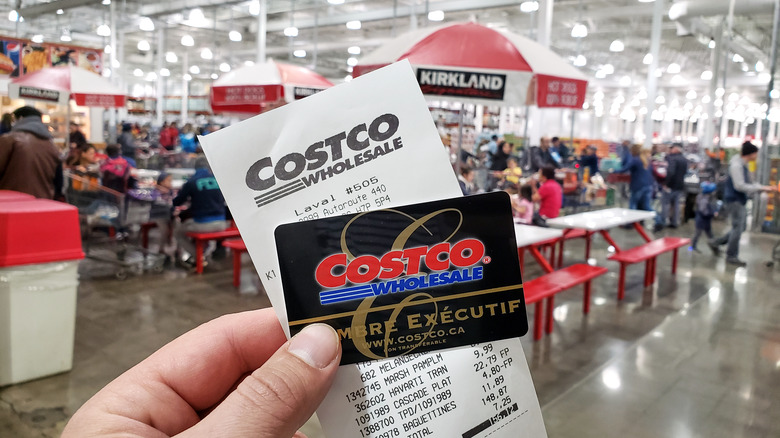 dennizn/Shutterstock
The wholesale warehouse store market is primarily dominated by three main companies: Costco, Sam's Club, and BJ's Wholesale Club, according to Statista. As of January 2022, this industry in the United States made around $500 billion in annual sales and had around 1.5 million employees. Furthermore, an estimated 23% of consumers in the United States say that they regularly shop for groceries at a warehouse club like Costco, Sam's Club, and BJ's Wholesale Club. The biggest thing all three wholesale warehouse stores have in common is that a membership is required to enter the store, shop, and take advantage of the many services provided.
Services vary from company to company, but a few examples of services that members have access to include a pharmacy, vision and hearing services, gas pumps and automobile services, a food court, and much more, per AARP. Sam's Club has the cheapest membership option at $50 a year for its basic tier or $110 a year for its premier membership, according to Sam's Club. 
Memberships for BJ's Wholesale Club can be purchased for $55 or $110 (via BJ's), and Costco has its memberships available for $60 or $120, per Costco. While some people see the value in purchasing a membership, not everyone wants one or can afford one. Luckily, there are some ways to still shop at wholesale warehouses without a membership. For Costco, it comes in the form of a cash card or shop card. Here's what you need to know.
Non-members can also use Costco cash cards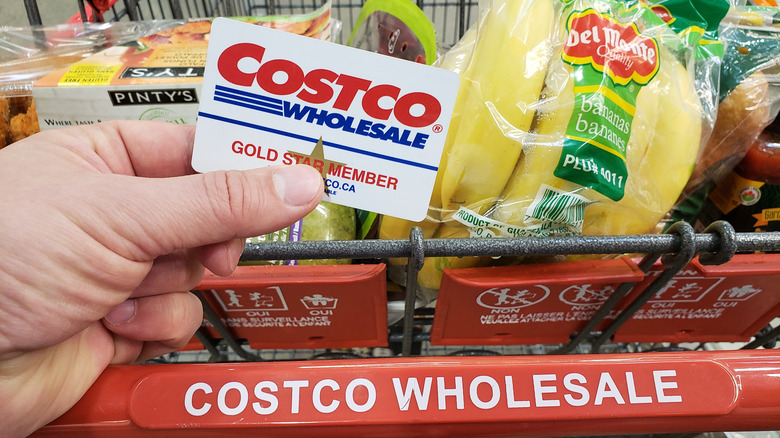 dennizn/Shutterstock
Conveniently, a Costco cash card or shop card is one way to buy Costco items without being a member, and they are available in physical and digital forms in increments of $25, $50, $100, $250, and $500, according to Costco. Costco cash cards can only be purchased by current Costco members, and both physical and digital shop cards can be used at any Costco warehouse in the United States, Canada, and Puerto Rico and online at Costco.com and Costco.ca. However, digital cash cards can't be used at Costco's gas stations or food courts.
Additionally, Costco cash cards don't have an expiration date, and physical cards can be reloaded to use again and again, per Costco. The wholesale chain also allows individuals who aren't Costco members to receive and redeem the shop cards, which can also be used towards buying a membership. Digital cash cards can be transferred by sending the email to the new person (via Costco), and digital cards can also be converted to a physical card by visiting any Costco location in person, per Costco.