Easy Ricotta Zeppole Recipe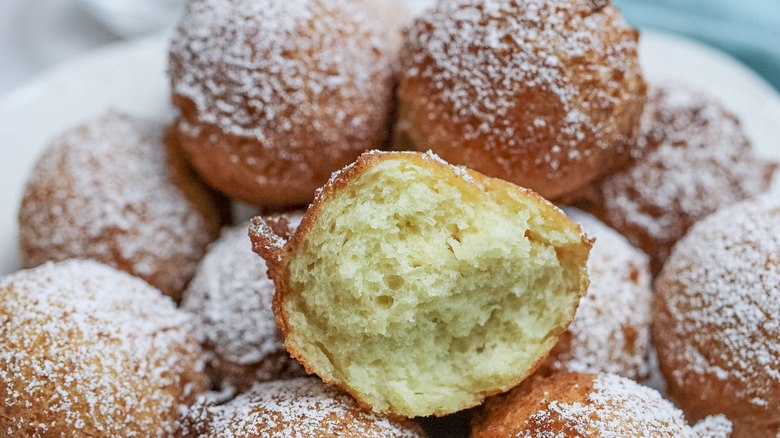 Jessica Morone/Mashed
When you combine a pastry with some ricotta cheese, the result is nothing short of fantastic. Recipe developer Jessica Morone of Jess Loves Baking came up with this nostalgic and simple riccota zeppole recipe. "My favorite thing about this recipe is that the dough is really easy to make — there's no yeast in this dough so you don't have to wait for anything to rise, and you can fry it right after mixing the dough," Morone shares. 
"Growing up, my family would always go to the San Gennaro festival at my local church every September, and the main thing I remember about the festival was all the delicious food. My favorite thing at the festival was by far the zeppole," Morone explains. "I used to think it was just a thing you got at festivals, but while you can definitely get them at festivals, they are also super easy to make at home." 
Keep reading to find out how to make this delicious dessert.
Gather the ingredients for ricotta zeppole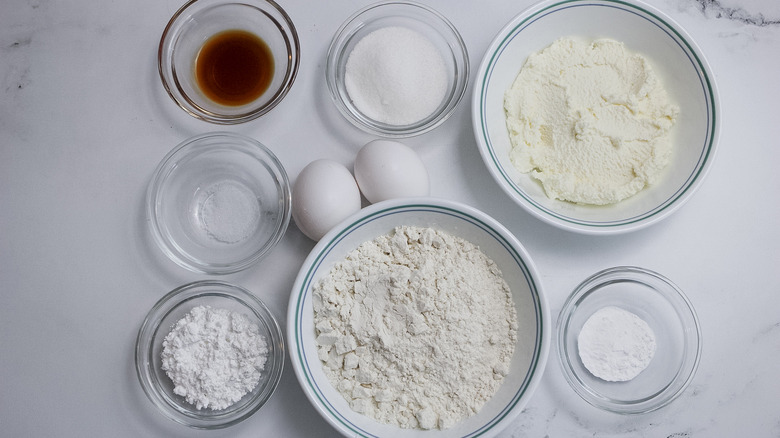 Jessica Morone/Mashed
This recipe is pretty simple, and it only requires a handful of ingredients that you may already have at home. All you need are eggs, sugar, vanilla extract, ricotta, all-purpose flour, baking powder, salt, and vegetable oil (or canola oil). The recipe also includes one optional ingredient — confectioner's sugar.
Once you have those few items, you can make these easy ricotta zeppole. 
Mix the wet and dry ingredients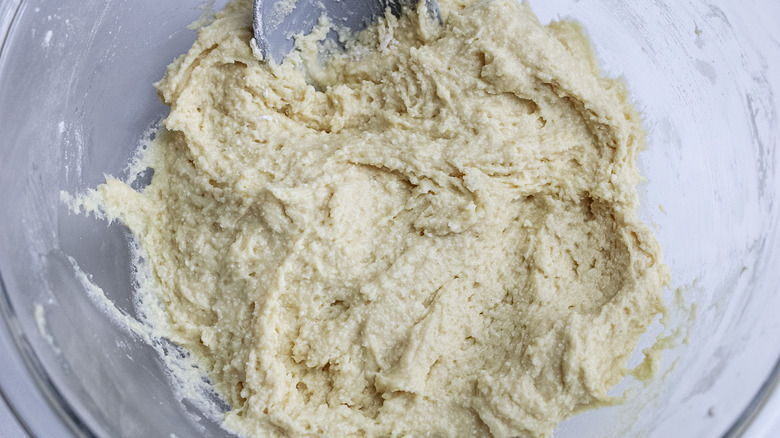 Jessica Morone/Mashed
Grab a large bowl, and whisk together the eggs, sugar, vanilla extract, and ricotta. "The star ingredient in this recipe is the ricotta. Zeppole traditionally can be filled with ricotta, but instead of filling them, or just not having any ricotta at all, I put the ricotta in the dough. The ricotta helps to make the Zeppole moist and fluffy," Morone raves.
In a separate, medium-sized bowl, whisk together the flour, baking powder, and salt until incorporated. Then, add the dry ingredients to the ricotta mixture, and mix until combined.
Fry the dough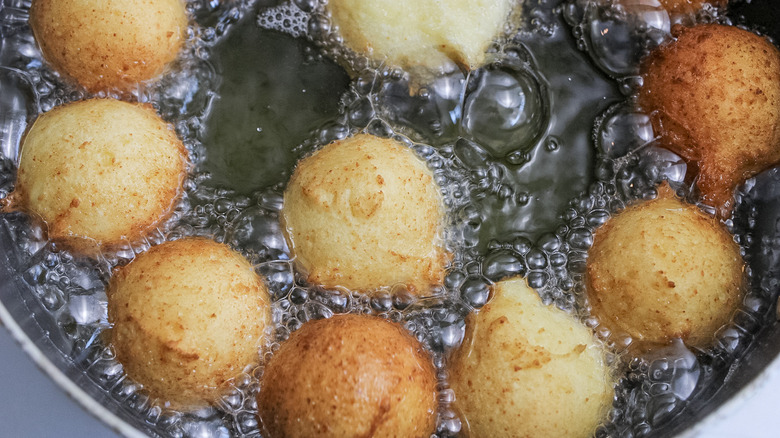 Jessica Morone/Mashed
Fill either a Dutch oven or a deep saucepan with 3 inches of oil, and heat until the oil reaches 370 F. "The main mistake to watch out for is making sure the oil is the correct temperature," Morone says. "You want the oil to ideally be between 350F and 375 F at all times, because [ if it is] too low or too high, they wont fry properly. Using a meat or candy thermometer is the best way to make sure the oil is the proper temperature." 
Use a cookie scoop or tablespoon to measure out the dough balls, and add them to the hot oil. Fry for about 3 to 4 minutes, making sure to flip them over halfway through. As you remove the dough balls from the oil, place them on a paper towel-lined plate to remove any excess oil. Repeat the steps with the remainder of the dough. 
Serve and enjoy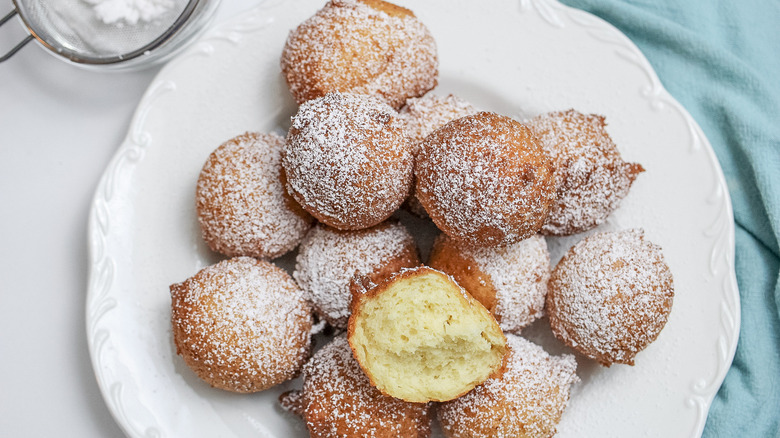 Jessica Morone/Mashed
You can optionally add a dusting a confectioner's sugar over the zeppole, and serve! These are best when enjoyed warm, and Morone says that "Serving these with powdered sugar on top is pretty traditional, or you could roll them in cinnamon sugar instead. You could also top them with honey, or chocolate sauce." 
And if you have leftovers, don't toss them. "These are best served right after frying them, but if you have leftovers, you can store them in an airtight container, and reheat them by putting them in the oven at 350 F for about 10 minutes," Morone suggests. 
We hope this fun dessert is a hit with your friends and family.
Easy Ricotta Zeppole Recipe
It's hard not to love a good Italian pastry, and this ricotta-filled zeppole recipe is sure to be a crowd-pleaser.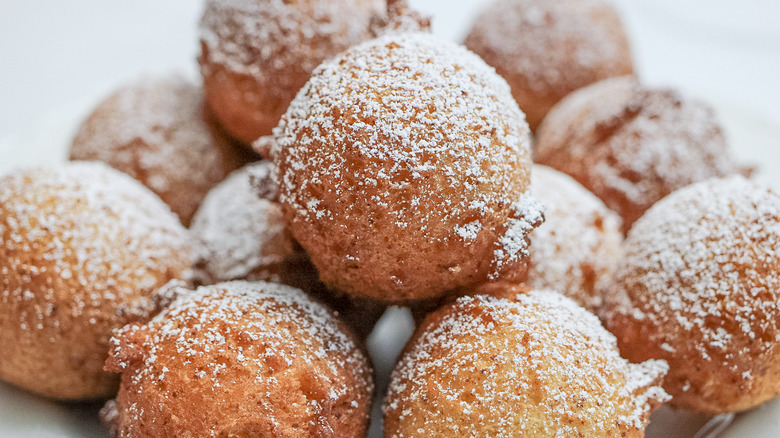 Ingredients
2 eggs
3 tablespoons sugar
2 teaspoons vanilla extract
⅔ cup ricotta
1 cup all purpose flour
2 teaspoons baking powder
¼ teaspoon of salt
vegetable oil for frying
Optional Ingredients
Directions
In a large bowl whisk together the eggs, sugar, vanilla extract, and ricotta until smooth. In a separate medium bowl, whisk together the flour, baking powder, and salt.
Add the dry ingredients into the ricotta mixture, and mix until just combined.
In a Dutch oven or deep saucepan, heat 3 inches of oil to 370 F. Use a small cookie scoop, or a tablespoon to drop dough into the hot oil. Fry for 3 to 4 minutes total, flipping halfway through.
Once golden brown, transfer to a paper towel-lined plate. Repeat the process with the remaining dough. Dust with powdered sugar if desired, then serve warm.
Nutrition
| | |
| --- | --- |
| Calories per Serving | 108 |
| Total Fat | 6.4 g |
| Saturated Fat | 1.4 g |
| Trans Fat | 0.0 g |
| Cholesterol | 26.9 mg |
| | |
| --- | --- |
| Total Carbohydrates | 9.5 g |
| Dietary Fiber | 0.2 g |
| Total Sugars | 2.6 g |
| Sodium | 77.0 mg |
| Protein | 2.8 g |