Here's What Happened To Crio Bru Cacao After Shark Tank
We may receive a commission on purchases made from links.
Do you enjoy relaxing with a hot beverage but find that coffee gets you too wired? Of course, there are options like tea or decaf coffee. The makers of Crio Bru believe brewed cacao is an option combining the health benefits and delights of dark chocolate. To help bring their product to more people, they appeared on "Shark Tank" to ask for $1,000,000 for a 10% equity stake in 2014 (per Shark Tank Tales).
Ancient Mayans drank a drink made from cacao, per Crio Bru. The creators claim it brews like coffee using a French Press coffee maker but the smell and taste are "like unsweetened dark chocolate." Cacao and dark chocolate contain a light natural stimulant and a variety of minerals and antioxidants (per Harvard Health). So what happened when Crio Bru appeared on the popular television program, and how has the company fared since the episode originally aired?
How Crio Bru fared on Shark Tank
Crio Bru Founders Eric Durtschi & Jon Fortheringham appeared on Season 5 Episode 26 of "Shark Tank," which originally aired on April 25, 2014. According to Shark Tank Blog, the company had attempted to raise funds on Kickstarter but failed to meet its goal on the platform as of December 2012, but had found some success in many markets. When Durtschi and Fortheringham pitched their cacao-based beverage business on the show, they faced sharks Barbara Corcoran, Robert Herjavec, Kevin O'Leary, Daymond John, and Mark Cuban (per IMDb). After tasting the sample, three sharks immediately dropped out, leaving only Corcoran and O'Leary. After a short discussion, they also dropped out.
"I think the biggest problem is they really didn't love the way that it tastes," Durtschi told ABC Utah 4 (via YouTube). Although Crio Bru quickly left without an offer, there was a bright side. "The sharks weren't our biggest fans, but you can't beat getting national publicity," he said. But how did that publicity affect the company?
After the Shark Tank bump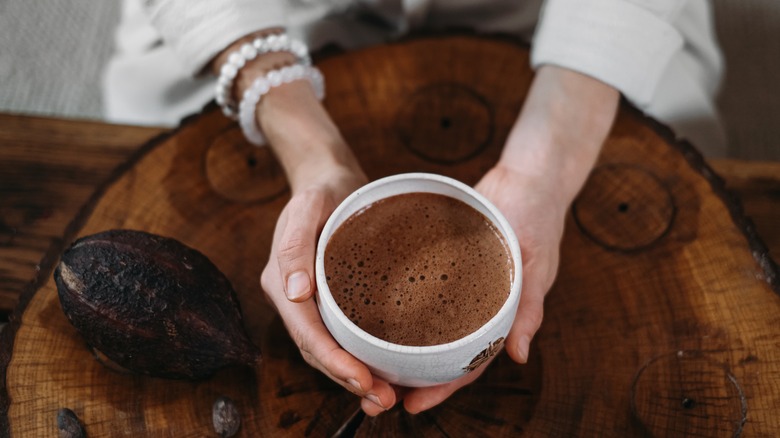 Nina Lishchuk/Shutterstock
You may have heard of the "Shark Tank" bump or perhaps you even participated by buying a product out of curiosity after seeing it on the show. Inc. reported that most companies that pitch on "Shark Tank" see an increase in revenue for a year even if they don't get an investor. Crio Bru apparently also benefited from the bump.
During an interview with ABC Utah 4, Durtschi said even though the Sharks weren't impressed with Crio Bru, the business received a month's worth of orders within one hour of their appearance on Shark Tank (per YouTube). Over eight years later, Crio Bru appears to be going strong. The product is available through the Crio Bru website, Amazon, and select grocery stores like Whole Foods.
According to Crio Bru, they use organic non-GMO beans sourced from Fair Trade Certified farmers. The Utah-based company was featured in the Daily Beast as one of the "Best Coffee Alternatives" in 2020. If you are curious about other new food products that earned the "Shark Tank Bump," check out some of the best foods we've seen on Shark Tank.