Nature Valley Made Straight Up Logs Of Peanut Butter In The '80s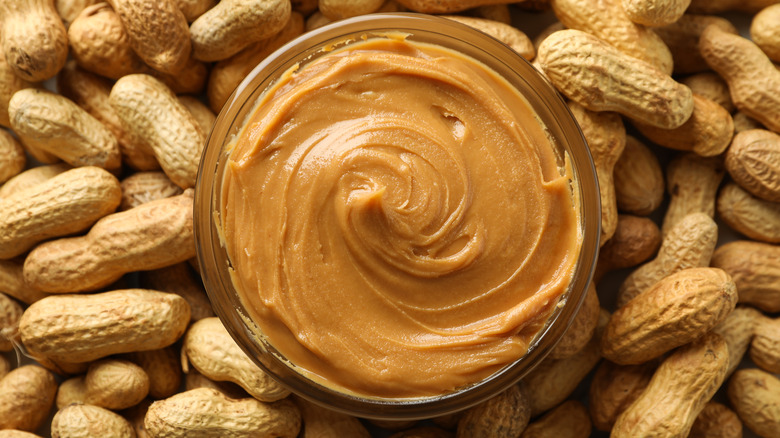 AtlasStudio/Shutterstock
For many, peanut butter is nature's perfect food, the nectar of the legume deities, and the one staple no pantry should ever be without. This is likely why peanut butter has been paired with so many things over the years. On bread, this nutty spread is typically joined with jelly, banana, or honey, but fans of Reese's or Butterfinger will tell you it is scrumptious with chocolate too. 
Some, however, have sought to stretch the boundaries when it comes to peanut butter pairings. Study Finds shares that a OnePoll survey conducted for GoodCook showed that 61% of respondents would be willing to try a peanut butter and pickle sandwich, while 21% said, "No way." Another OnePoll study done on behalf of Spam created a list of America's top 10 most popular unusual food combos. Coming in at number five was the peanut butter and apple duo. SWNS noted that although it didn't make the top ten list, there are people who apparently love adding mayo to their meals. Peanut butter and mayonnaise sandwiches, anyone? 
And then there was Nature Valley's 1980s take on peanut butter that actually made an appearance on the big screen. Perhaps you will remember this long-ago treat. 
Peanut Butter Boppers appeared in The Lost Boys
If you could hop into Doc's "Back to the Future" DeLorean and zoom back to the 1980s, you'd be able to enjoy a peanut butter lover's dream. Yes, Nature Valley, the company that currently provides America with a myriad of granola and nut-based bars once boasted the Peanut Butter Bopper, a real peanut butter center encased in a crunchy outer layer. According to General Mills, they came in Peanut Crunch, Honey Crisp, Fudge Chip, Cookie Crunch, and Fudge Graham, with each being a "melt in your mouth peanut butter snack."  
This reportedly "drool-worthy" peanut butter log also had its moment of fame when it appeared in a refrigerator on the 1987 Kiefer Sutherland film, "The Lost Boys" (via Coconut and Lime). Despite their disappearance from the Nature Valley lineup, the Peanut Butter Bopper lives on through a recipe for a homemade version provided by Nature Valley. It looks super easy to make — and much tastier than a sandwich bearing layers of PB and pickles. Or worse, mayo.