Oreo And McDonald's Collab Is Giving Away 2,500 Limited Edition Cookies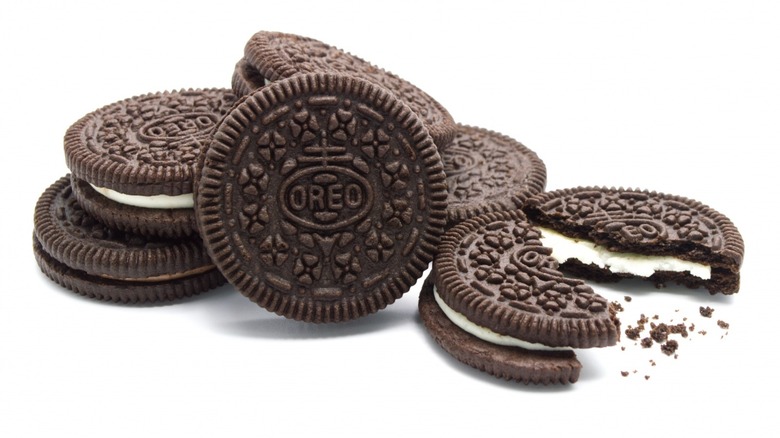 inkanya Anankitrojana/Shutterstock
For years, we've been enjoying and indulging in Oreo and McDonald's collaborations, as Oreo is one of the McFlurry flavors (via McDonalds). However, this menu item was only the beginning of a long and beautiful partnership between the two companies.
According to Refinery29, Oreo and McDonald's took their collaboration to a new level in 2017 with a Hong Kong-only collection. This special menu included items like Oreo Tiramisu, an Oreo chocolate cheese tart, and an Oreo cappuccino. Shortly thereafter, McDonald's launched a burger made with Spam and Oreos, only available in China.
Fortunately, McDonald's and Oreo have stuck to their best items in the last couple of years. In 2020, McDonald's released the Oreo Shamrock McFlurry, and in 2022, we welcomed the Oreo Fudge McFlurry to the menu (via SheFinds). Oh, but the 2022 collabs don't stop there. Oreo and McDonald's are wrapping up the year with a fun cookie giveaway.
Everything you need to know about the Oreo x McDonald's giveaway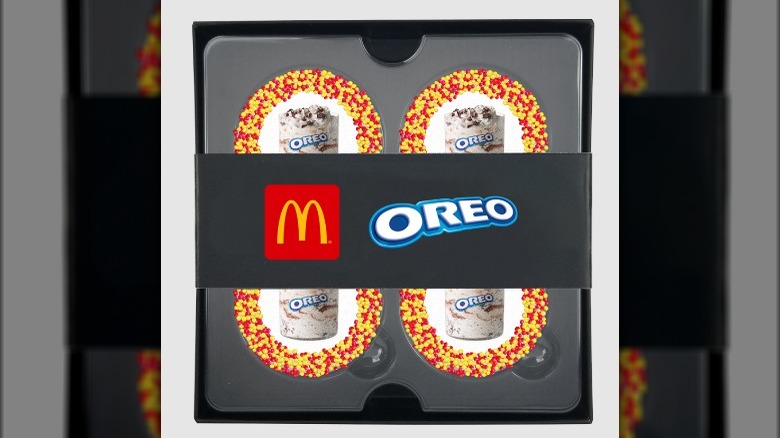 Oreo
In October 2022, Oreo launched a customizable cookie program called OREOiD. Per Food Business News, OREOiD allows you to choose your creme filling, sprinkle color, a coating of white chocolate or fudge, and a logo or image.
So where does McDonald's come into this? On December 8, Oreo posted about a special cookie giveaway on its Instagram story. According to the post, Oreo is "giving away 2,500 limited-edition McDonald's OREO Fudge McFlurry OREOiD cookies." These cookies appear to be Oreos dipped in white chocolate, rolled in yellow and red sprinkles, and finished off with an image of the McDonald's Oreo Fudge McFlurry. Sadly, all 2,500 of the cookies have already been claimed, and the OREOiD promo page lists them as being out of stock.
That being said, you can still create your own OREOiD cookies. A four-count package costs $20.99, a 12-count costs $39.95, and a 24-count costs $75.95. OREOiD cookies can also be purchased as individually wrapped, but only with an order minimum of 20 cookies.