Trader Joe's Spicy Uncured Charcuterie Selection Has Split Fans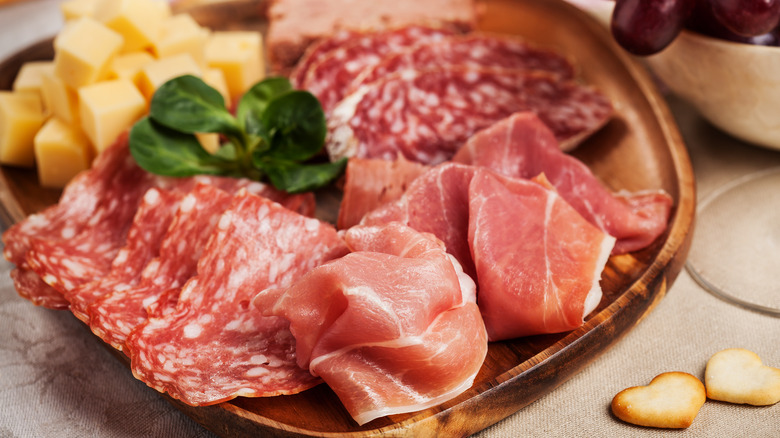 Natalia Van Doninck/Getty Images
Charcuterie boards are having a major moment this year, with people showcasing their meaty creations all over social media and Pinterest. The platters can be as basic or elaborate as you'd like, and feature a smorgasbord of meats, cheeses, nuts, fruits, crackers, and anything else your heart desires. While there are endless options in the protein category alone, some of the most common charcuterie board meats to include are pepperoni, prosciutto, chorizo, and soppressata.
If you want to build your own meat and cheese board, Trader Joe's has a lot of great options, and one popular pick just returned to shelves in time for the holiday season. Instagram fan account @traderjoeslist recently shared a photo of the Trader Joe's Spicy Uncured Charcuterie Collection, which they say is a must-have for entertaining and Christmas parties. It includes three Italian meats, according to the Trader Joe's website: Spicy Coppa, which is pork shoulder with red, black, and white pepper; Spicy Sopressa, which is pork butt with paprika and cayenne pepper; and Spicy Cooked Capocolla, which is also pork seasoned with similar spices. Here's what shoppers have to say about the trio of meats, including both the positive and negative.
Many people are big fans of these Italian meats
The Trader Joe's Spicy Uncured Charcuterie Collection was spotted by @traderjoeslist at their local store in Santa Monica, California — and the TJ's superfan was very excited to see the seasonal meat tray available once again. "Honestly, I wish they carried this year round because the ingredients are perfect!" the original poster captioned the photo. As the name implies, the meats are all uncured, which means there are no added nitrates or corn syrup. People have used the meaty assortment for charcuterie boards, yes, but also as a pizza topping or the filling for an Italian sub or breakfast sandwich. "So good and perfect amount of spice," one commenter wrote, while a shopper on Reddit said the meat was "delicious," with "a nice little kick."
However, not everyone is convinced that the Trader Joe's Spicy Uncured Charcuterie Collection is worth buying. Some commenters wished there were more non-spicy options, and a few people on Instagram noted that the quality and coloring of the meat looked suspect (one said it was gray and grainy). Another shopper pointed out that despite being uncured and "not preserved," it does still use curing agents to keep the meat fresh, so it's not as natural as some might think — The Counter notes that meats preserved with celery powder (which is used in this product) can be as unhealthy as those made with synthetic nitrates or nitrites.