TikTok Is Crushing Over Bella Hadid's Chaotically Good Stacked Sandwich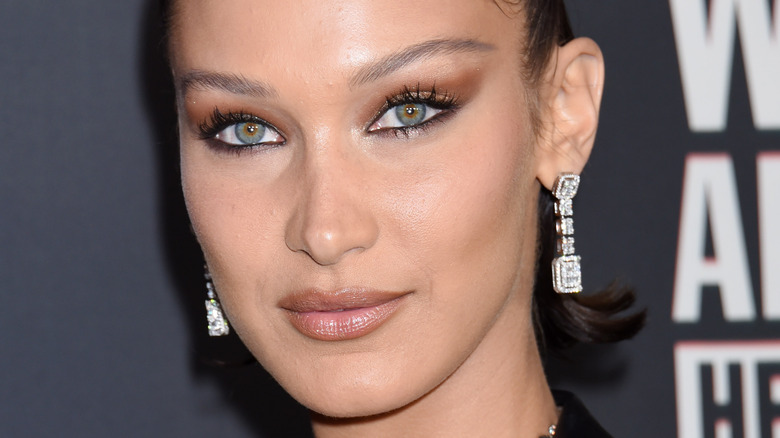 Ga Fullner/Shutterstock
Whether you eat your mid-day meal in a cafeteria, an office, or even on the go, there's one foolproof lunch option that never goes out of style: sandwiches. Easy-to-make, mess-free, and oh-so-delicious, there's something so nostalgic about the humble sandwich. Almost everyone grew up eating them, and a certain comfort accompanies biting into your favorite hand-held creation.
While there are so many things to love about this simple lunchtime food, one of the best things about this savory snack is its versatility. With so many options to choose between, there's a different delicious sandwich you could make every day of the week.
Any ingredient you want can theoretically go into a sandwich as long as it fits between two slices of bread. While you can always eat sandwiches with just one or two fillings, some of America's most beloved combinations include a BLT, club sandwich, peanut butter & jelly, and a Reuben, as noted by YouGov.
Part of the fun of making your own sandwiches includes experimenting with whatever you have leftover in your fridge. Bella Hadid provided her viewers with some sandwich-spiration in a TikTok video she posted to her page. In the video, the model walked her viewers through what it looks like when she whips up a gourmet sandwich at home.
Bella Hadid's stacked sandwich includes two homemade condiments
Bella Hadid may know how to make a mean-looking sandwich, but she's still working on her TikTok skills. "Is this how people do this? I'm trying to edit better, but my transitions suck," Hadid said at the beginning of the video.
While Hadid's sandwich tutorial was slightly all-over-the-place, if you watch the humorous TikTok enough times, you will get a general idea of how she made her glorious sandwich.
The Washington, D.C. native begins by whipping up a vinaigrette that includes olive oil, balsamic glaze, oregano, salt, chili flakes, pepper, and dried basil. Then, she makes a basil aioli, which includes mustard and raw garlic, among other things. In the caption of the video, Hadid advises not incorporating as much raw garlic as she did. Hadid then mixes her sauce into some chopped red onion and romaine lettuce and adds in a little red wine vinegar.
Then, Hadid assembles her sandwich, layering pepperoncinis, the lettuce and onion mixture, basil aioli, turkey, salami, and cheese inside of a bread roll.
In the video, Hadid is making two sandwiches — the other sandwich might be for boyfriend Marc Kalman, an art director to whom Hadid has been linked since July 2021 (via People). Hadid adds some tomatoes to the other sandwich, saying, "I don't love tomatoes, but if the person that you love loves tomatoes, you're going to put the tomatoes in there." Awww!
Both Hadid sisters share a talent for cooking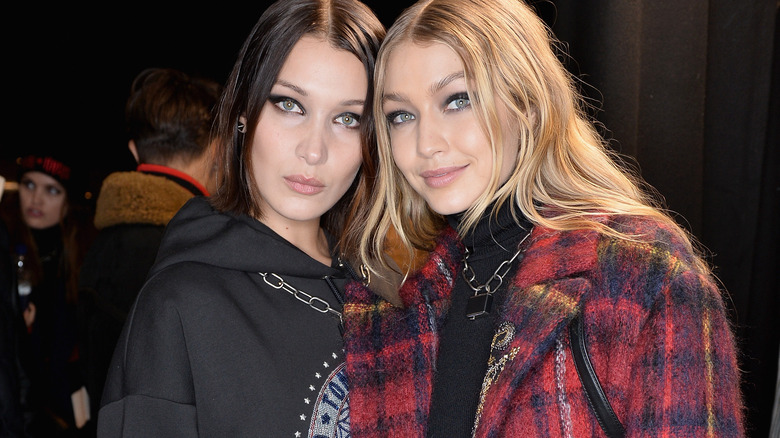 Jeff Spicer/Getty
Fans took to the comment section of Bella Hadid's TikTok, mostly to delight over its haphazard nature. "Ok queen of editing," one user praised, while another expressed, "this is so chaotic but I love it."
A couple of users also mentioned the sandwich itself, with one user writing, "OBVIOUSLY dry basil NEVER raw garlic." One fan jokingly expressed, "I love tomatoes but since Bella does not love tomatoes, I have decided from now on not to like tomatoes either."
Bella Hadid is not the only member of her family who has a love for cooking. The model's older sister, Gigi Hadid, also boasts some home chef clout. Not only did Gigi Hadid's spicy vodka pasta recipe go viral, but the Los Angeles native also won an episode of "MasterChef Celebrity Showdown" with her "Gigi Burger" (via People).
The notoriously picky judge, Gordon Ramsay, even had good things to say about her dish, describing it as "delicious" and "perfect." "Your execution was done to a t," fellow judge Christina Tosi raved. 
It looks like cooking may run in the Hadid family!