Instant Pot Desserts You Need To Make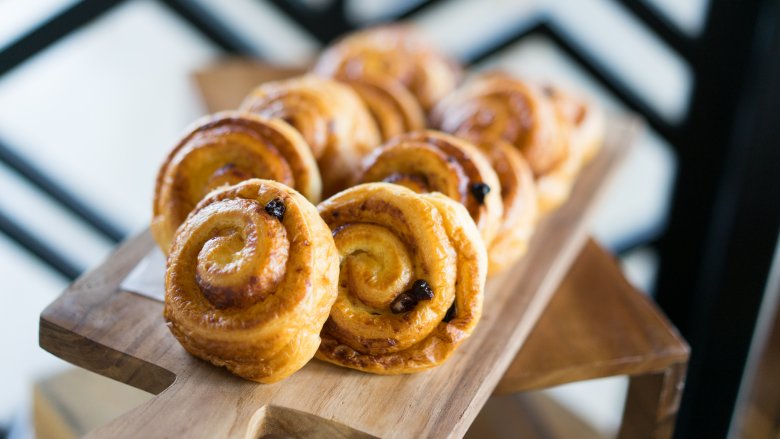 Shutterstock
In a perfect world, we'd have plenty of time to put together an always delicious, sometimes healthy, sometimes decadent dessert to follow up every meal. We'd have hours to make fresh pie crusts, scratch-made cakes, and fruity tarts. It's not a perfect world, though, and most people don't have hours. Fortunately, the world is just good enough that there's the Instant Pot, and plenty of options for making that delicious dessert on the fly.
Desserts definitely don't have to be complicated to taste like they are, and the Instant Pot is a great tool that's pretty much 21st century magic. It doesn't matter what you're in the mood for, we have some amazing ideas that will satisfy all your cravings — no matter how little time you have.
Unless otherwise noted, all of these recipes call for cooking at high pressure, and only use quick release on desserts that are mostly solid — unless you don't mind scraping them off your ceiling before you have a bite. 
Fruit crisp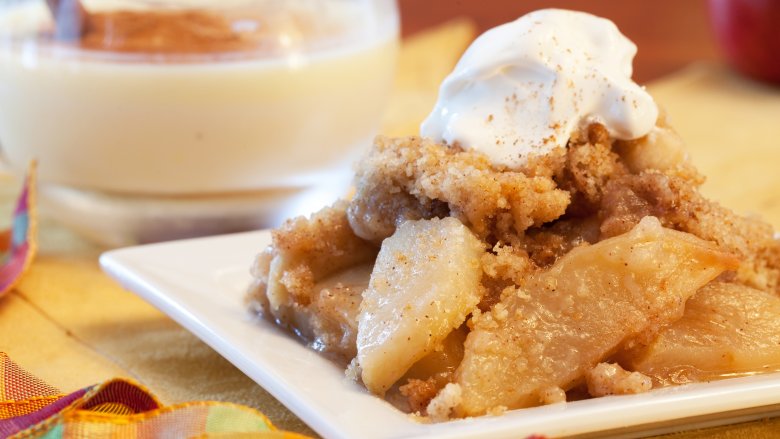 Shutterstock
Whipping up a quick fruit crisp might just be the perfect dessert for those days you want something light and sweet, and it's a super versatile idea.
Let's take apples, for example. All you need to do is chop them into chunks, season with cinnamon and nutmeg, then pile them in the bottom of your Instant Pot. Next, it's time to mix up your crisp topping,  — no measurements needed! Stir up a healthy helping of rolled oats with a handful of flour, another handful of brown sugar, and a dash of salt. Layer that on top of your fruit, cook on high for around 10 minutes, and magic will definitely happen as you let it sit for a few more minutes for the sauce to thicken.
There are a ton of different flavor combinations you can do with this one, and they're all amazing. Use fresh peaches and a dash of vanilla, and add some chopped nuts to your dry mixture. Or, use a quart of blueberries, add a bit of lemon juice for extra bite, and don't forget to add the ice cream when you plate it up.
Cinnamon roll casserole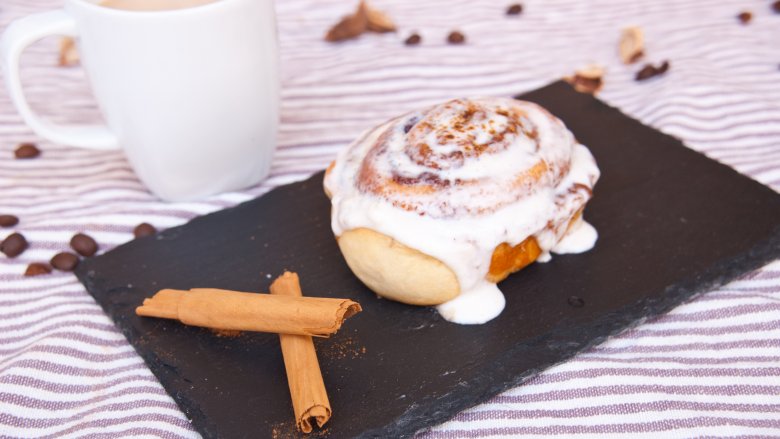 Shutterstock
Who doesn't love cinnamon rolls? They're not just for weekend breakfasts any more, and they're just as good served up in one of a few different forms for dessert.
First, you can use an Instant Pot to make your standard sort of cinnamon rolls, just like you would an oven. Set up a water bath, then crack open a tube of premade cinnamon rolls, slice, and line a sprayed pan that fits inside your Instant Pot. Cover with foil, cook for 13 minutes on high, and the rolls are done! It really is that easy, and there's a bonus to this, too. Cooking them in an Instant Pot will make them heavier, denser, and better able to stand up to being served with ice cream.
You can also use those same tubes of cinnamon rolls to make a cinnamon roll casserole. Cut the pieces into quarters, then mix up a custardy liquid of one egg, a quarter cup of cream, and vanilla, maple syrup, cinnamon, and nutmeg to taste. Put the quarters in your Instant Pot (again, using the water bath), and cook. Make sure they're turning brown along the edges before you take them out, and serve with a simple icing or ice cream.  
Wine-poached pears
Shutterstock
This dessert checks all the important boxes: elegant, easy, fruity, and boozy. Start with pears that are slightly less than ripe, as they'll hold together better once they absorb the wine. Peel and sit in your Instant Pot, then select your wine.
You'll need enough to cover the pears, and the other flavors depend on the wine. For white wine, consider adding things like vanilla and cinnamon. For red, go with stronger flavors like ginger, star anise, cloves, or orange, all depending on the flavor profiles of the wine. Add sugar, brown sugar, or honey for a touch of sweetness, as needed. Make sure the pears are covered in the liquid, then cook on high for around 10 minutes. Remove the pears, and turn the Instant Pot back on. Letting it run for an additional 10 minutes at a time, and that will reduce the remaining wine into a syrup perfect for drizzling and serving on the side in a shot glass.
Baked apples and peaches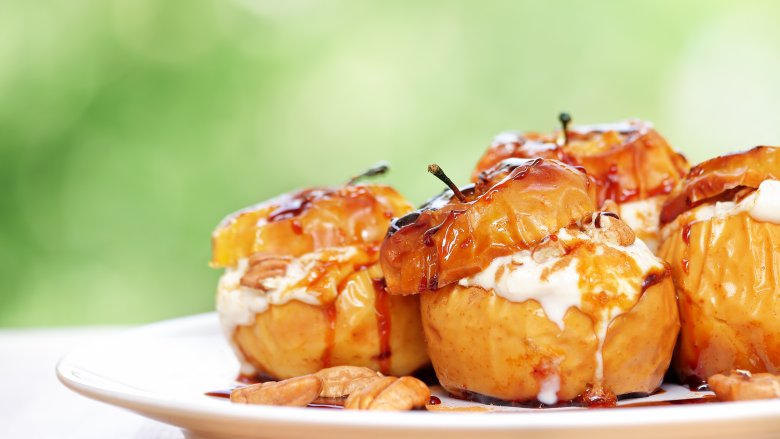 Shutterstock
Think loaded baked potato, but for dessert and using apples and peaches. Let's start with apples — an an easy dessert that's ready after just three minutes in the Instant Pot. Just core your apples, fill with a mix of dried fruit, chopped nuts, brown sugar, and granola, then place them inside the Instant Pot with just an inch or so of water. For added optional flavors, add a small dollop of butter on top of the apples, and some vanilla or almond extract to the water. Cook on low for three minutes, and that's it. A few tips: for firmer apples, take them out as soon as the three minutes are up. For softer ones, let them sit through the natural pressure release. Tart, crunchy apples will stand up better if you're looking for something that's still a little crisp.
You can do the same thing with peaches, and fill with the same types of crumble. Serve either with maple syrup, some ice cream, a bit of whipped cream, or a dusting of crumbled graham crackers.
Chocolate covered anything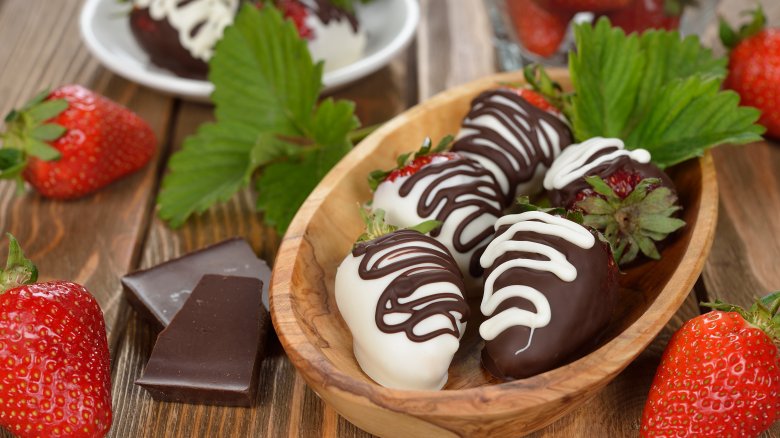 Shutterstock
Chocolate makes everything better, whether that's chocolate-dipped strawberries and bananas or nut clusters held together by chocolate. They're delicious dessert bites perfect for those evenings when you don't want anything too filling, but there's still a sweet tooth that needs satisfying. The worst part about making chocolate-covered anything is getting the chocolate to melt, and that's easy with an Instant Pot.
Start with making a water bath, then put your chocolate in a glass container, set it on the trivet, and turn on the saute. Just like melting chocolate on the stovetop, keep an eye on it and stir every few minutes. Depending on the chocolate, the whole process should take about 20 minutes.
For something like chocolate-covered nuts, stir the nuts right into the melted chocolate, then scoop them out onto parchment paper to cool. The sky is the literal limit here, and there's no reason to stop at nuts. Use fresh fruit, or cover the ends of candy canes for a sweet treat that's perfect alone or stirred into hot chocolate. Make chocolate-covered pretzels, bacon, and don't let that last little bit go to waste: drizzle it over popcorn.
Apple crescents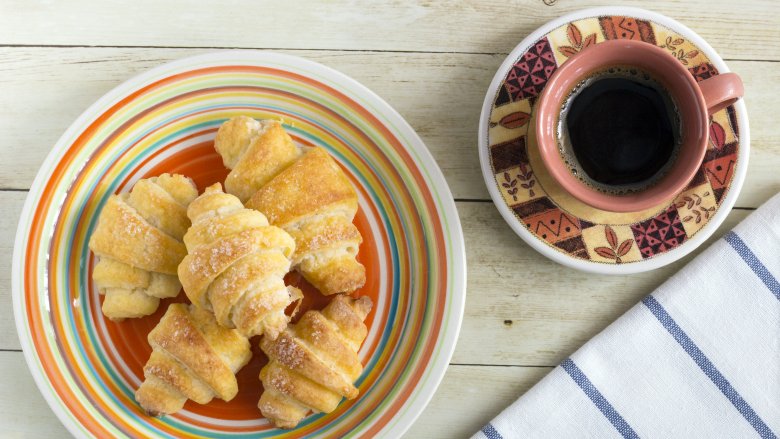 Shutterstock
In late summer and early autumn, apples are available by the bushel. If you've ever picked up a basket and wondered what to do with them, this is a quick-and-easy, tasty-and-delicious sweet treat that's perfect for using up some of those apples.
Start by adding half a cup of brown sugar, a few tablespoons of butter, and a little less than a cup of apple cider to the Instant Pot. Use apple pie spice, cinnamon, nutmeg, a dash of vanilla extract, or some rum extract to taste, then use the lowest setting and regular stirring to melt and mix the sauce. While that's melting, core, and slice an apple (tart, crunchy varieties are best, as they'll stand up to the cooking process). Grab some pre-made crescent rolls, and wrap each one of your apple slices in a doughy blanket. Lay your wrapped apples in the bottom of the Instant Pot, cook on high for 10 minutes, and let it sit through a natural pressure release. By the time it's finished, the crescent rolls will have cooked around the apples and everything will be bathing in a syrupy sauce. Add some ice cream, whipped cream, or more of the syrup.
Angel food cake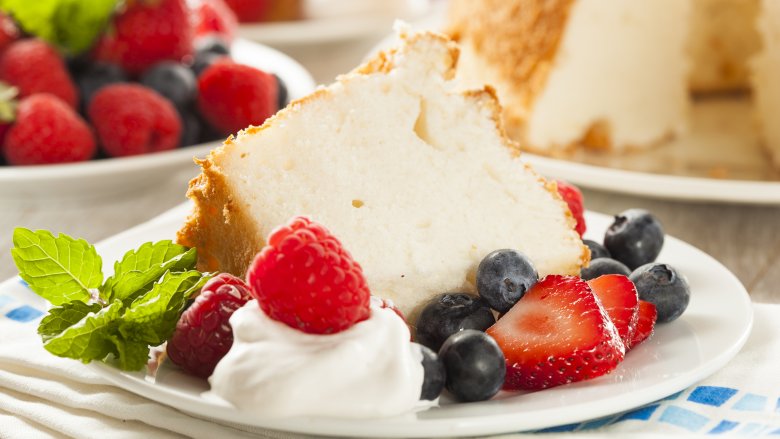 Shutterstock
Angel food cake is light, fluffy, and delicious, and it's incredibly easy to make in an Instant Pot — especially using a boxed mix. The key to this one is to split your boxed mix in half, then prepare your batter accordingly, with halved ingredients. Find a cake pan that will fit inside the Instant Pot, surround it with a water bath to steam rather than bake the cake, and set it to cook for around 30 minutes on high. That's it!
The cake will come out spongy and light, and it's perfect to serve up with any number of toppings. For something extra light, just sprinkle the top with powdered sugar and serve with fresh fruit. Or, dollop on some whipped topping, sprinkle with toasted coconut and chopped pecans. Cut into slices and build an easy trifle with jam, whipped topping, and fruit. Or, stir up some Baileys whipped cream, add some chocolate shavings, and enjoy!
Bread pudding
Shutterstock
If you hate throwing away that last bit of bread that's gone slightly stale, keep this one in mind. That slightly stale bread is perfect for bread pudding, a classic dessert that's just what you're craving on cool nights.
For the basic bread pudding, just cube your bread and then add a saucey liquid made from two eggs, a quarter cup of sugar, and a cup and a quarter of whole milk. Put your cubed bread in a pan, covered with your sauce, and then cover the whole thing with foil. Fill the Instant Pot with enough water for a water bath, put the pan with the bread pudding inside, and cook for 30 minutes. In order to make sure it's cooked through, leave the bread pudding in for a natural release cycle.
Bread pudding is delicious alone, but there are a few other ways to dress this one up. Add raisins, chocolate chips or dried fruit, or use some cinnamon-raisin bread. Serve plain, warm, or with a simple custard.
Candied nuts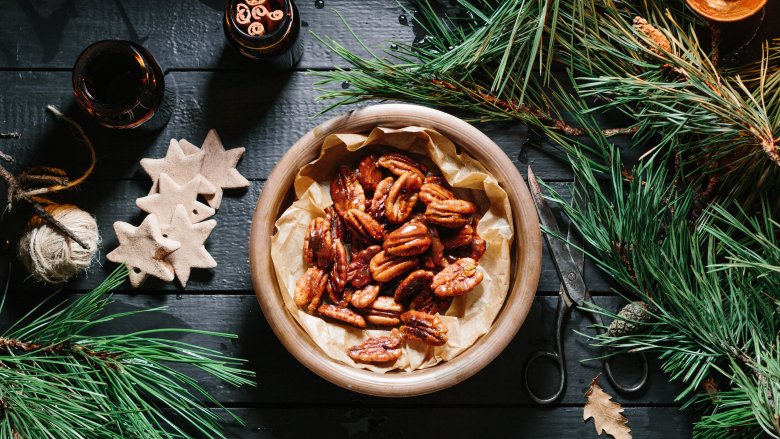 Shutterstock
Candied nuts are delicious, but they're easier to buy than they are to make... unless you have an Instant Pot. Start by picking your nuts, and this will work with anything from pecans and almonds to walnuts and cashews. Mix them up with a candied mixture to taste, using brown sugar, a few tablespoons of butter, and an egg white as the base. For the spices, and you can choose things like a dash of vanilla or rum extract, nutmeg, ginger, cinnamon, cayenne, and a dash of salt. You may want to add some extra sugar, or some more sweetness with a drizzle of maple syrup.
Then, just saute in the Instant Pot for 10 minutes, and cook on high for another 10. When they come out of the pot, they'll still probably be a little wet. Just transfer them to parchment paper or a baking sheet, and leave them on the counter to set. The candy coating will firm up, and then it's time to dig in.
Caramel popcorn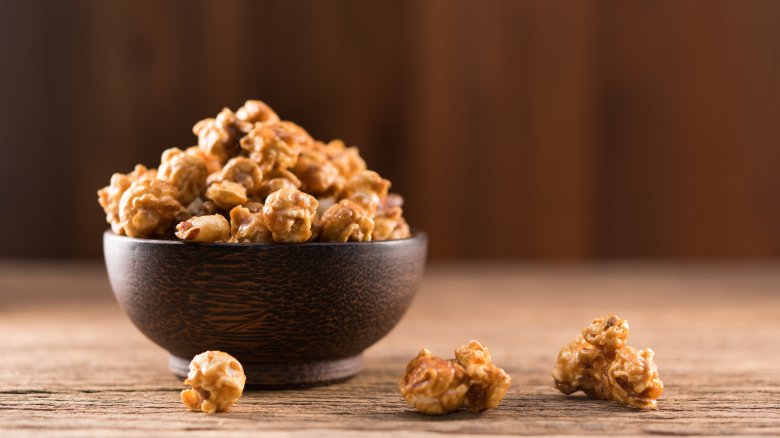 Shutterstock
Use an Instant Pot to make a batch of movie-friendly popcorn, and you'll never use your microwave again! Start by setting the Pot to saute, and adding a thin coating of coconut oil to the bottom. Add the popcorn kernels (about half a cup), then cover with a regular pot lid. They'll start to pop, and once they're done, move them to another bowl but leave the Instant Pot on.
Here's where the fun begins. You can definitely add some traditional, no-cook-needed toppings to your popcorn, but since your Instant Pot is already hot, why not use that? Add some marshmallows, brown sugar, and a bit of butter for a creamy, caramel-like sauce that's as good as it is sticky. Or how about some chocolate? Add a water bath to the Instant Pot, then melt some chocolate and drizzle... then melt some peanut butter and drizzle that over the popcorn, too. By the time you hit the couch, it will have firmed up into a sweet snack that tastes every bit as good as any other gourmet popcorn.
Rice pudding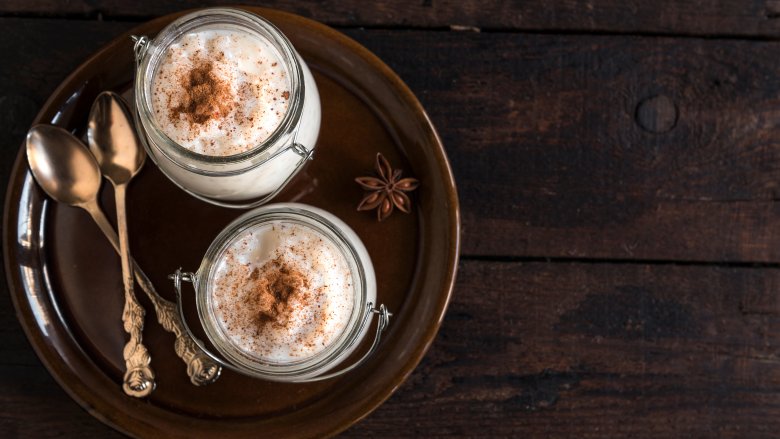 Shutterstock
Rice pudding is the dessert you keep forgetting you really, really like. It's brilliant on a cold evening, and it's a delicious classic that warms you from the inside out. It's another incredibly easy one, and since you're dealing with rice here, let's talk ratios. Use one part rice (any kind of white, except instant) to six parts milk, and add sugar to taste (to estimate, if you're using a cup of rice, start with around two-thirds a cup of sugar). Add that first, cook for around 10 minutes, and once that finishes whisk up two eggs and add to your Instant Pot. Cook a few more minutes, and you're done.
That's it for the basics, and it's easy to adapt this one to whatever you're in the mood for. Add a dash of rum, brandy, or liqueur, throw in any kind of dried fruit, swap out the milk for coconut or almond milk, add cinnamon or cocoa powder, serve with chopped nuts, or add pumpkin pie spice.
Creme brulee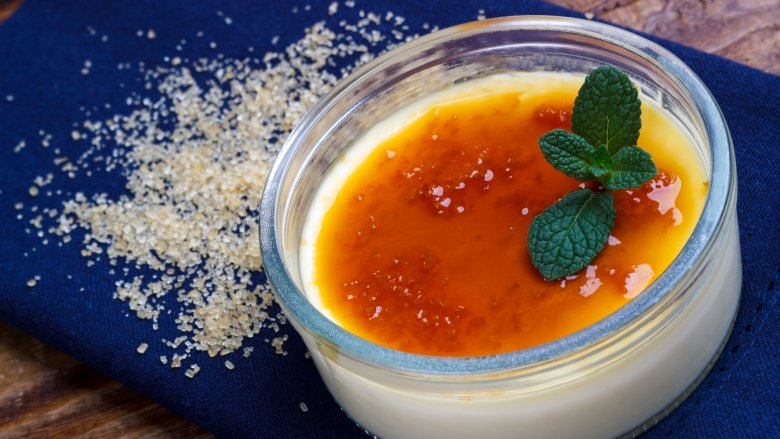 Shutterstock
Getting this sweet treat right might seem like a challenge, but the Instant Pot makes it almost sinfully easy. The key is the water bath, and the first thing that goes into the Instant Pot is enough water to surround — but not overflow — the cups the creme brulee will be baked in.
From there, whip up the creme brulee mixture. There are only a few ingredients needed, and that's eight egg yolks, two cups of heavy cream, a third of a cup of granulated sugar, a dash of salt, and vanilla to taste. Whisk it all together, pour into glass dessert cups, cover with foil, and set them on top of the trivet in the bottom of the pot. A quick, 6-minute cook time, and they're done.
Let them cool, and all that's left to do is add a sprinkling of sugar to the top of each and melt with a kitchen torch. If you don't have one, this recipe is so easy it's a reason to get one!
Tapioca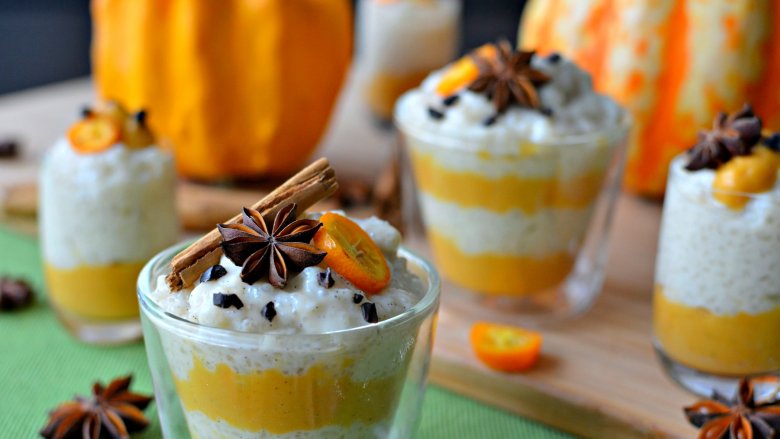 Shutterstock
Tapioca pudding is a creamy, thick, delicious dessert that probably gets forgotten a lot. It's proof dessert doesn't have to be complicated to be delicious, and an Instant Pot makes it even less complicated — there's no soaking necessary.
For the basics, start with a 6-minute cook time for the tapioca and water, in a ratio of 1:2 ½. Add sugar, vanilla to taste, and egg yolks, saute until boiling, and that's it! That's the basic recipe and from there, it's all about the flavors. For a tropical take on this classic, swap out the water for coconut milk, add some ginger and cashews, and sprinkle with a bit of salt. You could also use almond milk instead of water and almond extract instead of vanilla, and serve with a bit of whipped cream and a cherry. Another idea is to turn your water into coffee first, or take full advantage of special holiday offerings to replace your milk with eggnog. You can even use chocolate or strawberry milk, then garnish with a few fresh berries for a look that's as classy as it is easy.
Cinnamon applesauce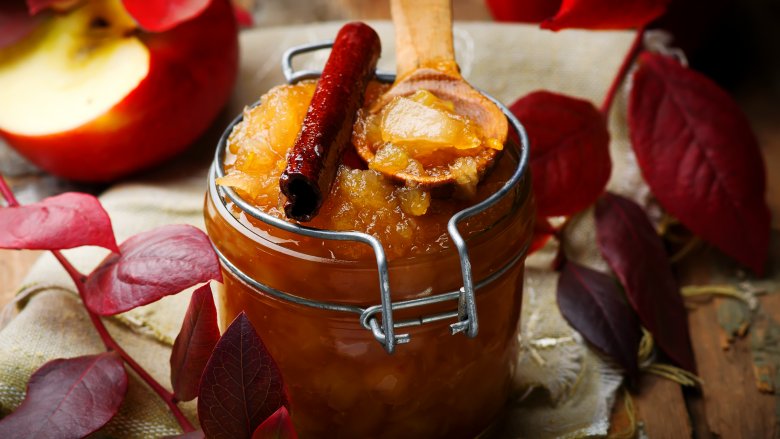 Shutterstock
There aren't many Instant Pot desserts that are easier than whipping up some fresh, homemade applesauce, and this one has the added bonus of being super versatile. First, let's talk about how simple this one is to make. Cut and peel your apples into chunks, add a few tablespoons of butter, then honey, lemon, and cinnamon to taste (alternately, you can use sugar to add the sweetness, if you prefer). Turning apples into applesauce only takes about three minutes on high, and once your apples are soft, mash them up.
Serve warm with ice cream and some chopped nuts, or plan ahead. Let them cool, then grab some glasses and layer your applesauce with Greek yogurt and granola crumbles, then top with a dash of cinnamon for such an elegant-looking dish that no one will believe an Instant Pot did all the heavy lifting. If you want something extra sweet, replace the Greek yogurt with whipped cream.