What Does Top 2022 Trend Sugo Actually Mean?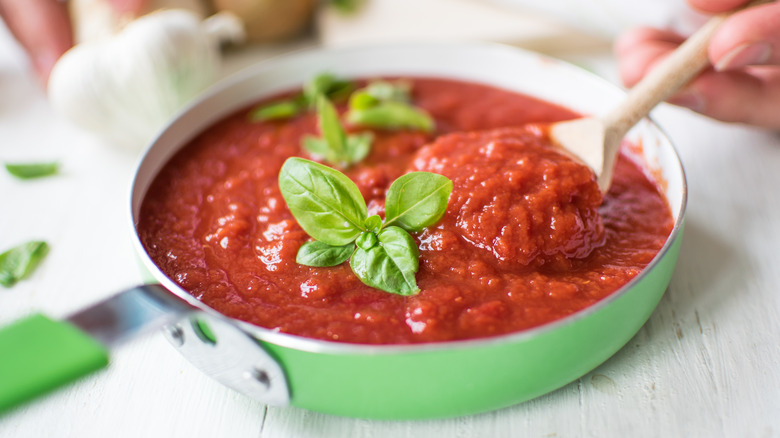 Zuzana Fajmonova/Shutterstock
It's that time of the year again — the time for "Best Of" lists popping up all over the internet, bringing us the best and most popular stuff from this ongoing year that is now coming to an end. Google Trends made a list of the top U.S. trends of 2022, with categories such as actors, games, movies, songs, and recipes, which is the one that we're most interested in. Some of these trending recipes include Cincinnati chili, mango pie, spaghetti from the TV show "The Bear," and the unusually named Marry Me Chicken. 
And the top trend in the Recipes category is the word "sugo." But what does it actually mean? What's undoubtedly correct is that the word "sugo" means "sauce" in Italian, but there are so many Italian sauces that it can be pretty easy to get confused. For example, Eataly reports that among the top five Italian sauces, there are two with the word sugo in them — sugo alla Norma and sugo all'arrabbiata (the others are salsa di pomodoro, cacio e pepe, and ragù alla bolognese). But the word sugo without anything else attached to it means something completely different.
Sugo is a traditional Italian tomato sauce made by cooking ripe tomatoes with onions, garlic, and olive oil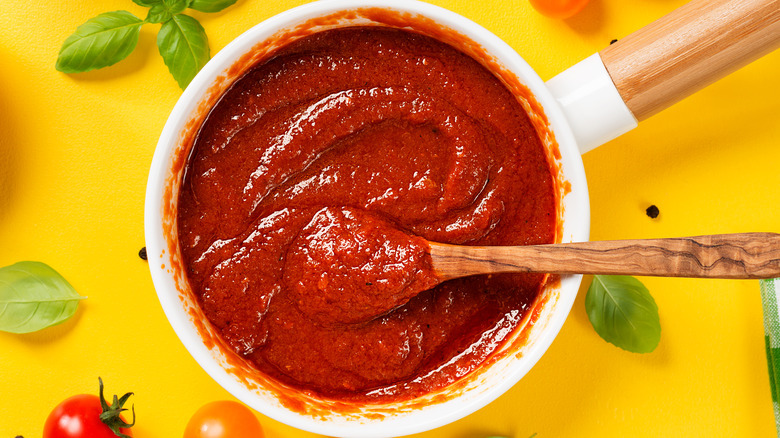 Nelea Reazanteva/Getty Images
Sugo is actually a traditional Italian tomato sauce, and it's made by cooking ripe tomatoes with garlic, onions, seasonings, and extra-virgin olive oil. According to Delicious, the delectable sugo sauce is bottled in sterilized jars at the end of tomato season to be used during summer and fall. More importantly, sugo can now be bought at Italian delis and most supermarkets in the U.S. It's recommended to use the sauce as a base for pizza or mix it with fresh basil and Parmigiano-Reggiano cheese for a quick and tasty pasta sauce. 
Interestingly enough, it is also a base for a number of traditional Italian sauces, such as amatriciana and arrabbiata. And if you're wondering whether marinara sauce is the same, the answer is no. While sugo is usually more spreadable and made with seeded and diced tomatoes, MasterClass reports that marinara is runnier and a bit chunky. 
And suppose you'd like to make your own sugo. In that case, you can experiment with different types of tomatoes, such as San Marzano, Roma, or the slightly sweet Viva Italia (via L'Amore Italian Restaurant). Each of them will give a different flavor, so get cooking and don't forget to prepare some pasta to mix it with the sauce for the best experience.