What Happens When You Overwork Cookie Dough?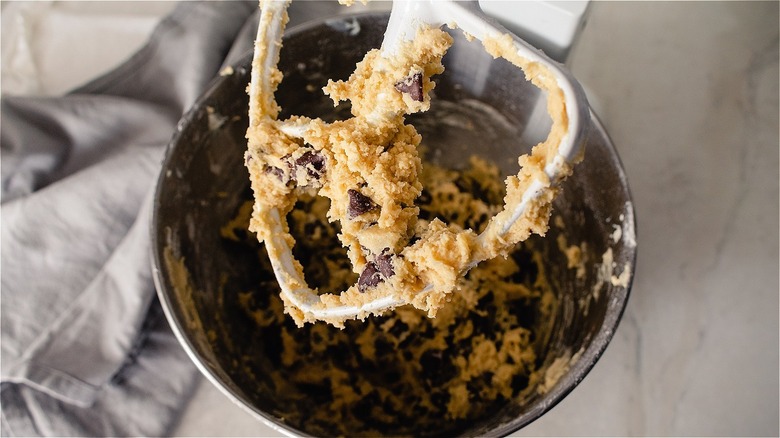 Candice Bell/Shutterstock
'Tis the season to bake and eat cookies. Whether it's a simple drop cookie like the perennial favorite chocolate chip, the labor-intensive, multi-day, decorated sugar cookie, or the warm and spicy gingerbread cookies, home bakers are lovingly churning out dozens of cookies this time of year to gift to family and friends, swap in a cookie exchange, or glutinously scarf down by yourself.
The tradition of holiday cookies in the U.S. can be dated back to the 18th century, with a recipe for Christmas cookies in Amelia Simmons' "American Cookery." Frederick Opie, Ph.D., professor of history and society at Babson College, commented, "Christmas in many cultures was a time of visiting. Cookies were made in large amounts and with great care as something to share. And giving gifts didn't mean going out and buying something. Most gifts were sweets or crafts" (via Martha Stewart).
The sweet and thoughtful gift of a baked good has no doubt been influenced by the internet and celebrity chefs like Martha Stewart, who have shamed us all into upping our game, especially at the now competitive cookie swaps, with cheeky comments like "Save the homely-looking cookies for Santa's plate." Like any recipe, especially in baking, plenty can go wrong, affecting the look, smell, and taste of the only reason to drink milk. Overworking the cookie dough is a common mistake this time of year when it's tempting to step away while mixing, maybe to wrap a gift. Here's what happens when you do.
Overmixing makes tougher, dense cookies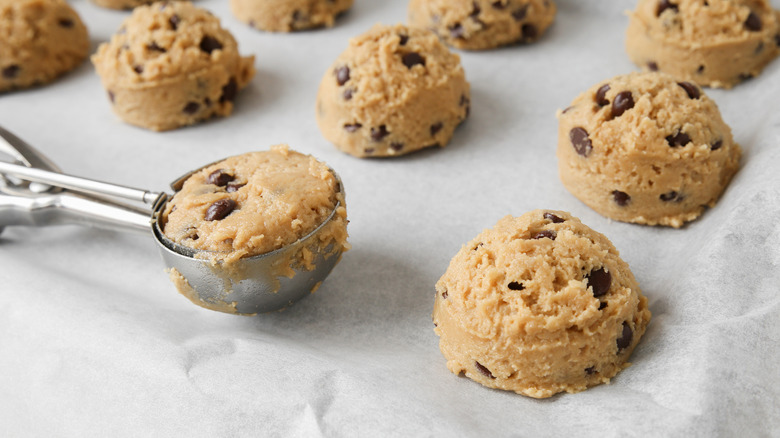 Sewcream/Getty Images
The science of baking cookies can be challenged by the humidity in your kitchen, the altitude of your home, and the temperature of your ingredients, not to mention a bad recipe, faulty oven, or improper technique. Walking away from the stand mixer or rolling and rerolling cookie dough can lead to overworked dough, a common mistake when baking tender items like pastry.
According to Allrecipes, overworking the cookie dough can introduce too much air into the dough, making the cookies rise and then fall flat during baking. This is a big problem with rolled and cut cookies where you want a crisp edge. Overworking the dough can also lead to excess gluten development resulting in tougher cookies. Any rerolled dough scraps will be denser than the first batch, so try to place cookie cutters as close as possible.
To avoid overmixing, mix the minimal amount to achieve a "uniform dough," meaning there are no pockets of ingredients like baking soda that will be an unwelcome surprise in a finished cookie. Pastry chef and blogger Nicole Weston of Baking Bites suggests, "you should stop mixing once there are no more streaks of flour in your mixing bowl." If adding fruit, chips, or nuts to a recipe, leave a few flour streaks before adding those components and giving the dough a final mix or two to disperse those ingredients evenly.