Reddit Is In Stitches Over Walmart's Home Assembly For Peppermints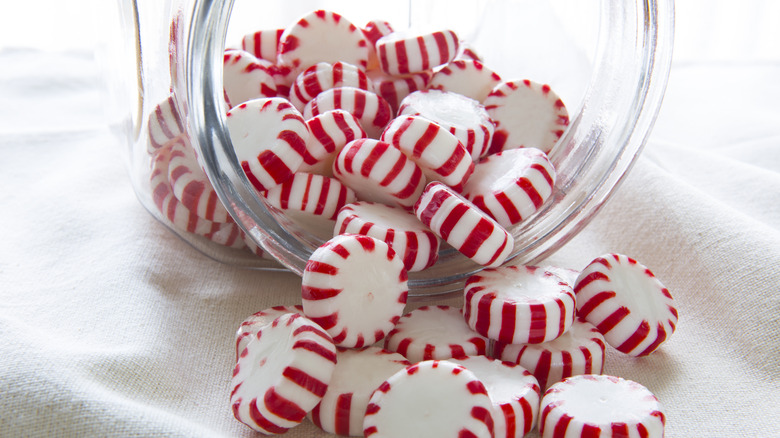 Ejgrubbs/Getty Images
The holiday season is a popular time for sales of peppermint-flavored candies. This time of year, red and white-striped candy canes are seemingly ubiquitous, placed prominently near checkout lines in supermarkets, retail stores, and pharmacies. According to the National Confectioners Association, 90% of candy canes are sold between Thanksgiving and Christmas. Candy canes have practically become the unofficial confectionary mascot of Christmas, although a 2021 shortage caused by a disrupted supply chain meant there wasn't as much of the classic peppermint flavor as in previous years (via mystateline.com).
Still, employers buying industrial-size tubs of peppermints for their staff to snack on throughout the day is not an uncommon sight in offices across the country during the holidays. Ghirardelli and Godiva sell their Peppermint Bark variety, a fusion of chocolate and peppermint. One nice thing about peppermint candies is that they're a convenient, portable, poppable sweet, just tear open the wrapper and instantly enjoy. Or are they more challenging to eat than we think? Reddit is in stitches over a perplexing Walmart sign that appears to offer home assembly for peppermints.
Some assembly may be required
User DrCheese88 posted a photo to the subreddit r/walmart showing a 28.4 oz plastic container of peppermint candies sold at Walmart. The Redditor draws attention to the words printed in the bottom left corner of the Walmart "Everyday Low Price" sticker indicating "Home Assembly Available," and poses the question, "Why do we offer home assembly for mints?"
The ludicrous notion of individually-wrapped peppermint candies requiring any sort of assembly drew sardonic jeers from many. One individual bantered, "Home assembly includes a Walmart associate coming into your home to gently feed you peppermints as you recline." Another contributor wisecracked, "Come on man, ever try assembling a peppermint?" To which a fellow commenter cheekily replied, "Yes, once. It was missing the Allen wrench though." A fourth person quipped, "someone has to paint the red stripes on them."
Others half-joked that the peppermint wrappers could be so frustrating to open sometimes that they wouldn't mind a helper: "You ever tried to unwrap one of those? The cellophane, sometimes it's twisted on, sometimes it's sealed ... then there's the static cling from the wrapper ... it'd be nice to have someone unwrap them for me!" Perhaps this Redditor summed up the typical reaction best when they mused, "I am laughing my head off trying to figure out what they are going to assemble." I guess if you want to eat peppermint candies now you just have to get used to some assembly being required.