Chrissy Teigen's Viral Banana Bread Is Available By The Slice In New Collab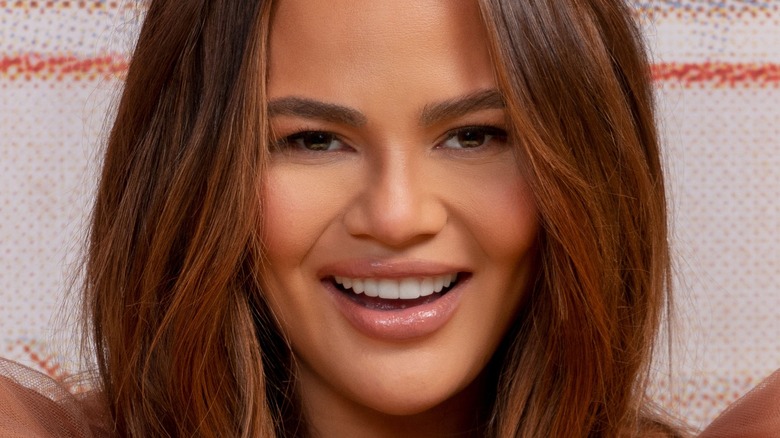 Cravings
Chrissy Teigen's banana bread has been a viral sensation for years — not because it tastes great (which people say it does), but because it's been the subject of many hilarious Twitter interactions. In 2017, Teigan was short of the bananas needed to make her bread, resulting in the model and television host reaching out on Twitter for a trade. "If u have 6 BROWN bananas in the LA area, I will send my assistant to your home with a signed cookbook, John's underwear, and a Becca palette," she wrote. She then asked for a photo of the trader holding the bananas and throwing up a peace sign before she'd arrange the meeting.
In 2020, she made a similar post, this time in search of romaine lettuce. That day, she promised fans that she'd prepare banana bread for the one lucky person who brought her a head of lettuce. She even kept social distancing in mind, stating that the trade would be made "6 feet apart." Thankfully for those who weren't chosen as the banana bread recipients, Teigen's "Cravings" cookbook revealed the recipe back in 2018. But even more conveniently for non-bakers, you can now buy it by the slice in the Los Angeles area. 
The slices will only be available in Los Angeles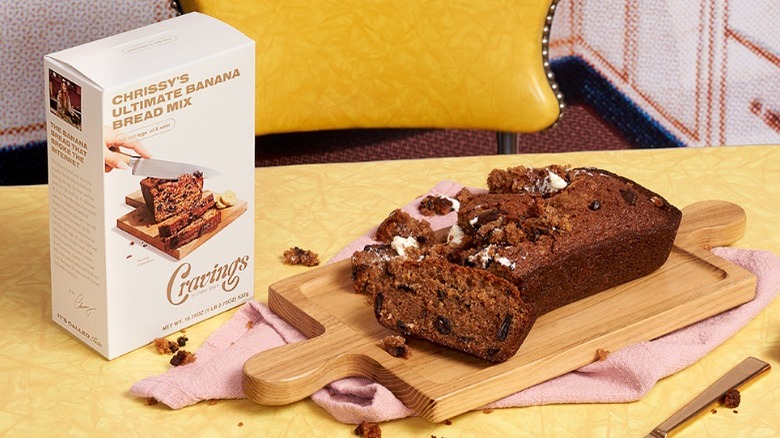 Cravings
According to a press release sent to Mashed, Teigen's famous banana bread will be available in 33 Coffee Bean & Tea Leaf stores throughout the Los Angeles area from December 14-23. The coffee chain's website provides a list of all participating locations, which will sell the banana bread for $4.95 per slice.
It's unclear whether the in-store banana bread recipe will be made from scratch or using Chrissy Teigen's Ultimate Banana Bread Mix, which we tried when it debuted in a trio of Cravings baking mixes this past October. Those who aren't in the Los Angeles area can buy the mix from the Cravings website, which retails for $24 for a three-pack and can be made by adding eggs, oil, and water.
No matter how you get your hands on it, Reddit is convinced that you won't be disappointed by Teigen's banana bread. After one user shared a photo of the freshly baked bread, a commenter asked how it was. In response, the OP praised the recipe's secret ingredients: "It's really good! I was skeptical at first because of the vanilla pudding and coconut, but it works. One of my favorite banana bread recipes as of right now!"