Here's What Happened To Ice Chips Candy After Shark Tank
Ice Chips candy was created by Bev Vines-Haines and Charlotte Clary in 2009, after the two women were inspired to make a candy that didn't have sugar for diabetics, per Shark Tank Blog. Clary and Vines-Haines met each other in 1986, becoming friends instantly and laying the foundations for their many business ventures, according to Ice Chips. The pair had done everything from running their own public relations and advertising firm to creating a foot cream for their friend who served in the Air Force in Vietnam.
Vines-Haines was also a novelist and ghostwriter, while Clary started her own boutique clothing line and a baked goods delivery service. The duo's most successful venture was their foot cream and other skin products, until Ice Chips. Clary and Vines-Haines also wanted to make their own candy because they felt that the majority of sugar-free candy at the time tasted like "petrified flour." The two decided to make a candy made with sugar alternative xylitol and, "[give] up the thrilling life of scrapbooking and quilting" to pursue their new sugar-free candy business (via YouTube). To further expand their business, the two women sought the help from the investors on the show "Shark Tank."
Ice Chips owners strike a deal with two sharks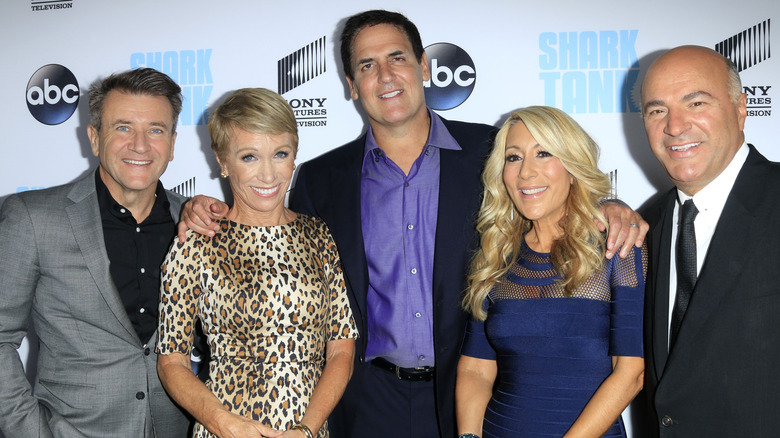 Kathy Hutchins/Shutterstock
Bev Vines-Haines and Charlotte Clary brought their Ice Chips to "Shark Tank" with samples of their products in hand — 17 different flavors at the time, according to Shark Tank Blog. Clary and Vines-Haines asked the sharks for a $250,000 investment in exchange for 15% equity in their business (via Shark Tank Blog).
All of the investors loved the sugar-alternative candy, and the ensuing debate showed. Barbara Corcoran offered the ladies $125,000 for 33% equity, and claimed to be able to expand Ice Chips to 3,000 big-name retailers. Kevin O'Leary expressed interest and wanted to team up with Corcoran; however, she said she'd rather partner with Mark Cuban if they offer a combined investment of $250,000 for 40% equity. Daymond John jumped in with an offer of $250,000 for 35% equity, and said he can get someone else to manufacture Ice Chips. O'Leary then wanted to partner with John, but he declined. 
Overwhelmed by the bidding war, Robert Herjavec dropped out completely. Vines-Haines and Clary end up agreeing to the deal with Cuban and Corcoran by the end of their appearance.
Ice Chips is still in business and added more flavors
After Bev Vines-Haines and Charlotte Clary appeared on "Shark Tank," the pair actually didn't end up closing the deal made with sharks Barbara Corcoran and Mark Cuban, according to Shark Tank Blog. However, their appearance on the show was enough on its own to boost their business like they had wished. In fact, they sold about $300,000 worth of Ice Chips right after their episode aired. The women then ordered better equipment to streamline their production process, and they also sold a lot more Ice Chips to wholesale retailers. Clary and Vines-Haines made around $5 million in annual sales as of June 2022.
While Ice Chips started out with 17 flavors, the sugar-free candy is now available in 22 different flavors, per Ice Chips. As of December 13, 2022, current flavor offerings include chocolate brownie, peppermint, cinnamon, spearmint, berry, sour cherry, root beer, pumpkin spice, sour apple, margarita, and more. Ice Chips are also available in variety packs and "choose your own" six packs, and the company also sells a two-ounce container of tooth powder for $11.95. Single flavors can be purchased in three packs, six packs, 12 packs, or 24 packs, and it costs about $35.95 for a pack of six Ice Chips.