This Traditional Swiss Christmas Eve Meal Is Filled With Cheesy Goodness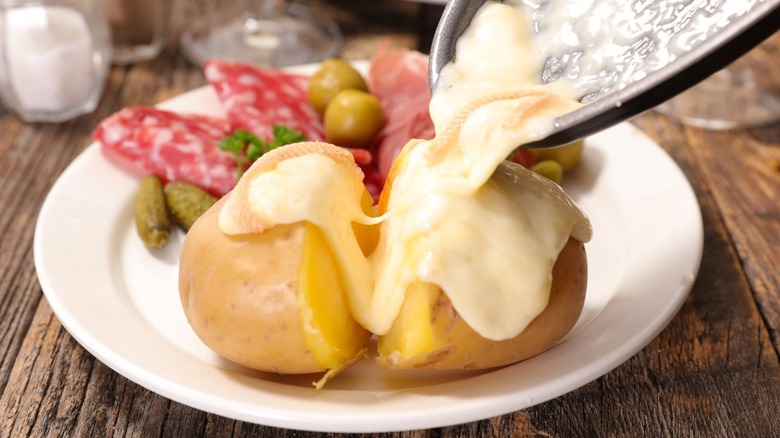 margouillat photo/Shutterstock
Christmas, a holiday commemorating the winter solstice and the birth of Jesus, has been celebrated by cultures around the globe for millennia, per History. Christmas Eve, the day before, also has plenty of its own traditions, which encompass various forms of merriment — caroling, trimming the tree, lighting the Yule log, decorating gingerbread houses, baking cookies for Santa Claus, and of course, feasting on delicious food with loved ones around the dinner table. Spirited eats and spicy-sweet drinks are among the best parts of the festive season.
There currently exists a number of customary Christmas dinner recipes around the world: fish pie and ham in Great Britain, spiced beef in Ireland, massive spreads of fish in Italy, and julbord (a buffet-style, multi-course dinner consisting of a medley of hot and cold meats, fish, cheeses, fruits, and vegetables) in Sweden, according to The Guardian. There is, however, one particularly special Christmas Eve meal that resonates with the people of Switzerland — and it involves lots and lots of cheese.
Raclette is a Swiss holiday dish starring melted cheese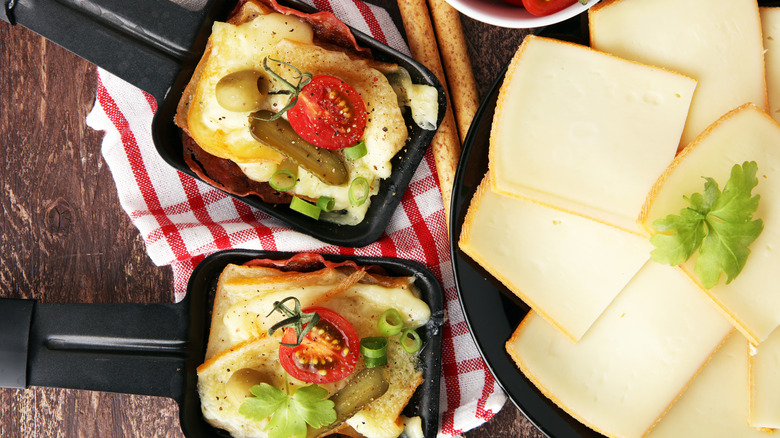 Beats3/Getty Images
For many, pairing cheese with Christmastime meals is a match made in culinary heaven. And the Swiss certainly know how to create culinary-fueled memories based on this very notion. Raclette is a type of Alpine cheese that is traditionally melted on a heating device and then generously smothered over potatoes, bread, veggies, and other hearty bases as a simple yet decadent nosh. Raclette has an iconically pungent aroma, not to mention a distinctive flavor that is often described as nutty, milky, salty, and smoky, per DelightedCooking.
According to USA Today, the word raclette originates from the French term "racler," meaning "to scrape," implying the unique way in which this beautiful Swiss-born cheese is served. Simplify Live Love explains that raclette parties, typically large gatherings during which hungry guests prepare their own cheesy plates, are popular across Europe, particularly on Christmas Eve.
Over the years, raclette has gained a lot of admiration as American restaurants and cheese companies are latching onto the tasty trend. The West Allis Cheese and Sausage Shoppe in Milwaukee, Wisconsin, serves warmed raclette atop savory foods such as potatoes, asparagus, pickles, baguettes, and smoked sausage, reports OnMilwaukee. RacletteCorner also lists Stable DC in Washington, DC, Brew Cheese in Stony Brook and Northport, New York, and Brasserie Mon Chou Chou in San Antonio as places to indulge in raclette. Whether you enjoy raclette on Christmas Eve or any other day, it's an experience worth gifting yourself and others.