Can You Buy Aldi Gift Cards?
dennizn/Shutterstock
Whether they're for Christmas, a birthday, or just because, gift cards are a popular item to give to friends and family. In fact, MarketWatch predicts that the global market value for gift cards will reach nearly $416 billion by the end of 2026. Yes, billion.
Gift cards have been around since the 1990s when Neiman Marcus and Blockbuster Video began selling them. Starbucks followed suit in 2001 (via Smithsonian Magazine). Today, it seems like you can buy a gift card for any major store or restaurant. You can even buy them for digital services, like streaming platforms and video games.
What about grocery stores? Do they also sell gift cards? Well, yes. However, not every grocery store sells them. The mom-and-pop supermarket in your neighborhood probably doesn't. But when it comes to major supermarket chains like Aldi, you might be in luck. After all, Aldi sells a lot of other convenient things, in addition to food, like candles, throw blankets, and items for your four-legged friends, so why not gift cards?
Yes, Aldi sells gift cards but there's a catch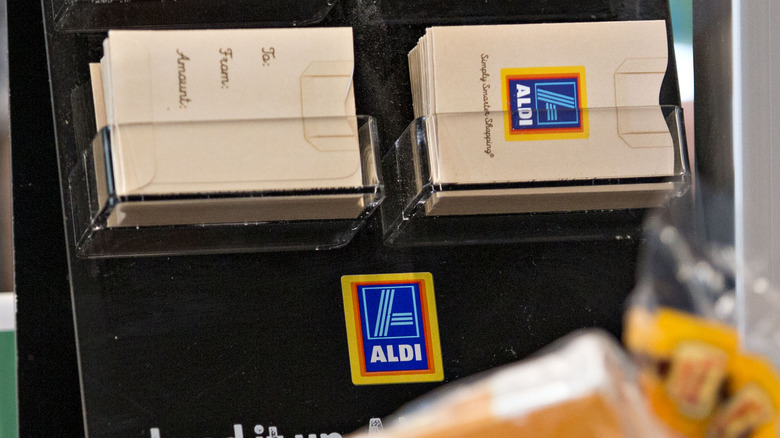 Bloomberg/Getty Images
If you're a fan of Aldi or you know someone who is, you'll be happy to know that it does sell gift cards, but there's a caveat. Aldi's website states that gift cards are available "in $5 increments, up to $100," but they're only sold in stores. That shouldn't be an issue if you're an Aldi shopper, but if you aren't, you'll have to make a special trip to the store to buy the gift card. Unlike other stores, such as Walmart, there's no option to buy it online.
But Aldi offers an advantage with its gift cards that some stores don't offer; the ability to reload them. The website states that a gift card can be reloaded as long as it's had a balance on it within the last 90 days. That's because Aldi gift cards with a $0 balance become deactivated after 90 days, so they can't be reloaded. Eligible gift cards can be reloaded in person by any Aldi cashier. There's no online or phone option here either.
The only online option that Aldi offers related to its gift cards is the option to check the card balance, which you can do on the Gift Card Balance webpage. You can also check the balance by asking a cashier.