Even Sigourney Weaver Is A GBBO Superfan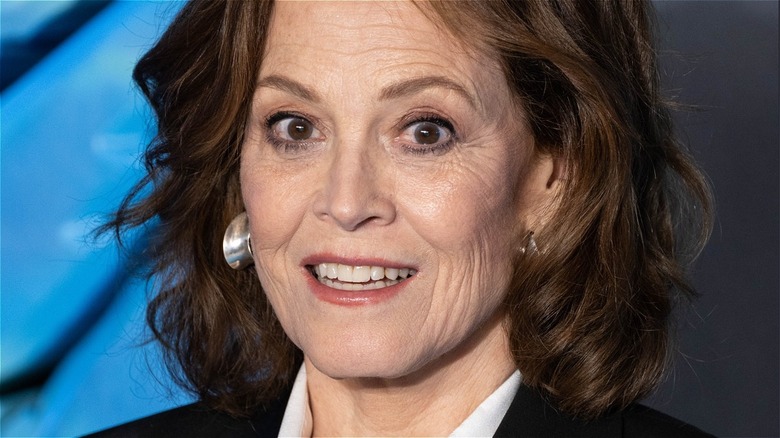 Jeff Spicer/Getty
Are you a fan of "The Great British Bake Off?" This "ultimate baking battle where passionate amateur baking fans compete to be crowned the U.K.'s Best Amateur Baker" is a huge hit in its country of origin, the United Kingdom, and abroad in the U.S. as well, where its title has been slightly changed to "The Great British Baking Show" (via The Great British Bake Off). Even if you're not a fan, there are many people who love this wholesome baking show, and among them, there are also a few celebrities. 
For example, David Schwimmer, the star of the hit TV show "Friends," says he loves it because "there's such a good spirit on that show." And the beloved cannabis aficionado Snoop Dogg told Daily Star that, "Bake Off is one of the greatest shows on TV." Singer Lorde, on the other hand, talked to Jo Wiley on BBC Radio 2 and revealed that she's "obsessed with Great British Bake Off" because "it's so comforting" (via Hello Magazine). 
And GBBO is no stranger to celebrities. The show also has its "The Great Celebrity Bake Off for Stand Up 2 Cancer" specials, in which celebrities "put their skills to the test." So far, celebrities such as Ellie Goulding, Matt Lucas, Alex Horne, and Ruby Wax have all competed in the specials (per Channel 4). But there is also one American celebrity who's actually a superfan of this baking show.
Sigourney Weaver loves GBBO because the contestants are nice and supportive
Did you ever expect the famous Hollywood actress Sigourney Weaver to be a superfan of "The Great British Bake Off?" Well, neither did we, but that seems to be the case. Throughout her massive career, Weaver has starred in numerous movies, and some of the most famous ones include "Avatar," "Ghostbusters," and most of the "Alien" franchise (via The Guardian). According to Huffington Post, Weaver enjoys watching British telly whenever she has the time, and she does so with her husband, Jim Simpson. 
The actress said that she simply adores the show because, saying, "The contestants are all so supportive and nice to each other, so hard-working, and they come from such different backgrounds." Unfortunately, that's not the case with most reality shows nowadays, so we understand where Weaver comes from. But do we really? Weaver is apparently half-English, which is another reason she likes the show, for its "expression of British diversity and bonhomie." 
Interestingly enough, Weaver is a long-time vegan, so most of the delicious bakes on GBBO are a no-go for the actress (via Eat This, Not That!). Luckily, in 2021, Freya Cox rose to the surface as the first vegan baker on GBBO, and we have an inkling that she was Weaver's favorite (per Insider). And although vegan fans are furious with GBBO, sometimes, it's enough just to relax and look at all those beautiful chocolate cakes, whether they're vegan or not.