All The Regal Snacks At Harry And Meghan's Wedding Reception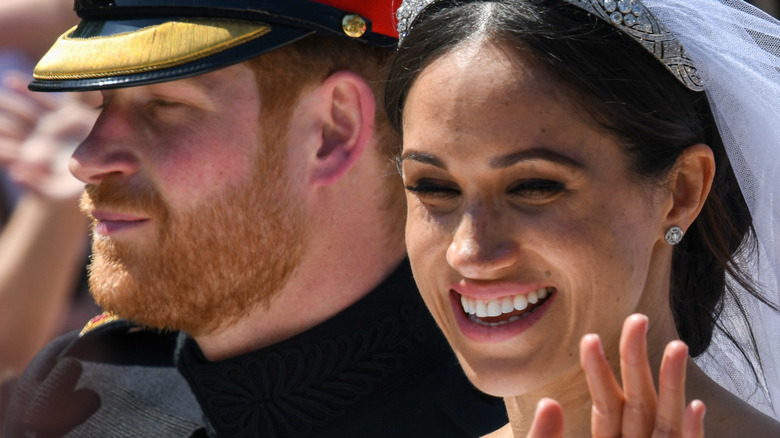 LINGTREN.COM/Shutterstock
While the first few years of any marriage can be pretty bumpy, the Duke and Duchess of Sussex have had a wilder ride than most and one that's taken the rest of the world along with them. All of the scandal and controversy gets a bit wearing at times, though, so let's hark back to happier days and take a nostalgic look back at the wedding itself. The setting was lovely, the clothes were fancy, the jewels were sparkly, and the music was musical, but what we really want to reminisce about is the wedding feast with all of its amazing food.
The one item that got the most press at the time was Prince Harry and Meghan Markle's super-pricey wedding cake (some estimates have the cost coming in at upward of $70,000). The royals have traditionally favored fruitcake for their nuptials, but Markle, being American, may have been less of a fan of the stuff so she opted for a lemon-elderflower cake instead. Coincidentally (or not), elderflower subsequently soared in popularity and soon after the wedding was quite the trendy flavor, at least among royal watchers and fans of "The Great British Baking Show." Markle's no Marie Antoinette, though, so wedding guests weren't expected to sustain themselves on cake alone. In addition to dessert, they also enjoyed an extensive menu of appetizers as well as a complete meal.
The wedding reception included a surfeit of snacks both sweet and savory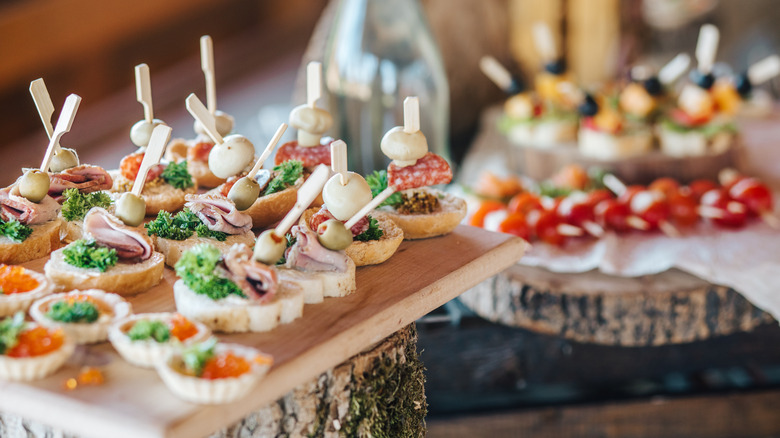 Vaksmanv/Getty Images
Sadly, our invitation to the royal wing-ding got lost in the mail, so we were unable to experience the food firsthand. Luckily, People supplied plenty of details. After the wedding, the reception took place at St. George's Hall. Once inside, the 600 guests were able to snack on canapés galore as they waited for lunch to be served. These appetizers included asparagus with panna cotta and quail egg, chicken fricassee with leeks and morel mushrooms, risotto with mint and peas, parmesan-truffle crisps, roast pork belly with apple compote, and salmon-wrapped Scottish langoustines with crème fraiche, per the Royal Family website. There was even a selection of pre-lunch sweets: macaroons flavored with champagne or pistachio and mini tarts filled with orange crème brûlée or rhubarb crumble.
While you'd think that all the above would fill people up quite nicely, it seems the reception also featured a sit-down lunch, as well. On the lunch menu were pork belly and baked potatoes, with meringues making for yet another dessert. As for the drinks served at the reception, it's possible that some of these may have been made with tequila since the guest bartender was actor-turned-celebrity booze purveyor George Clooney. Fruitier options included apple and elderflower mocktails and Sandringham Cox's apple juice. Other beverages, however, were flavored with ginger in honor of the groom's hair color.