Whole Foods' Lux Orange-Scented Chocolate Is A Wink To Trader Joe's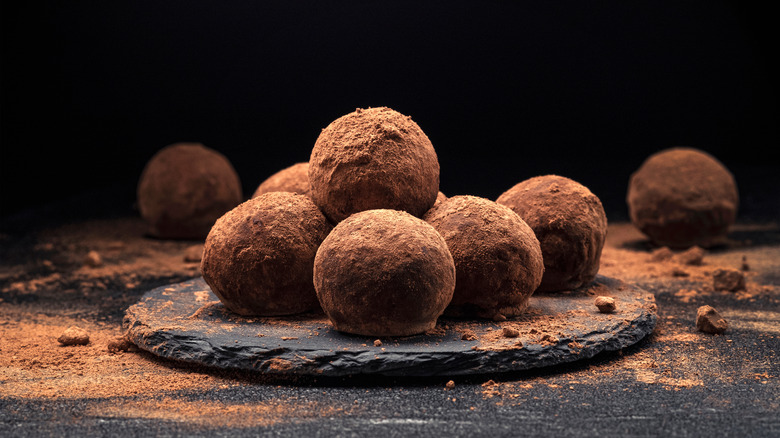 Spalnic/Shutterstock
We may receive a commission on purchases made from links.
People have been enjoying the chocolate-orange combination for centuries — yes, centuries. According to Carambar & Co, Joseph Terry created a yummy chocolate and candied orange peel treat all the way back in 1823. Does that name sound familiar? The Terry's Chocolate Orange we know and love today came into being in 1932, with more than 44 million sold each year (via Confectionary News).
With this flavor pairing growing so popular, countless other companies have tried to create their own unique twist on the original chocolate orange. Trader Joe's, for instance, sells a fan-favorite dark chocolate orange around the holiday season. Per Trader Joe's, the treat is meant to evoke "comforting waves of nostalgia."
This year, however, Whole Foods hopped on the chocolate orange train with its own version. While Whole Foods' chocolate orange-inspired snack is a little different from what we're used to, it's certainly got the spirit, and isn't that all that really matters?
What's the deal with the Whole Foods chocolate orange?
For holiday season 2022, the popular grocer Whole Foods is selling its own spin on the beloved chocolate orange. According to The Grocer, the dessert is a product of France. The treat is an organic dark chocolate and orange peel truffle. Per Whole Foods, the truffle is made with Fair Trade Certified cocoa and is both dairy-free and vegan-friendly. Each box contains roughly 24 truffles, with a serving being three truffles.
Keeping all that in mind, the treat has received mixed reviews. One Amazon review said the truffles were "not what [they were] expecting," and another commented that "the texture is ruined by the very hard bits of freeze dried orange peel." However, others called these truffles the "best vegan chocolate" they'd ever had, and went so far as to say they wished Whole Foods would sell the product year-round.