Trader Joe's Brought Back This Chocolate-Citrus Holiday Favorite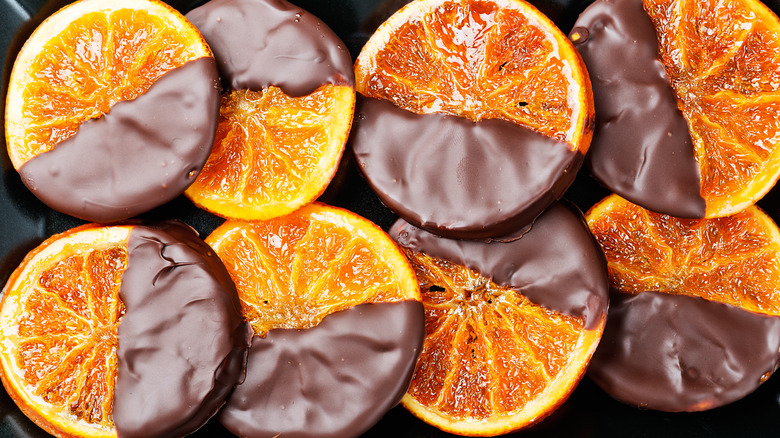 nelea33/Shutterstock
Trader Joe's fans have cause for celebration, because it is truly the most wonderful time of the year. The California-based grocery store's food items have a cult-like following, and their loyal band of followers love when the holidays roll around. Why? Because this time of year is a harbinger of several of Trader Joe's seasonal and much-anticipated classics lining their store shelves, albeit for a limited time. Lovers of this grocery store's Jingle Jangle chocolate snack mix lit up Instagram with their joy of its return, while those who are obsessed with TJ's Winter Wake Up Tea took to social media to express their desire for the store to keep it in stock year round for them to enjoy.
Well, TJ fanatics have had another spotting of a fan-favorite seasonal food item. According to Instagram account Trader Joe's List, the chain's much-beloved Christmastime citrus classic is back. The post has received over 2,500 likes, with enthusiastic commenters exclaiming, "I bought 4 just to stock up until after the season," while another gushed, "I wait for the holidays every year just for this." And still another humorously urged, "Must try for science if you haven't already."
Trader Joe's Dark Chocolate Orange is Kosher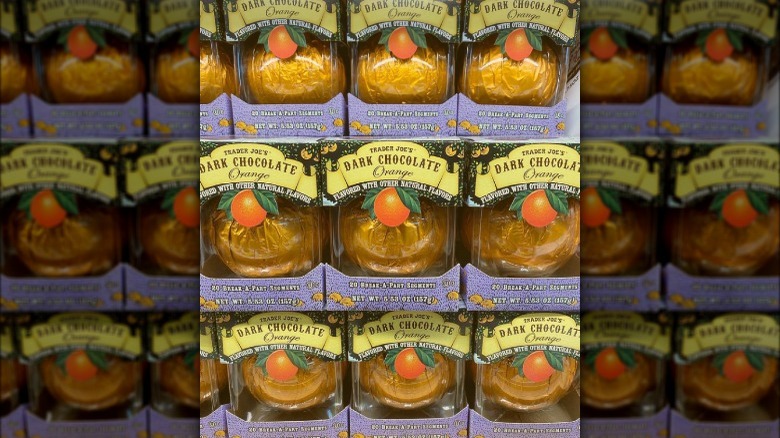 Trader Joe's Dark Chocolate Orange is back and already flying off the shelves. The Trader Joe's List fan account posted a picture of this favorite treat and wrote, "DARK CHOCOLATE ORANGE. This is back and such a fun treat! Smack it on the table to break it apart and enjoy the 20 dark chocolate slices that are full of citrus flavor! These make great stocking stuffers and Holiday party treats!" If you've never tried one of these balls of chocolate and orange heaven, now may be your chance. What is it about this chocolate and orange confection that has TJers pining for it? 
According to the chain's website, they would like to think that their "Dark Chocolate Orange is what a tree-grown orange would be if it could choose its own destiny."  That's a really deep and delicious thought. But they also share that the Dark Chocolate Orange, which is also Kosher, fills fans with a "wave of nostalgia." The product description explains that each Trader Joe's Dark Chocolate Orange is comprised of 20 break-apart segments of dark chocolate infused with natural orange flavor, each one tastier and more delightful than the last. And "whacking" it on a hard surface to break it up is highly encouraged. Yummy and fun! So, get to Trader Joe's ASAP and stock-up on these dark chocolate oranges. Use them as party favors or toss around the table as an after dinner treat this holiday season, just do it before their taste is but a distant memory.