At-Home Elephant Ears Recipe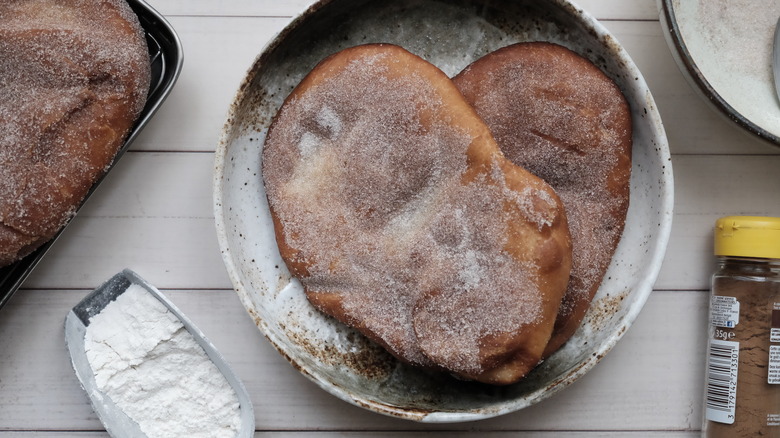 Eric Ngo/Mashed
There are plenty of names for this delightful treat, but at its essence, fried dough is as straightforward as it gets. Of course, we can get on board with elephant ears, as recipe developer Eric Ngo of Frenchie the Toast refers to this warm dessert. Simple pantry staples make up this recipe, and the trickiest step of the process is avoiding any splatter from the frying oil. 
With a classic cinnamon sugar coating, these elephant ears are the perfect comfort food. Ngo raves, "It tastes delicious!" A little bit of sweetness, some spice, and the perfect crunchy chewy texture makes this fried delicacy a winner. Plus, who's to say you can't add a drizzle of chocolate sauce or whipped cream? Serve them as dessert, an afternoon pick-me-up on a winter day, or for breakfast if it's that kind of morning. While you'll need to let the dough rest, keep in mind that elephant ears are best enjoyed still warm from the fryer.
Gather the ingredients for this at-home elephant ears recipe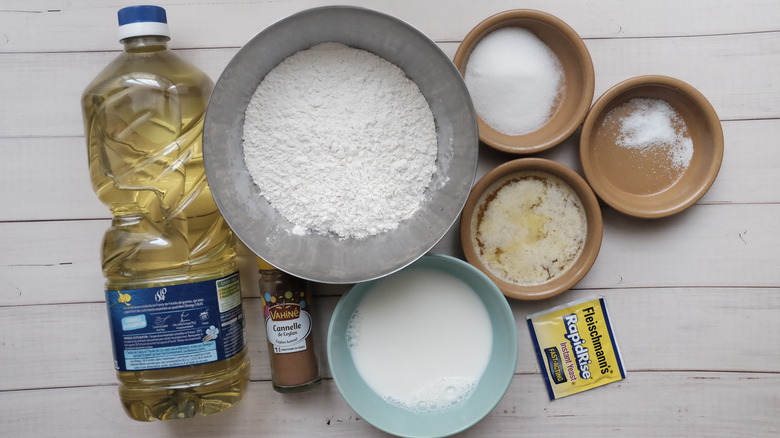 Eric Ngo/Mashed
For the elephant ear dough, you'll need flour, milk, salt, white sugar, melted butter, and instant yeast. The sweet and spiced coating is a mixture of white sugar and cinnamon powder. Finally, you'll need some oil for frying. Be sure to choose something with a neutral flavor and high smoke point, such as vegetable oil.
Start by making the dough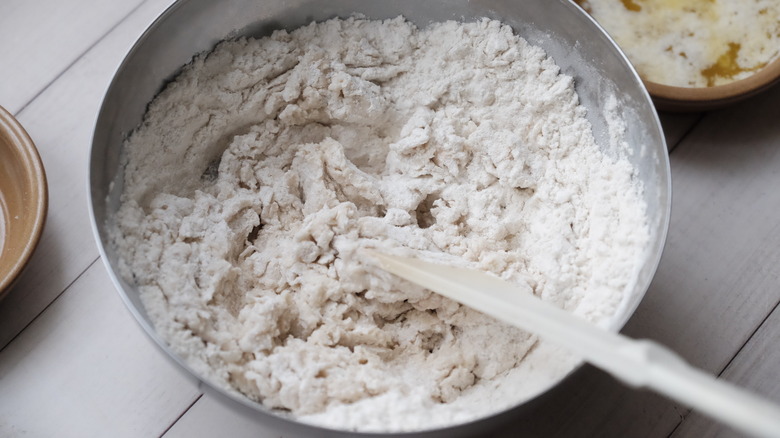 Eric Ngo/Mashed
In a large bowl, add 6 tablespoons of sugar, flour, salt, instant yeast, milk, and melted butter. Mix the contents with a spatula until there are no more dry streaks, and the dough forms into a ball. Ngo comments, "It's not a very sticky dough, and it's easy to work with."
Sprinkle some flour on a clean work surface, and knead the dough by hand for 15 minutes. Alternatively, Ngo suggests kneading for about 10 minutes with a stand mixer on medium speed. Once you've used up all your muscle power, shape the dough into a ball, and transfer it to a bowl.
Let the dough rest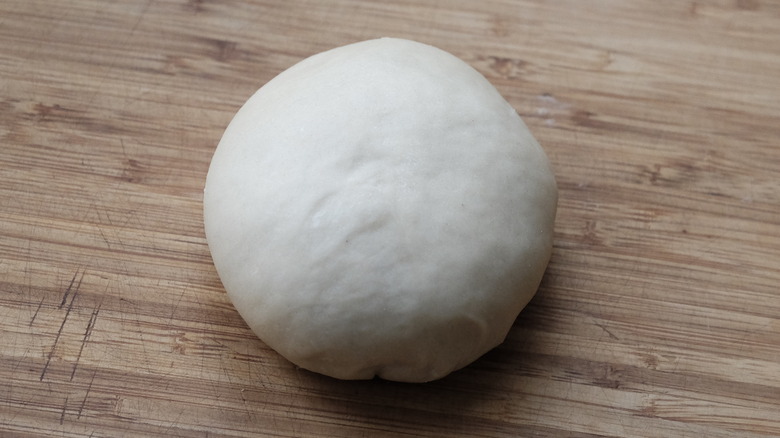 Eric Ngo/Mashed
Cover the bowl with a tea towel, and leave the dough to rest at room temperature for about 1 hour. Ngo notes that "The purpose of the resting time is to further develop gluten, and it gives better flavor."
He adds that "at room temperature around 75 to 80 F, the dough should almost double in size."  
Divide the dough to make the elephant ears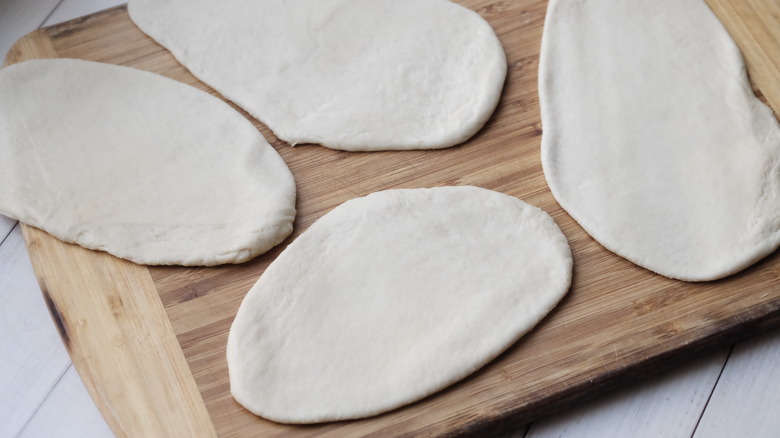 Eric Ngo/Mashed
Ngo specifies that after the dough rises, you want to essentially deflate it for the next step. Split the dough ball into four equal parts. One by one, roll them out until they are similarly-sized flat ovals that look like elephant ears. 
Fry the elephant ears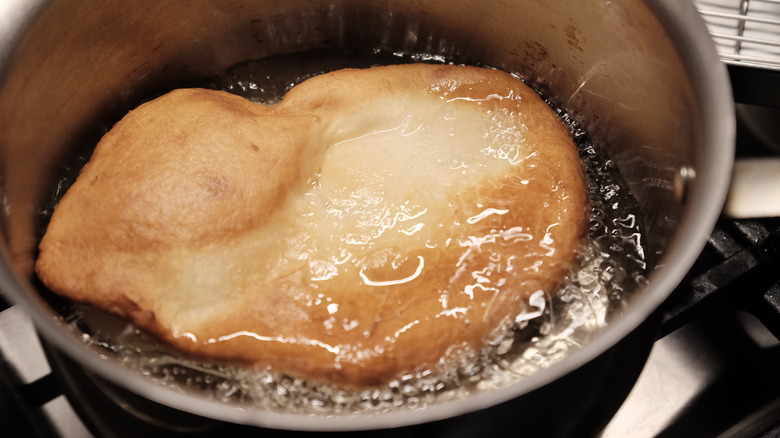 Eric Ngo/Mashed
Heat a pot with frying oil to 375 F. Using a thermometer yields the best results here, and prevents the dough from burning or failing to crisp. Once the oil is at the right temperature, Ngo suggests reducing the heat to medium-low. 
Then, carefully lower one elephant ear into the liquid. Fry it for 1 minute or so on each side, until the dough is nice and golden. Repeat the process with the remaining 3 pieces of dough.
Add the final touches, and serve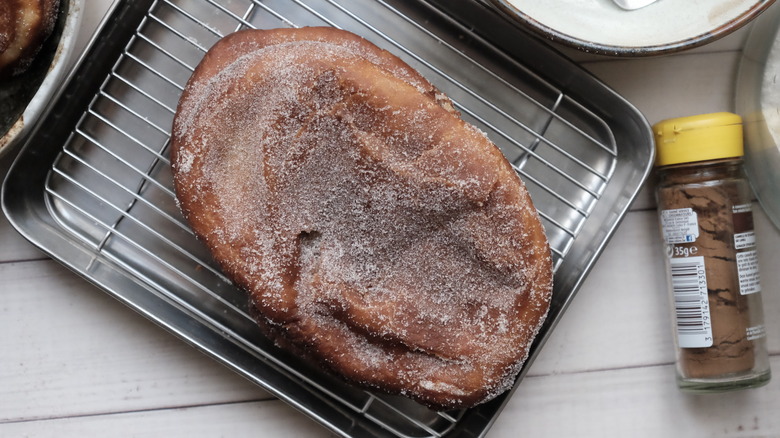 Eric Ngo/Mashed
In a small bowl, mix the remaining 2 tablespoons of sugar and cinnamon. Sprinkle the mixture over each elephant ear, so that the surface is coated in the cinnamon sugar mixture. Ngo also suggests, "Whipped cream and fruit jams are great toppings for this recipe."
Serve these tasty elephant ears immediately. Since these treats are fried, they are best enjoyed right after being prepared. 
At-Home Elephant Ears Recipe
You don't have to wait for the carnival to eat elephant ears, thanks to this easy at-home recipe.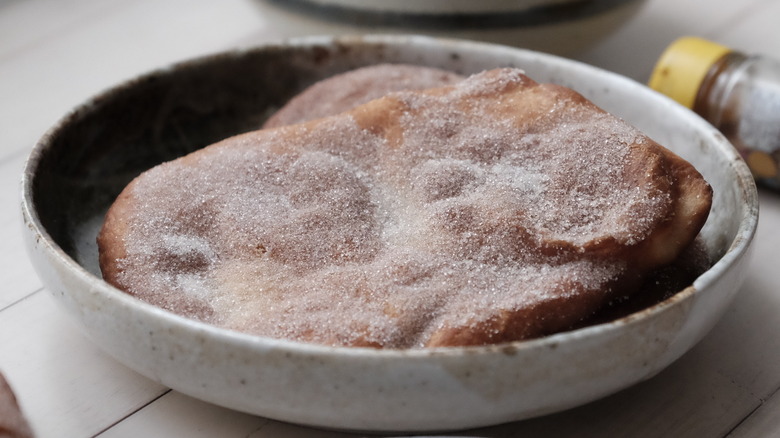 Ingredients
8 tablespoons sugar, divided
1 cup flour
½ teaspoon salt
1 teaspoon instant yeast
½ cup milk
½ stick butter, melted
1 teaspoon cinnamon powder
oil for frying
Directions
In a bowl, mix 6 tablespoons of sugar, flour, salt, instant yeast, milk, and melted butter with a spatula until a ball of dough is formed.
On a lightly-floured counter, knead the dough for 15 minutes, or 10 minutes on medium speed using a stand mixer.
Shape the dough into a ball, and place it in a bowl. Cover it with a tea towel and let it rest at room temperature for 1 hour.
Divide the dough into 4 equal pieces, and roll them into flat ovals. Heat the frying oil in a pot to 375 F, then maintain it on medium heat.
Carefully place the dough 1 piece at a time into the hot oil, and fry it for about 1 minute on each side, or until golden brown. Continue with the remaining dough.
Mix 2 tablespoons of sugar with the cinnamon in a bowl. Coat the fried dough with the cinnamon sugar mixture, and serve.
Nutrition
| | |
| --- | --- |
| Calories per Serving | 453 |
| Total Fat | 26.2 g |
| Saturated Fat | 8.9 g |
| Trans Fat | 0.5 g |
| Cholesterol | 33.4 mg |
| | |
| --- | --- |
| Total Carbohydrates | 51.3 g |
| Dietary Fiber | 1.5 g |
| Total Sugars | 26.6 g |
| Sodium | 269.5 mg |
| Protein | 4.7 g |