TikTok Is Having A Party Over Oreo Top Ramen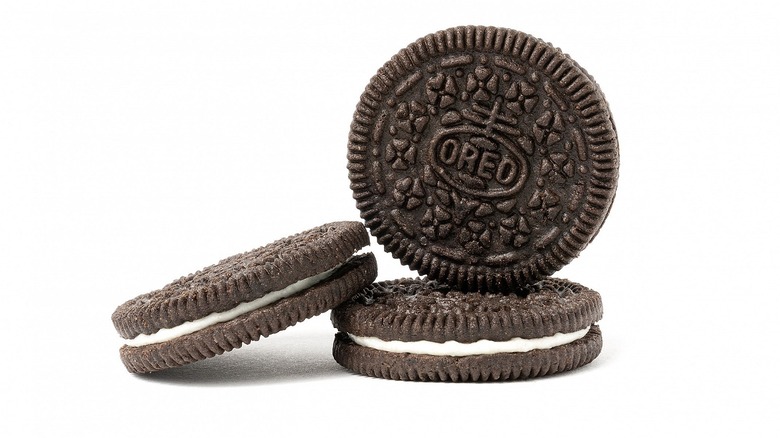 Muhammad_Safuan/Shutterstock
Nowadays, tons of food hacks and food trends are born and popularized on the popular social media video platform TikTok. Various TikTok food trends include cloud bread, pasta chips, corn ribs, butter boards, and so much more. To put it into perspective, the hashtag #foodtiktok had about 106.6 billion views in 2022, with cloud bread garnering 3.4 billion views, pasta chips had 1.1 billion views, and butter boards received around 358.4 million views according to CNBC. Now, there's supposedly a new TikTok food trend in the form of Oreo Top Ramen.
Recently, Josh from Mythical Kitchen shared a TikTok where he tried Oreo Top Ramen and said it was the "hottest snack collab." He described the unique product as being "sweet [and] chocolate-y" with a broth "that tastes like the [Oreo] filling. Of course, everyone in the comments had thoughts and opinions to share. Some people thought the snack collab was a great idea and said that they would definitely try it, while others weren't so on board. Two users said "This should be illegal" and "That's a big no for me." While the Oreo Top Ramen does sound like a super cool product to try, there's a surprising truth behind it. Here's what you need to know.
Oreo Top Ramen isn't a real thing
Sadly, the Oreo Top Ramen seen on TikTok isn't a real product. Mythical Kitchen actually shared a YouTube video where they create the Oreo Top Ramen. In the video, Mythical chef Josh announces the return of Snack Smash, which is a series on the channel where they mash together two popular snacks. Previous Snack Smash episodes include Redbull Gushers, Goldfish Pizza Rolls, Flamin' Hot Frosted Flakes, and Starburst Klondike bars (via YouTube). Josh is joined by Lily Cousins, and they start by making an Oreo dough for the noodles, which consists of various ingredients including black cocoa, dutch-processed cocoa, chocolate extract, flour, and more. After rolling the dough out, running it through a pasta cutter, and cooking the noodles, the duo then dehydrates them to mimic the look and feel of the noodles found in Top Ramen.
The "broth" for the Oreo Top Ramen is made with a few different ingredients such as powdered sugar, the filling from several Oreos, dehydrated milk powder, and more. Special custom packaging was also created for the unique snack mashup, and the pair sat down for a taste test with Trevor Evarts, who was declared the "unbiased judge." The trio described the Oreo Top Ramen as "fun and magic," "something sweet, something warm, [and] something to lift your spirits up," and a "great hot cocoa substitute." All three of them voted the Oreo Top Ramen as a smash and said it could be a great breakfast item.