Classic Brazilian Brigadeiro Recipe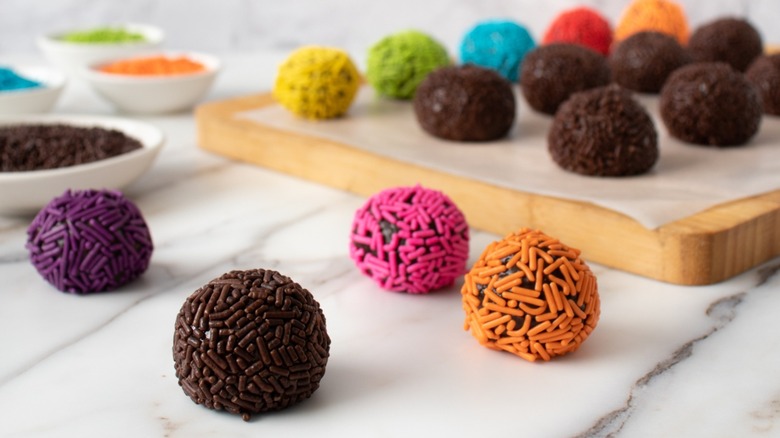 Patterson Watkins/Mashed
If you're not familiar with the Brazilian treat known as brigadeiros, you're going to want to remedy this situation ASAP. These chocolatey confections are a delight so tasty that they're rumored to have been employed as a draw for politician Eduardo Gomes — nicknamed "the Brigadeiro" — whose supporters wanted to sweeten up constituents with a little sugary bribery. As recipe developer Patterson Watkins says, "Let me tell you: if all politicians came with a little sweet treat, I'd be much more involved with politics."
"Brigadeiros," Watkins explains, "fall somewhere between a chocolate truffle and a caramel," but adds that "they're a little easier to make than truffles and much more forgiving than trying to make homemade candy caramels." She also tells us that you can have a lot of fun with the decorating, adding, "you can go wild with sprinkles, picking colors or themes based on holidays, seasons, sports teams, [or] your mood."
Assemble the ingredients for the brigadeiros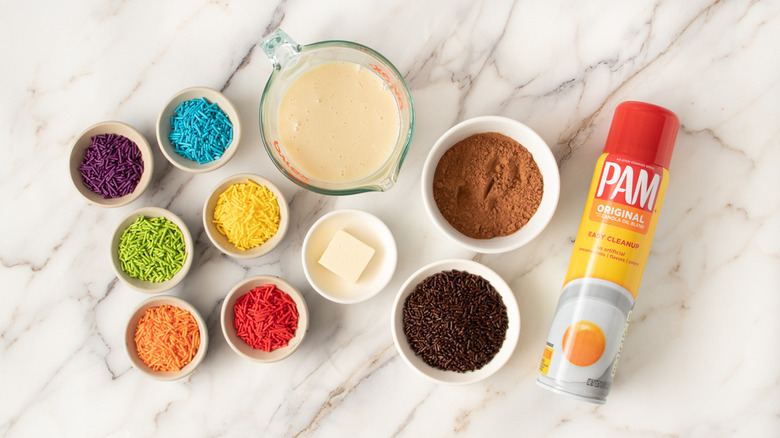 Patterson Watkins/Mashed
The joy of this recipe," Watkins tells us, "is the short ingredient list." Short and sweet certainly describes it, since all you'll need to make these treats is a little bit of butter, some cocoa powder, and a can of sweetened condensed milk, plus a bunch of sprinkles in which to roll the finished candies.
Make the brigadeiro mixture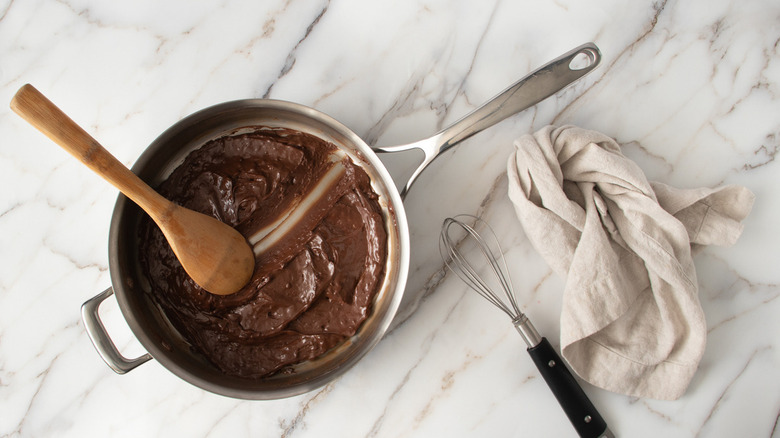 Patterson Watkins/Mashed
Melt the butter, then stir in the condensed milk and the cocoa powder. Cook the mixture for 8 to 10 minutes, stirring frequently so it does not stick or scorch. The gooey mixture will thicken up as you cook it. Once it's done, Watkins says, "you should see the bottom of the pot when dragging a spoon or spatula through the mixture." She compares the consistency of the dough to that of buttercream frosting, so be on the lookout.
Shape the brigadeiros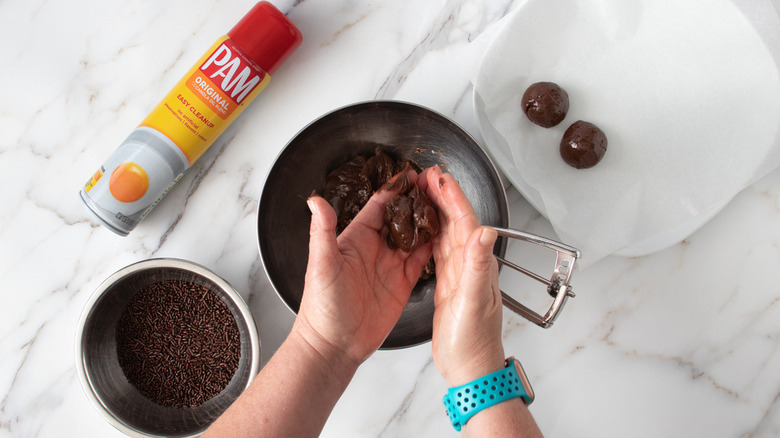 Patterson Watkins/Mashed
Scrape the dough into a bowl, cover it, and refrigerate it for an hour or so to firm it up. Once it is firm enough to shape, spoon up a heaping tablespoon (or small cookie scoop's worth) and give it a light squirt of cooking spray. Watkins also recommends spraying your hands so the dough won't stick to them as you roll each spoonful into a smooth, round ball. You should get about 12 balls in all per batch, each one approximately the size of a ping pong ball.
Coat the candies with sprinkles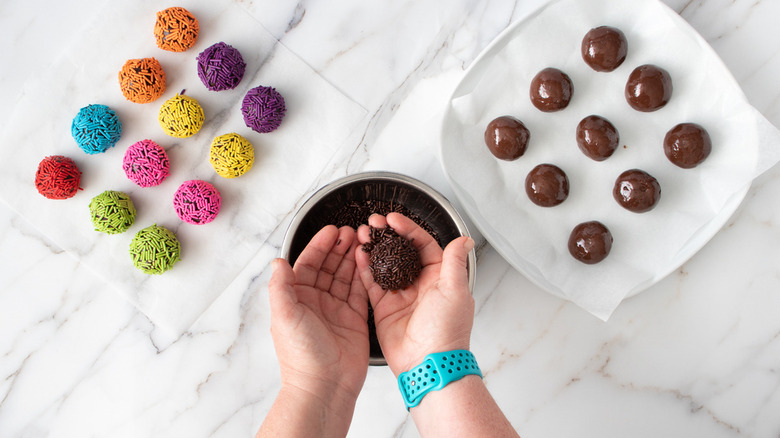 Patterson Watkins/Mashed
Once you've rolled all of the brigadeiro dough into balls, pour your sprinkles out into bowls. If you have more than one color or type of sprinkles, put them in separate bowls or create blends to your liking. Roll the brigadeiros in the sprinkles, making sure they're thoroughly coated. Put the sprinkle-coated candies back into the refrigerator until you're ready to eat them.
If you're the make-in-advance type, you're in luck here as Watkins assures us that these brigadeiros freeze well, so long as they're well-wrapped and/or sealed in an airtight container. Simply thaw them in the refrigerator when you want to eat them, and they'll be just as tasty the second time around.
Classic Brazilian Brigadeiro Recipe
It's not exactly a truffle, and it's not exactly a caramel. Brigadeiros are their own, unique, chocolatey delight. Learn how to make the Brazilian treat.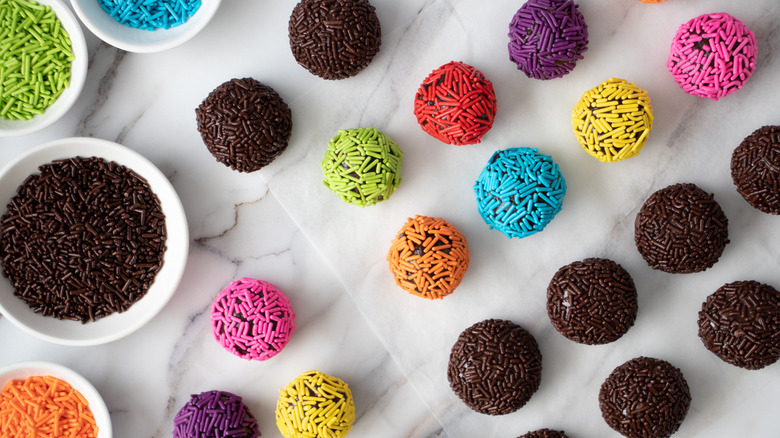 Ingredients
1 tablespoon unsalted butter
1 (14-ounce) can sweetened condensed milk
¼ cup unsweetened cocoa powder
2 cups sprinkles (chocolate and/or assorted colors), separated if using different varieties
Directions
Melt butter over medium heat.
Add condensed milk and cocoa powder to melted butter, stirring until combined.
Cook the mixture, stirring frequently, for 8 to 10 minutes or until extremely thick.
Pour the mixture into a bowl, cover, and refrigerate for 1 hour or until firm and thoroughly chilled.
Scoop a heaping teaspoon or small cookie scoop's worth of the mixture and give it a light squirt of cooking spray.
Roll the scooped mixture into smooth spheres. You should get about 12 of these.
Roll the balls in the sprinkles, thoroughly coating them.
Keep the brigadeiros chilled until ready to serve.
Nutrition
| | |
| --- | --- |
| Calories per Serving | 297 |
| Total Fat | 4.9 g |
| Saturated Fat | 3.1 g |
| Trans Fat | 0.0 g |
| Cholesterol | 16.5 mg |
| | |
| --- | --- |
| Total Carbohydrates | 62.8 g |
| Dietary Fiber | 0.8 g |
| Total Sugars | 61.5 g |
| Sodium | 51.4 mg |
| Protein | 3.6 g |