Fruit And Nut Basmati Rice Pilaf Recipe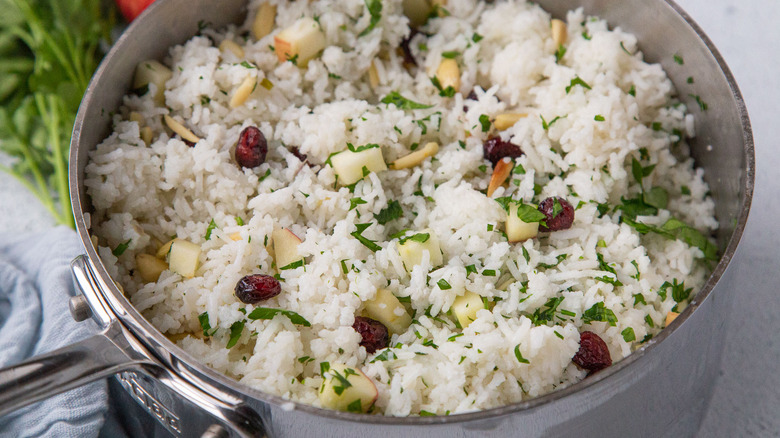 Kate Shungu/Mashed
Who says rice can't be served with a festive flair? While we most commonly serve rice plain, or mixed into a stir fry, you can make it fit for a holiday dinner table with this fruit and nut basmati rice pilaf recipe, courtesy of developer Kate Shungu. "The variety of textures and flavors in this pilaf is a fun and easy way to jazz up basmati rice," Shungu explains. With the addition of apples, dried cranberries, and slivered almonds, it's definitely safe to say that this isn't your typical rice dish.
If you've never jazzed rice up with fruit and nuts before, then you may be a little skeptical about the end result. Rest assured, the addition of fruit and nuts works well, alongside the otherwise neutral flavor of the rice. "Basmati rice is slightly nutty in flavor, and toasting [it] adds to the flavor," Shungu explains. "The cranberries and apples add a sweet [and] tart flavor, the almonds add crunch, and the shallot and parsley add savory flavors to the dish." A dish that's sweet, tart, savory, and toasty? Sounds like a winning recipe to us.
Gather the ingredients for fruit and nut basmati rice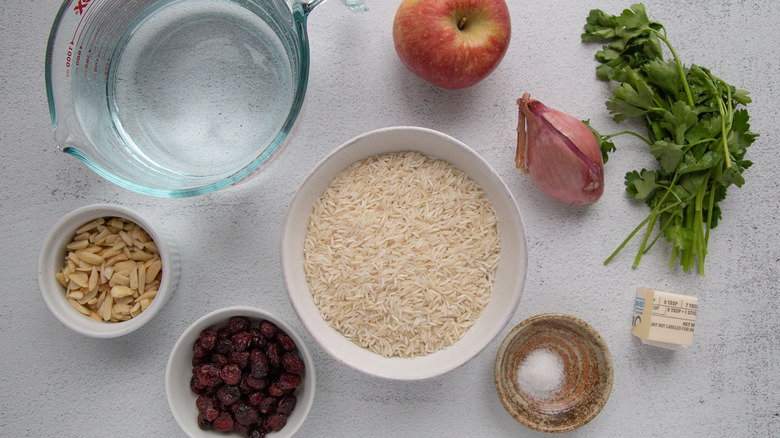 Kate Shungu/Mashed
Naturally, basmati rice is the star of this rice pilaf dish. You'll need water to cook it, and to jazz it up, you'll need butter, a shallot, salt, dried cranberries, slivered almonds, a small apple, and some fresh chopped parsley. 
Sautée the shallot and rice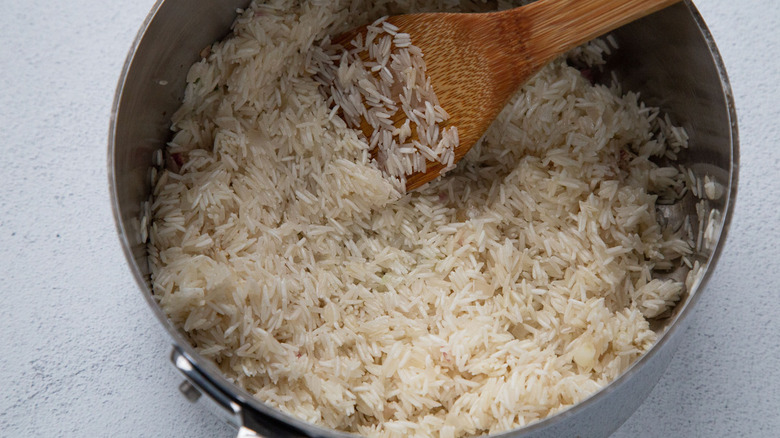 Kate Shungu/Mashed
First things first, rinse off the rice in a colander, which will help get rid of excess starch. Then, place a large saucepan on the stovetop over medium heat, and add in the butter and minced shallot. Sautée until soft, which should take just 2 to 3 minutes. Then, add in the rice, sautéeing for another 3 minutes. "The key for the rice is to sautée it in butter," Shungu says of her special method. "As it sautées, it gets a little toasted, adding a depth of flavor to the finished dish."
Cook, and fluff the rice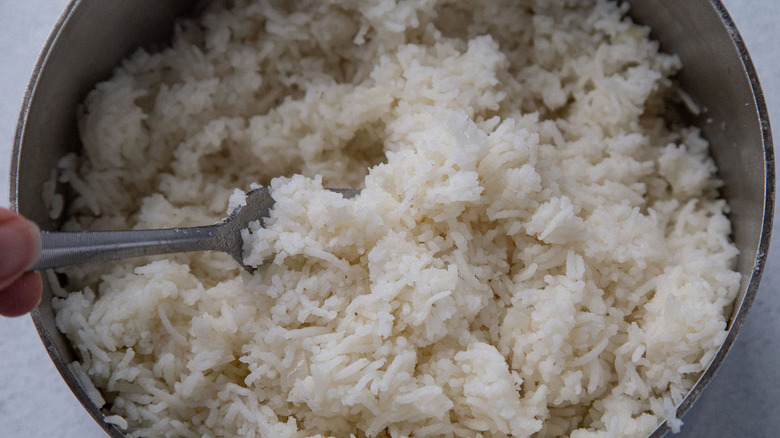 Kate Shungu/Mashed
Add the water and salt to the pan, then bring the mixture to a boil. At that point, cut the heat to low, so the rice is just simmering, then cover the pan. Allow the rice to simmer for 20 minutes, or until the water is absorbed. Once the rice is cooked, remove the lid, and use a fork to fluff the rice.
Mix in the fruit and nuts, then serve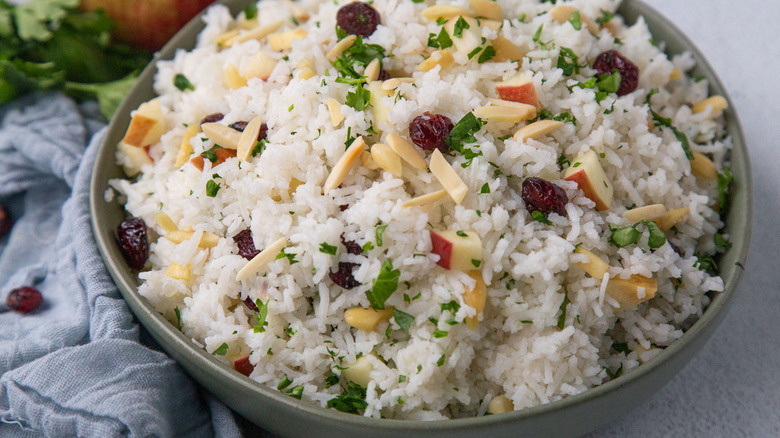 Kate Shungu/Mashed
As a final step, mix the dried cranberries, almonds, sliced apple, and chopped parsley into the rice. Then, you're ready to serve this jazzed up rice pilaf. "I like serving pilaf along with roasted chicken, salmon, or even a beef roast," Shungu suggests. 
If you can't finish this fruit and nut rice in 1 serving, no worries. Per Shungu, "Leftovers will keep for 4 to 5 days in the refrigerator. Microwave to reheat the rice."
Fruit And Nut Basmati Rice Pilaf Recipe
Rice is an incredibly versatile and delicious side, and this rice pilaf recipe with nuts and fruit is no exception.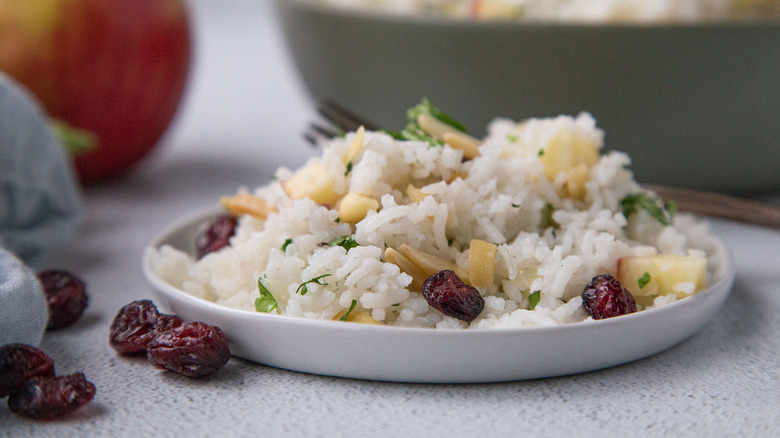 Ingredients
2 cups basmati rice
2 tablespoons butter
1 small shallot, minced
3 ½ cups water
1 teaspoon salt
⅔ cup dried cranberries
⅔ cup slivered almonds
1 small apple, finely chopped
⅓ cup finely chopped fresh parsley
Directions
Rinse the rice in a colander under running water, until the water runs clear. Set aside to drain.
Melt the butter in a large saucepan over medium heat. Add the shallot, and sautée until soft, about 2 to 3 minutes. Add the rice, and sautée for another 3 minutes, stirring frequently.
Add the water and salt, and bring the mixture to a boil. Reduce the heat to low, cover, and cook for 20 minutes.
Uncover the rice, and fluff with a fork. Add the cranberries, almonds, apple, and parsley, and stir to combine. Transfer to a serving dish, and serve immediately.
Nutrition
| | |
| --- | --- |
| Calories per Serving | 583 |
| Total Fat | 15.7 g |
| Saturated Fat | 4.5 g |
| Trans Fat | 0.2 g |
| Cholesterol | 15.3 mg |
| | |
| --- | --- |
| Total Carbohydrates | 101.6 g |
| Dietary Fiber | 6.0 g |
| Total Sugars | 18.7 g |
| Sodium | 600.2 mg |
| Protein | 11.0 g |