Are Fresh Egg Delivery Services Worth It?
Ermak Oksana/Shutterstock
With apps such as Instacart and FreshDirect, there's no shortage of grocery delivery services. These options boosted in popularity by 113% during the Covid-19 pandemic, and though many have since returned to in-store shopping, some busy families realized just how convenient the process can be, per Rensselaer. Since these services became widely available, it might have led people to question if old-fashioned egg delivery is actually worth placing an extra order.
According to Curious Historian, egg and milk deliveries were completed on horse-drawn carts during their inception, later working their way up to refrigerated trucks in the 1930s. Each week, families would place their order, which could consist of anything from eggs, milk, cheese, and butter. Although these services rose into popularity more than 100 years ago, there are still plenty of companies that offer farm-to-door delivery, albeit in a more modern way than before. With the option to simply add eggs to your online grocery cart, what exactly is keeping these companies relevant?
It comes down to nutrition and ethics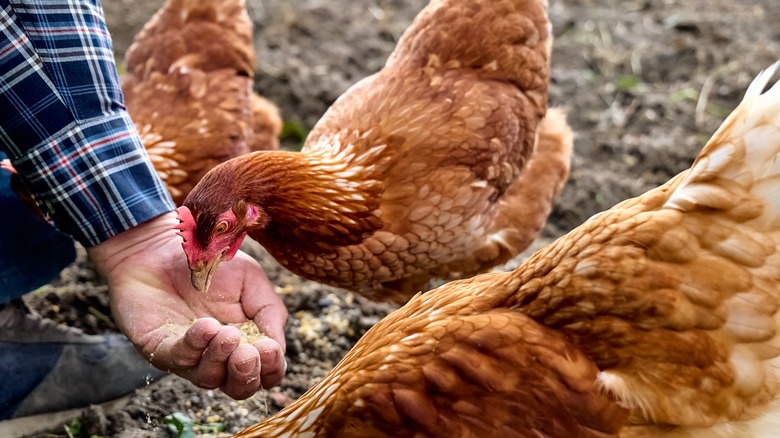 Caterina Trimarchi/Shutterstock
Unless you raise chickens or have your own farm, fresh egg delivery services have many benefits. One company, Fresh Egg Co., provides an explanation of how it conducts business. According to its website, eggs ordered from egg delivery services arrive at your house just days after placing your order, whereas eggs sold at the supermarket have typically been in transit for around two months. The brand also boasts that its hens are ethically raised, spending their entire lives in the sunlight with no injected antibiotics or GMOs.
Per a study by Mother Earth News, pasture-raised eggs contain less cholesterol and saturated fat than factory-to-supermarket eggs. They are also higher in vitamin A and E with more omega-3 fatty acids. Additionally, the decision to choose fresh eggs can also one of ethics, according to HuffPost. Wellness advisor Kylene Bogden told the publication that "cage-free" labels in grocery stores are misleading. "While this label is regulated by the USDA, it just means the hens aren't kept in cages. They are permitted to 'freely roam a building, room or enclosed area.' This is not ideal, because they do not have access to the outdoors." Fresh egg delivery service is undoubtedly pricier than buying eggs at Kroger, so it's ultimately up to the consumer to make the decision.