The Aldi Pasta Sauce Starter Reddit Wholeheartedly Wants To Return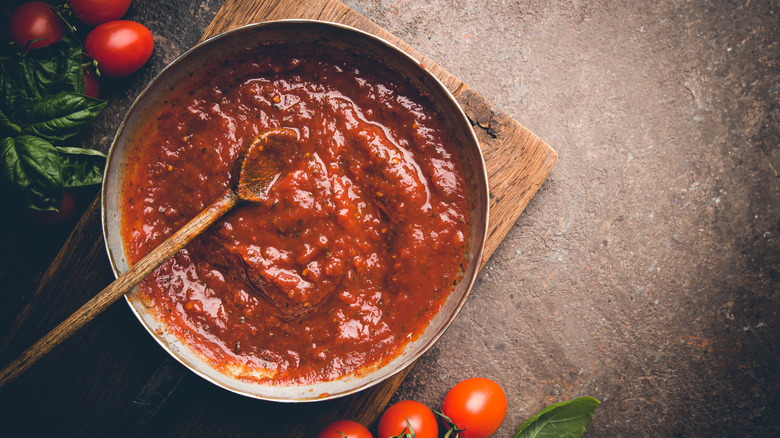 Goskova Tatiana/Shutterstock
Popular discount grocery store Aldi is favored among shoppers for its simplified shopping experience, special Aldi Finds, and great deals on food, alcohol, home goods, and more, per FinanceBuzz. Aldi Finds are exclusive, new products that Aldi features each week for a limited time in small quantities to see if customers like the product or not; if it's a hit, the discount grocery chain may just bring it back or even make the product a staple offering, per Aldi. Many customers look forward to the new items, and there are even countless posts on Reddit where fans voice their opinions on different Aldi Finds.
On the Reddit thread r/aldi, one Reddit user asked fellow Aldi fans what their all-time favorite Aldi Finds were. A few favorites include the peanut butter cups, Girl Scout cookie knockoffs, smoked salmon, banana bread loaf, pub pretzels, lava cakes, and more. On the same Reddit thread, one user recently posted about a pasta sauce starter that they wish the chain hadn't discontinued.
Aldi's cacio e pepe pasta sauce starter is sorely missed
One Reddit user made a post on the r/aldi thread praising the Lotito Presto cacio e pepe pasta sauce starter from Aldi and asking if it will ever return to Aldi. The original poster (OP) claimed they had purchased a tub of the beloved pasta sauce starter "over a year" ago, and they've been saving it because they love it so much. Sadly, it appears as though the Lotito Presto cacio e pepe pasta sauce starter is no longer sold at Aldi, which is another reason OP has saved their only tub for so long. According to Instagram user @alditheamazing, the item was an Aldi Find around June 2020 and was $3.99 at their Aldi store.
Instagram user @aldi.guru shared a post in June 2020 showcasing the product, which revealed that there were three flavors available: one with sun-dried tomatoes, one with Calabrian chiles, and one with just black pepper and pecorino cheese. Each flavor came in a six-ounce tub, and the specific variation that OP was heartbroken over was the one with Calabrian chiles. It's easy to see why OP is upset over the product's discontinuation since the pasta starter has super easy instructions. All you have to do is mix the sauce starter with some pasta water, and your meal is ready.