Vegan Cashew Turmeric Golden Milk Recipe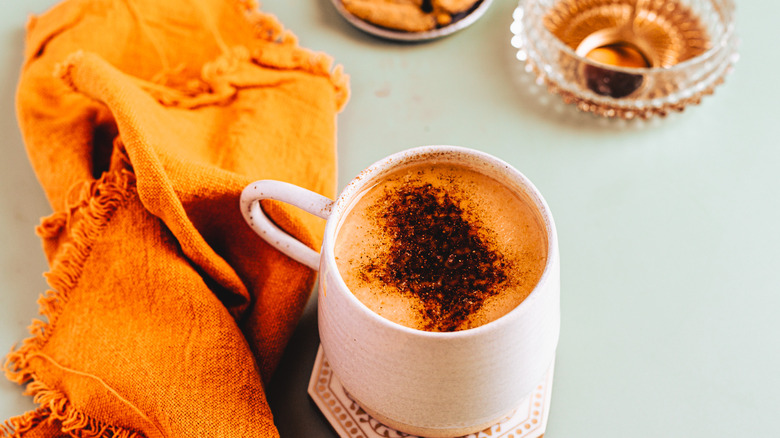 Ksenia Prints/Mashed
Vegan cashew turmeric golden milk may be a delicious and soothing wintertime drink, but its ayurvedic roots also make it a winter remedy with an illustrious history. The origin of the drink we know as golden milk is the Indian drink, Haldi doodh, which mixes cow's milk, turmeric, and black pepper to form a common blanket remedy. The drink draws on the supposed nutritional benefits of curcumin, one of the active ingredients in turmeric, and though there is ample argument about its efficacy, one cannot deny its historical importance.
According to food blogger Ksenia Prints of At the Immigrant's Table, to reap the most benefits from turmeric, one has to consume it with fat and piperine, the active ingredient in black pepper. For that reason, this recipe adds coconut oil and black pepper to the basic golden milk recipe. We also suggest pairing it with cashew milk for a creamy, luxe feel. Whether you are looking to explore the benefits of turmeric, or just enjoy a soothing, warm drink, give our vegan cashew turmeric golden milk a try!
Gather the ingredients for vegan golden milk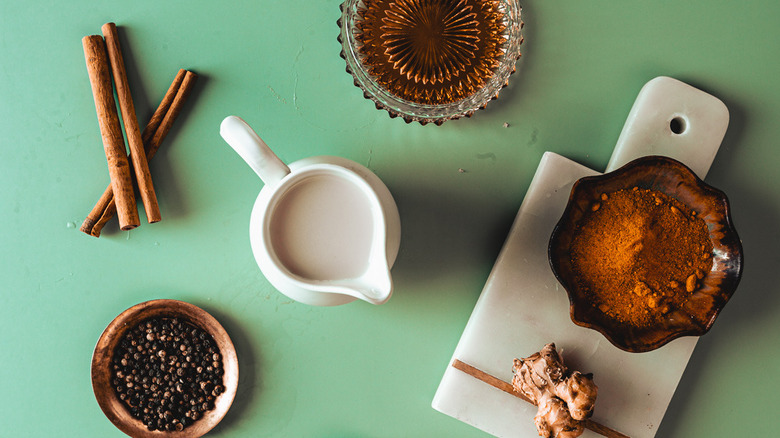 Ksenia Prints/Mashed
To make vegan golden milk, you will need unsweetened cashew milk, ground turmeric powder, ground ginger (or freshly grated ginger), coconut oil, freshly ground black pepper, ground cinnamon (or 1 cinnamon stick), and, if you'd like some sweetener, maple syrup. You can also use coconut milk, or another milk of your choice.
Cook the ingredients in saucepan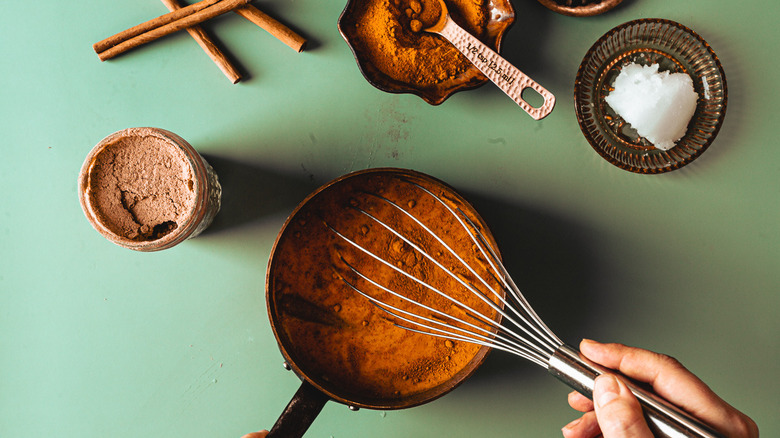 Ksenia Prints/Mashed
In a saucepan, whisk together the cashew milk, turmeric, ground ginger, coconut oil, freshly ground black pepper, and cinnamon. 
Over medium heat, bring the contents of the pot to a simmer. Let the golden milk simmer for 10 minutes. Note that you never want to boil your drink because that would break down most of the active ingredients we are trying to maintain. Taste your drink, and adjust any seasonings you'd like, adding the maple syrup, if desired. 
Serve the vegan golden milk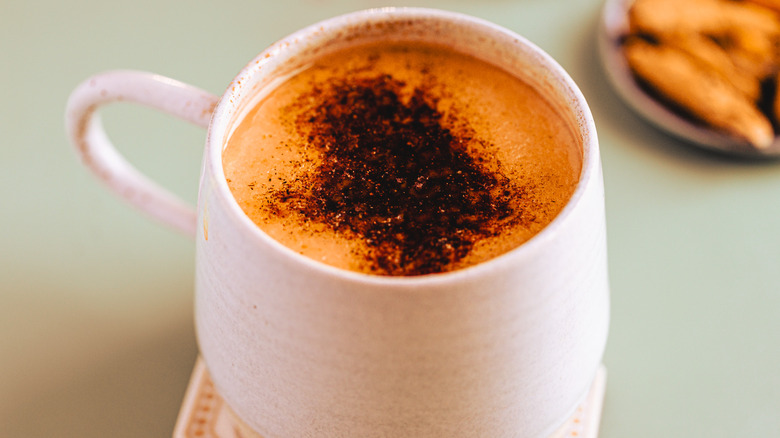 Ksenia Prints/Mashed
Once the drink is to your liking, top your favorite mug with a fine mesh strainer. Strain the golden milk into the mug, doing your best to catch any spices or errant seasonings. Top each cup with ground cinnamon, or even a cinnamon stick for a nice presentation.
For the most health benefits, serve this golden milk immediately, or curl up with your favorite mug, and sip it slowly, enjoying the burst of flavor and nutrients. Leftover golden milk can be reheated in the microwave, but it will lose most of its nutritional benefits the longer it sits.
Vegan Cashew Turmeric Golden Milk Recipe
Start your day off on the right (or left) foot with this vegan cashew turmeric golden milk recipe.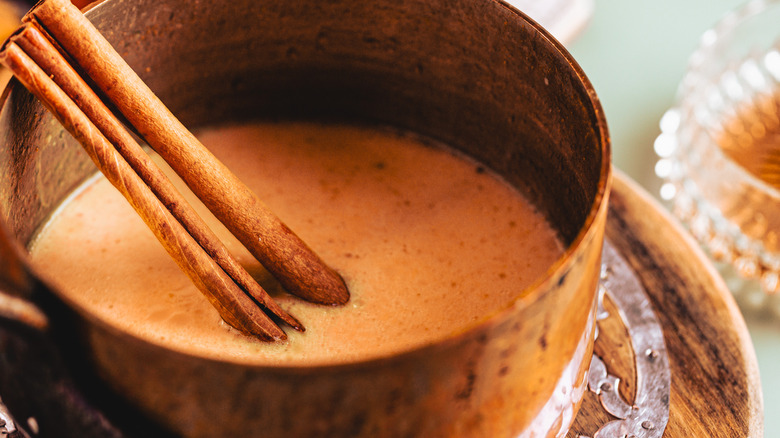 Ingredients
​​2 ½ cups unsweetened cashew milk
1 ½ teaspoons ground turmeric powder
½ teaspoon ground ginger, or freshly grated ginger
1 tablespoon coconut oil
1 pinch freshly ground black pepper
¼ teaspoon ground cinnamon, or 1 cinnamon stick, plus more for serving
Optional Ingredients
Directions
In a saucepan over medium heat, combine all of the ingredients.
Bring the mixture to a simmer, and let it cook for 10 minutes.
Sweeten with the maple syrup, optionally, and strain the golden milk through a fine mesh sieve into a mug.
Top each cup with more ground cinnamon. Serve immediately.
Nutrition
| | |
| --- | --- |
| Calories per Serving | 169 |
| Total Fat | 11.2 g |
| Saturated Fat | 7.8 g |
| Trans Fat | 0.0 g |
| Cholesterol | 20.3 mg |
| | |
| --- | --- |
| Total Carbohydrates | 11.2 g |
| Dietary Fiber | 0.5 g |
| Total Sugars | 10.3 g |
| Sodium | 88.0 mg |
| Protein | 6.6 g |