McDonald's Is Launching Special Happy Meals For The New Mario Film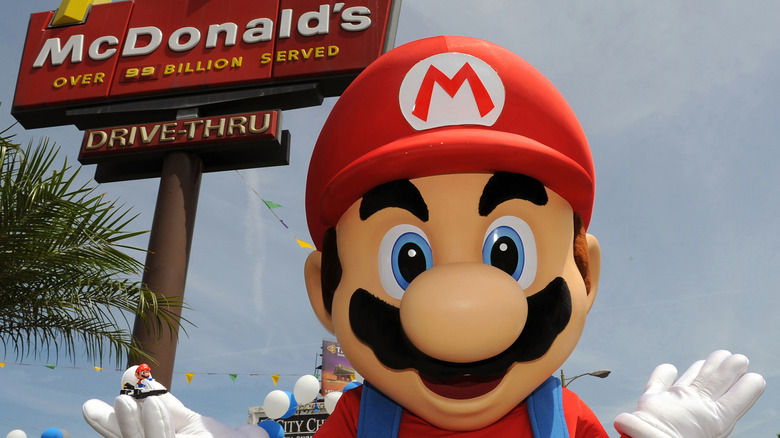 Handout/Getty Images
In April 2022, Nintendo and Illumination Entertainment announced that the release of the "Super Mario Bros. Movie" was pushed back to April 7, 2023, after initial plans to release the highly anticipated animated adaptation on December 21, 2022, per Variety. The star-studded voice cast features Chris Pratt as our favorite mustachioed plumber Mario, Jack Black as Bowser aka King Koopa, Seth Rogen as Donkey Kong, Anya Taylor-Joy as Princess Peach, and Charlie Day as Luigi.
The nostalgia trip might have been delayed, but McDonald's has plans to make it all worthwhile. '90s kids probably remember how the company has a long history with Mario that goes all the way back to 1990. As a part of the promotional campaign for Super Mario Bros. 3, McDonald's gave out plastic toys of the game's characters on their Happy Meals back then.
Now, after months of Reddit rumors and leaks about a new collaboration, the Golden Arches has announced an exciting new offer, and we're here for it.
McDonald's announces Mario Happy Meals toys release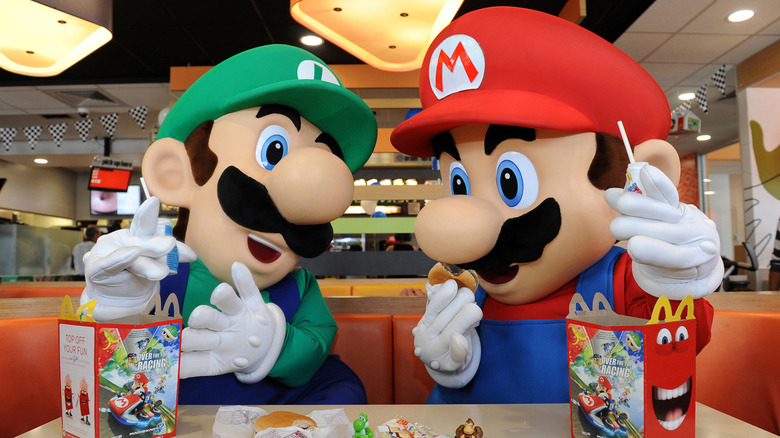 Handout/Getty Images
McDonald's lineup of "The Super Mario Bros. Movie" toys is finally up for grabs, according to an Instagram post. According to Game Rant, the offer is valid for three months before the movie hits theatres.
Many are excited about the Mario toys. "LET'S GO!!! I'm going to try to get all of The Super Mario Bros. Movie toys if I can but we'll see what happens," one fan commented on Instagram. Another user wrote, "Can't wait to see the merch." "I hope this is actually something the kids will be able to play with, as opposed to the happy meal cardboard 'games'," a third user commented. McDonald's announced plans to release paper kits featuring the new Mario movie characters in the U.K. in early December, per Essentially Sports.
The toy lineup includes two Marios, Princess Peach, Donkey Kong, Luigi, Toad, Luma, and Bowser. All of the characters, except for Luma, appear in the movie's official trailer. Some Redditors have speculated that Rosalina might make an appearance in the movie since the character is usually associated with Lumas.