TikTok Says You Should Steam Your Muffins. Here's Why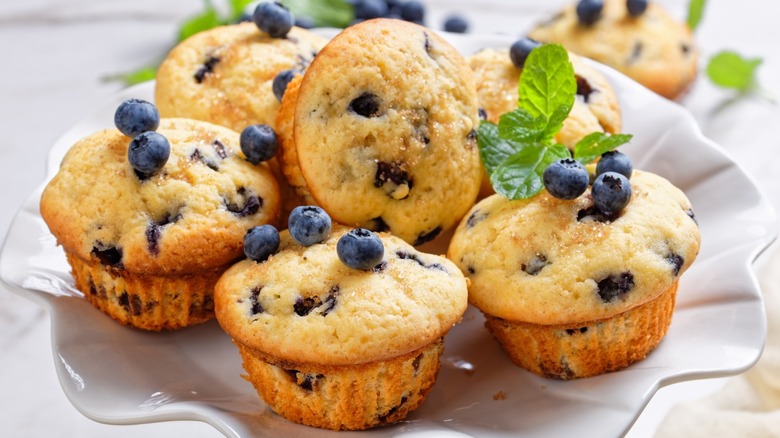 from my point of view/Shutterstock
While they may seem like a beginner baked good with their fluffy interiors and connotations of home, muffins can be a bit tricky to bake. Over-mixing the batter can lead to tough muffins with undesirable peaks on top or holes, warns the Quaker Oats website. Of course, the biggest mistakes you make when making muffins might be not greasing the pan or using muffin liners. None of those little candy-colored paper cups? No problem. You can actually make your own liners with parchment paper. But not all muffin tips are obvious.
For example, has anyone ever told you that you should steam your muffins? That idea might even sound like a mistake. Muffins are baked, not steamed, right? Luckily, it may be an unconventional trick to make your muffins pillow-soft, according to a TikTok user. We can't guarantee it'll still work if you've over-mixed your batter or committed one of the other, actual muffin-baking sins, though.
Fluffy muffins in a cinch
The trick to "super moist bakery style muffins," according to TikTokker marthacollison, is super simple. In a recent video post, Collison shared how she gets her muffins tender. The trick isn't in the batter preparation at all, it's all in the cooking. Collison recommends not adding batter to two of the holes in your muffin tin and filling them with boiling water. Then move the pan in to bake and the water will partially steam the muffins during the process. Collision says this will "stop the top crust from setting and allow the middle of the muffin to rise up and be light, fluffy, and airy." While some viewers worried that this would prevent the top crust from forming at all, the TikToker clarified that the method created more time to rise, and the muffins would still have a "crispy crust."
A few commenters said a pan of water on the bottom shelf of the oven will yield similar results without giving up the space for two perfectly moist muffins. Some said this technique can be used with cakes while others wondered about applying it to bread. A heat-proof bowl filled with water placed in the oven is another alternative commenters suggest that lets you use all 12 slots for muffins. So you can vary your technique to see if you achieve the same result as you work your way through 23 muffin recipes everyone will love.