The DIY Walmart Soup Bombs Will Become Your New Favorite Meal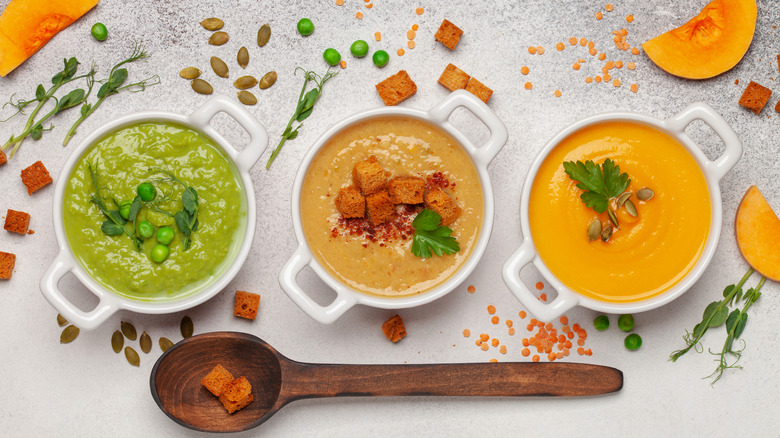 NatalyaBond/Shutterstock
Whether you've binged "Seinfeld" a couple of dozen times or have only caught a few minutes of it here and there, you're probably familiar with the infamous "no soup for you" line from the season 7 episode "Soup Nazi." The one-liner is arguably the most well-known bit from the sitcom. However, it wasn't the only magical moment from what IMDb calls a "series-defining" episode. Shortly before the phrase is even uttered by the Soup Nazi — who is based on a real take-out owner – George Costanza (played by Jason Alexander) delivers an equally-iconic line. "I gotta focus. I'm shifting into soup mode," the character says as he and Elaine Benes (played by Julia Louis-Dreyfus) prepare to enter the strict restaurateur's shop (via Seinfeld Scripts).
The meme-able moment is one that many can likely relate to, especially now that Old Man Winter has settled in for his annual visit to the United States once again. While we have to admit that few things are better than diving into soup mode on a chilly January day and slurping down a bowl of your favorite bisque, broth, or chowder (with a side of oyster crackers, of course), you may also be curious if there are any alternative ways of indulging in the quintessential sick day meal. Well, thanks to a recent Instagram post by Walmart, we now know of at least one unique new method of getting soup into our bellies. And the best part? The recipe hardly requires any effort in the kitchen.
Soup lovers are going wild for this unique Walmart recipe
Walmart's Instagram page may not be the first place you'd think to visit when looking for new recipes, but a recent upload from the retailer might have you hitting the follow button and turning your post notifications on. Through the Instagram post, the Wally World social media team is helping patrons shift into soup mode this winter with DIY soup bombs that certainly have the potential to become your new favorite meal.
In the tutorial video, followers are first instructed to remove the middle of a few hard rolls, which then get filled with a slice of cheese and a ladle's worth of soup. Walmart, of course, suggests using one of its ready-made Marketside soups, though we'd assume that any type, whether pre-packaged, canned, or homemade, could probably do the trick. A second slice of cheese and a handful of sliced green onions go on top before the delicacies go into the oven, resulting in a batch of "cheesy, melty, delicious" soup bombs that have many fans intrigued.
"This looks amazing," one follower wrote. "Great idea and fast to prepare," another praised. Meanwhile, Instagram user @lmay608 seemed to virtually melt at the idea of "French onion soup in one of those bad boys." We can't help but salivate at the thought either, and we're sure we're not the only ones willing to chow down on one of these unique, savory treats in any flavor. So we're shifting into soup mode!